Should residents support transit improvements, including more frequent service and the Red Line?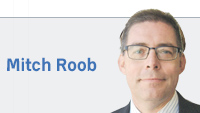 I grew up in Chicago and took the Milwaukee Road to the Loop and the CTA to Wrigley Field. When I married my wife and we lived in Chesterton, then later South Bend, I commuted on the South Shore.
On those trains, the rider is not in control of his schedule; he or she is controlled by the train schedule. When you get to work, when you leave for home, every aspect of your day is focused on not missing the train.
Trains and buses are not happy places. Somber, hurried passengers cast their wary glance away from the strangers next to them whose personal space they have inadvertently but necessarily invaded. Few would choose a train or a bus over a car, if they had a choice.
Public transit works best when many people seek access to a very congested place—such as the Loop area in Chicago or Wall Street in Manhattan. These are old systems, developed privately in the years before the internal combustion engine and the interstate. Over the centuries, they have ingrained themselves into the fabric of their communities—while unfortunately requiring larger and larger public subsidies to survive. In older cities, verticality and density were the solution to urban transportation issues.
The price of parking a car is around $50 per day in Chicago and $100 in New York. Many white-collar men and women with six-figure incomes in those cities "choose" public transportation for obvious economic reasons.
Cities that grew up post-World War II are more likely defined by their sprawl. Many have embarked upon massive publicly funded programs to transplant a public transit culture into a car town.From 1983 to 2012, Dallas invested more than $8.2 billion in a system that today carries only 4 percent of the area's daily work commuters. And, by the way, ridership is declining.
In gridlocked Atlanta, ridership is down 15 percent from 2001.
Will public transit work in Indianapolis? And, if so, for whom? For many years,I have believed public transit is worth a public operating subsidy for one of three reasons:
• Assist the medically transit-dependent.
• Assist the economically transit-dependent.
• Provide congestionreduction.
If Indianapolis increases taxes to fund transit improvements, some of the money would go toward increasing the frequency of bus service across the IndyGo system. But some also would fund operating costs of the Red Line. How would a train-like bus benefit more than a very small portion of the community? Is this equitable? Is it equitable to charge someone for a service they likely never will use or for that matter even see? I just do not get it.
Advocates suggest that "transit-oriented development" will spur new or more dense development in the proximity of the transit corridor.
Let's assume this is the case. If so, in corridors where advocates foresee that transit will add value to real estate, why not capture the incremental property tax value growth over and above the county as a whole and use these funds to pay for the service? The same could be done for income taxes of those living within the transit corridor.
Could such a bond backed by that incremental tax revenue be sold? If not, what are the financial markets telling us?
I'd be all for public transit expansion if I thought it would work. I believe the advocates and their consultants honestly believe the ridership and operating cost projections they provide, but time after time they overestimated the former and underestimated the latter. I encourage Indianapolis to look before we leap.•
__________
Roob, president of HealthCare Anywhere, has run Indiana Economic Development Corp. and Family and Social Service Administration. Send comments on this column to [email protected]
Please enable JavaScript to view this content.