Of all the figures profiled in Hoosier Beacons, the one least likely to have called himself a Hoosier was also the one who might have taken the most pride in our state's name—Indiana, land of Indians. His name was Tecumseh, and he died before Indiana became a state.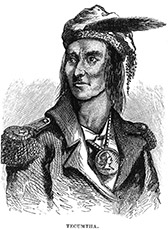 Tecumseh's oratory skills were compared to those of Henry Clay. (Photo courtesy of Indiana Historical Society)
Born in Ohio in 1768, his father was killed by white settlers when Tecumseh was a boy. He was reared by siblings and eventually adopted by the Shawnee chief Blackfish. As a teenager, he fought with the British during the Revolutionary War.
As a man, Tecumseh believed in the power of words, and he was as ready to criticize fellow Indians for atrocities committed against white men as to criticize white settlers for the injustices they were perpetrating against indigenous peoples.
After America secured its independence, Tecumseh fought battles against the U.S. Army under the command of Anthony Wayne, suffering a defeat at Fallen Timbers. When chiefs gathered in 1795 to sign the Treaty of Greenville—now on display at the Indiana State Museum—Tecumseh opted out.
He was such a superb orator that he was often compared to Henry Clay, who inspired another great Hoosier, Abraham Lincoln. Eventually, Tecumseh and his brother sought to bind the Indian tribes together in resistance against the white invaders.
He traveled widely through the eastern half of what is now the United States, urging Indian leaders to recognize that whites would continue driving game from their hunting grounds and displacing them from their land.
In 1810, Tecumseh led a group of several hundred armed warriors to the home of William Henry Harrison, governor of the Indiana territory, in what is now Vincennes. (Harrison would eventually serve as the country's ninth president, dying of pneumonia only a month after his inauguration in 1841.)
Reacting against the notion that a signature on a piece of paper could transfer land, Tecumseh famously argued, "Sell a country! Why not sell the air, the clouds, and the great sea, as well as the earth? Did not the Great Spirit make them all for the use of his children?"
Tecumseh vehemently condemned the continued partitioning of Native American land, arguing that, "The only way to stop this evil is for the red man to unite in claiming a common and equal right in the land, as it was first, and should be now, for it was never divided."
Despite Tecumseh's oratory, Harrison rejected the demand that the United States stop dealing with individual tribes. In 1811, Harrison brought his forces up the Wabash River, camping outside Prophetstown.
Tecumseh was away, but the Indian forces under the command of his brother attacked anyway, suffering a decisive defeat in the Battle of Tippecanoe. Soon, Tecumseh was again traveling around the country, seeking to bind Indian tribes together in resistance.
In 1812, Tecumseh's men joined the British in laying siege to Detroit. Tecumseh employed a ruse to make it seem he was leading a vastly greater force than he in fact commanded, and he played an important role in securing the city's surrender.
In 1813, Harrison again directed U.S. forces against the combined forces of the Indians and the British, achieving a rout that secured U.S. control of the Northwest Territory. During this battle, Tecumseh was killed, effectively ending Indian resistance in the Ohio River Valley.
Tecumseh is remembered today as a great leader. He was courageous in prosecuting a cause he believed to be just, yet he also demonstrated a deep sense of compassion and respect for humanity. Though never a citizen, today he is widely regarded as an American folk hero.•
__________
Hoosier Beacons pays tribute to Indiana's bicentennial by telling the stories of famous Hoosiers. It appears every other week. Gunderman is chancellor's professor at Indiana University.
Please enable JavaScript to view this content.