var win = null; function NewWindow(mypage,myname,w,h,scroll){ LeftPosition = (screen.width) ? (screen.width-w)/2 : 0; TopPosition = (screen.height) ? (screen.height-h)/2 : 0; settings = 'height='+h+',width='+w+',top='+TopPosition+',left='+LeftPosition+',scrollbars='+scroll+',resizable' win = window.open(mypage,myname,settings) }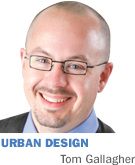 I read recently that the nation's first parking commission was established in Washington, D.C., in 1871. If that date caused you to pause, then you know from your history that this commission had nothing to do with automobiles. Instead, the commission's task was to "set apart as parks, to be adorned with shade trees and walks," up to half the width "of any and all avenues and streets in the said city of Washington."
To this day, the nation's capital remains a model for maintaining an urban forest and an example of the value of trees. Closer to home, if you ask the folks at Keep Indianapolis Beautiful, they can give you an exhaustive list of the benefits of urban trees: Trees clean our air, reduce stormwater runoff into our sewers, save energy costs, reduce street noise, and calm traffic. They also provide shade; if you've walked anywhere downtown this summer, you are more than aware of how our lack of trees contributes to increased urban temperatures.
Scientists suggest that, to get the most benefit from trees, urban areas need a tree cover of about 45 percent and at least 15 percent in central business districts. Even cities widely regarded as having significant urban forests—like Washington, Atlanta, or Portland, Oregon—still fall short. In Indianapolis, the tree canopy is estimated at 24 percent, with downtown coming in at a woeful 4 percent. So why, at a time when we need them more than ever, do we see fewer trees in our urban environment? Here are a few reasons:
A myth, common among retailers, is that street trees are bad for business because they block the view to storefronts and require undue maintenance. Studies suggest the opposite is true, citing that people will travel farther and longer to visit a district with high-quality trees, stay longer once they are there, and pay 9 percent to 12 percent more for the products they find there.
Among the more compelling reasons is that trees are significantly dependent upon a collection of elements an urban environment doesn't provide. It is generally accepted that a healthy urban tree needs 1,000 cubic feet of soil. That's a volume hard to come by in any urban environment. It is even more challenging in our downtown. Below a great many of Indy's sidewalks are portions of building basements that extend to the edge of the street. Beyond the usual potential conflicts with underground utilities, we must contend with steam lines that often heat adjacent soils to temperatures damaging to plant life. Yet, if we choose to take advantage of it—as the Cultural Trail and Georgia Street will attest—there is available space in our large public rights-of-way in the Mile Square that could provide trees and pedestrians some breathing room.
In some instances, our lack of trees is mandated. One of the most glaring deficiencies of trees occurs in the Wholesale District, which occupies nearly a quarter of the Mile Square south of Washington Street. The current local historic district guidelines restrict the planting of street trees. No doubt, we should celebrate the district that was instrumental to making Indy a major city. However, it's hard to argue that the existence or absence of trees was integral to this success. Given that we know trees increase property values and contribute to a more favorable perception of places, it could be argued that the district would benefit from the presence of trees.
Clearly, it isn't an easy endeavor to have a robust and healthy urban forest. There is no single answer that will work everywhere. It will take a select group of our brightest and most creative working together to change minds, change codes and make focused, well-considered maneuvers that align with our infrastructure and assets.
Compared with all the money, energy and physical space we give to the storage of cars, it's time we give real consideration to an investment that actually increases value, contributes to the ecology, and enhances our cultural and commercial resources. It's time we really get serious about "parking" the city.•
__________
Gallagher is an urban designer with Ratio.
Please enable JavaScript to view this content.