Workplace harassment has been recognized as actionable by the U.S. Supreme Court for 30 years, during which workers and employers have grown accustomed to the legal protections assured under Title VII of the Civil Rights Act.

But despite decades of on-the-job training for workers and numerous high-profile lawsuits, harassment by managers and co-workers persists. Though the number of sexual harassment claims has declined in recent years, companies still get hit with thousands of lawsuits alleging harassment of some kind each year.

"We still have employees behaving badly even 30 years after the Supreme Court said sexual harassment violated Title VII," said Krieg DeVault LLP partner Amy Adolay of Carmel, who represents employers. "I tell them it's job security for employment lawyers, but it's bad for employers."

The landmark ruling Meritor Savings Bank v. Vinson, 477 U.S. 57 (1986), held that hostile workplace claims of sexual harassment were actionable under Title VII, which also forbids workplace harassment on the basis of race, color, religion or national origin.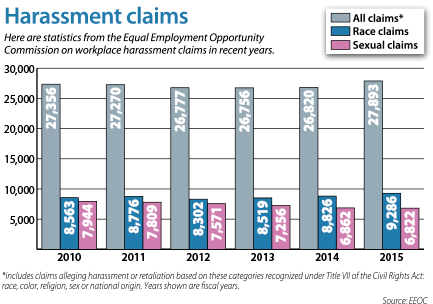 Labor law attorney Lane Siesky represents plaintiffs at Siesky & Viehe P.C. in Evansville. He said there is widespread realization people can't get away with workplace harassment as they might have in the 1980s and earlier, and most workplaces won't tolerate bad actors. Still, he said some "repeat offenders" continue to rack up suits.

"The only thing I know to explain it is, it's just a corporate culture, or they don't have good policies or don't do anything to enforce them," Siesky said.

Lawyers who represent workers and employers in harassment cases also say the nature of what may constitute a claim has changed with the times.

"We will continue to see an evolution of sex harassment claims," said Ice Miller LLP partner Michael Blickman. "Despite legal wins that plaintiffs have had, the fact is that workplace harassment is still a serious problem in many workplaces. Just look at recent allegations involving Fox's Roger Ailes, and about sex harassment experienced by multiple female employees working for the National Park Service in Florida."

"Conduct that may have been acceptable, for want of a better term, 10 years ago simply isn't today," said Bingham Greenebaum Doll LLP partner Andrew W. Gruber. "A good example would be a female employee coming back from maternity leave and the manager believing she simply would not have the desire to continue at the same level of work, because she has a kid at home and we all know how that puts stress on people."

Gruber said BGD for years has advised employees in workplace-sponsored training, "if in doubt, don't." But today's advice needs to be more nuanced. At the same time, he said statements that might have seemed out of bounds in earlier times may be less likely to prompt complaints in workplaces where water cooler chat may involve workers speaking openly about their personal lives or frank sexual talk about a pop culture figure, for example.

Companies also may have to answer for something a co-worker does on his own time behind a keyboard or smartphone. "The biggest impact we're seen on harassment claims has been technology," said Laurie Kemp, a partner in Kightlinger & Gray LLP's New Albany office. "People will say and do things in a text message or an instant message they likely would never say to a person's face. It creates a whole new line of evidence that never was there before."

"A big part of the law now is electronic evidence, the preservation of electronic evidence, and the duties the company has once it's aware there may be litigation," Siesky said. At the same time, Siesky said he admonishes clients who are alleging workplace harassment, "don't post, tweet or text anything" regarding the claim.

A firm's potential liability in cases alleging co-worker harassment may depend on what happens once managers are made aware of the offending conduct.

"In response to any kind of claim alleging harassment, the worst thing any employer can do is ignore it and put their head in sand," Adolay said. This means investigating what was said and by whom, whether the employer does this internally or hires a law firm or other outside help. Adolay said employers also should be sure to keep the complainant apprised of the steps that have been taken.

Faegre Baker Daniels LLP partner Ted Hollis said employers are seeing fewer "quid pro quo" complaints from supervisors making sexual demands on workers, for example — as was the claim in Meritor — but hostile workplace environment suits remain common. He said training remains vital for employers.

"And not just a one-and-done; it's important every few years to have anti-harassment, anti-discrimination training," Hollis said. This can show an employer's commitment to eradicating harassment as laws change, and it can make defending a complaint easier because it shows proactive steps.

Highland attorney Marissa McDermott defended employers for years before opening a firm seven years ago in which she represents plaintiffs in labor and employment disputes. "I feel like employers do view (workplace harassment) cases as defensible and are more inclined to force plaintiffs to show proof, especially with cases of co-worker harassment," she said.

Under 7th Circuit Court of Appeals case law, harassment by a co-worker has to be proven to be severe and pervasive, she said, so attorneys are cautious about taking cases involving an off-color joke, for example. "A single instance like that is not going to rise to the severe and pervasive level the courts want to have to survive summary judgment," McDermott said. She said clients often mistakenly believe any workplace harassment that results in a hostile workplace is actionable. She often finds herself explaining, "It's not the action, it's the intent behind the action. Can you tie it back to some protected category?"

Indianapolis plaintiffs' attorney Stephanie Jane Hahn observed that many women in the workplace now never knew a time when workplace harassment wasn't actionable. She said claims for retaliation for filing complaints appear to be on the rise, as are claims involving pregnancy — even for men.

Hahn noted male workers in companies that offer paid leave to new mothers and fathers have been the subject of retaliation for requesting or taking the offered benefit. "What's happening is men are getting these benefits and they're having trouble with male managers and female managers," she said. "Men are being seen as not having earned it."

Lawyers said workplaces largely are taking steps to prevent harassment, which ultimately benefits employers and workers.

"I have seen over time employers really buy into a workplace free of harassment and discrimination," Kemp said. "Regrettably, it will never be eliminated. But to be an employer of choice, a good corporate citizen and a good company to work for, companies are buying in."•