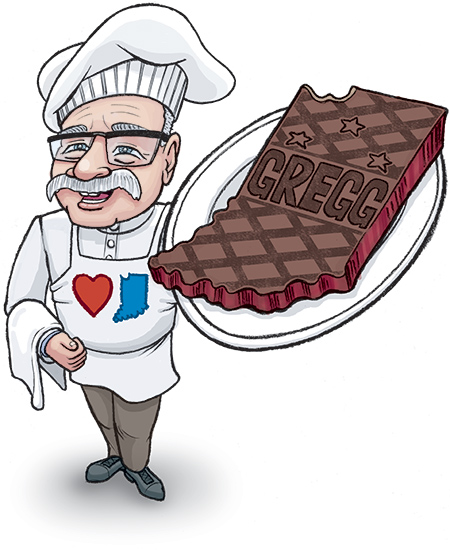 John Gregg keeps legal notepads all over his Knox County home: on the porch, near a piano, on his favorite chair.
When he was deciding in late 2014 whether he'd run for Indiana governor again, he drew a line down the middle of the notepads—writing things he did right in his 2012 campaign against Gov. Mike Pence on one side and things he did wrong on the other.
After seven weeks of making lists, he was still facing a tough decision. But it was his wife, Lisa, who finally helped him make the call.
"She said, 'If this is about being governor, the office's trappings or that you ran once before and you want to show them you can do this, that's not what we need,'" Gregg, 62, told IBJ.
"'But,' she said, 'If this is really about serving and having a servant's heart, and putting the needs of others before you, then run.'"
He was quiet then. "She kind of got me," he said. "This is a huge undertaking and about truly making Indiana better."
What mistakes did you make in the 2012 campaign and how have you corrected them?
I did not convey the passion I had for Indiana, my love of the state and love of the people and the desire to want to bring people together.
You never like to harp on this too much, but we needed to focus more on fundraising. It's through fundraising that you're on TV. It increases name ID, and that's how you get people to pay attention to you.
Shortly after the 2012 election, you and Lisa got married. Tell me about your relationship.
When you marry an IT person in this day and age, your life is wonderful. It's the greatest thing.
I got remarried because I was and am in love. She had become a trusted friend and a best friend. We enjoy the simple things in life.
In what ways have your parents influenced you?
My dad was a small-businessman and did not go to college. Dad worked Monday and Tuesday and Wednesday and Thursday and Friday and Saturday until noon. Sunday afternoon we worked all around the house. Dad had no hobbies. He provided for us. He was all about responsibility. I learned an unbelievable work ethic from him. I get enjoyment out of physical work.
For Mom, it is probably living her faith. We are Christians. That just guides her and always has and still does. She lives it rather than tells people how to live it. Mother is very loving and kind.
And she taught me to cook. I cooked my whole life. It's trendy now for men to cook, but I cooked before it was fashionable. That might have been the only time I was a trendsetter.
What role does religion play in your life?
I am a Christian, but with that said, I don't want people to view me as the person who stands on the street corner and prays for that sinner. I want people to know by my actions.
What do you think about Donald Trump?
We don't need to name-call people who are different from us.
Your rivals, in political ads, have tried to paint you as close to Hillary Clinton and someone who doesn't support the coal industry. Do you find that ironic given that you've worked as a coal lobbyist?
The way they attack you is to distort and disparage you and tie you to the national Democrats. I assume before this election is over, they'll be wanting to convince people I took Hillary Clinton to the prom. If you focus on that, you miss the issues.
What moments from the campaign trail will stick with you?
I had just spoken in Lawrence County at a Democratic gathering at a dinner. You can tell when people want to talk to you. When I shook [a woman's] hand, her hands were as rough as anybody's hands I'd ever shaken. She looked at me, and you could just see a broken spirit. I realized this woman couldn't buy the meal, and she had waited until the meal was over to come into the room to talk to me. She said, "Mister, please, help us."
It was just one of those moments where you think, "There but by the grace of God go I." This [election] is about food, clothing and shelter.
What's something Hoosier voters don't know about you that you'd like them to?
One thing that has really shaped me is growing up in a small town. Some people say: What's that got to do with Indianapolis?
If you live in a town with 350 people, just like people who are living at 30th and Meridian streets, they don't have a grocery store nearby. We don't have a grocery store. They have crappy sidewalks. In our case, it's usually no sidewalks. There are problems with crime and drugs; we have problems with crime and drugs. Don't see a lot of law enforcement? We don't see a lot of law enforcement. There's not really any parks around. We don't have parks around.
When I'm in Indianapolis and I see a police car or ambulance or firetruck go down the street with the siren flashing, for some people it's just a nuisance. But where I'm from, I know where that firetruck is going. I know who's home. Somebody that I know, their house is on fire and they're getting ready to suffer a loss I can't even fathom.
I think that changes you. You have an appreciation to focus problems on individuals. You see faces.•
 
Click here for other interviews.
Please enable JavaScript to view this content.