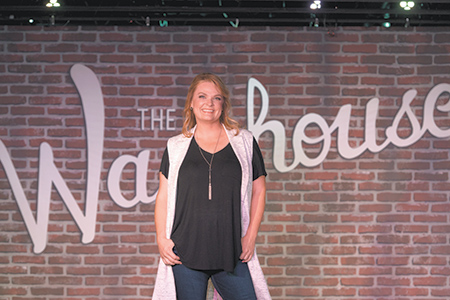 Heather Ramsey was just looking for a venue where her young vocal students could perform for their parents and grandparents when she leased a 60-year-old former machine shop in Carmel's Arts & Design District in 2014.
But The Warehouse has become something much bigger: a place for seasoned recording artists—accustomed to performing in front of thousands of people—to host intimate shows.
After the 1,700-square-foot Warehouse opened with 150 folding chairs, Ramsey, 39, said she began hosting local and regional acts "to fill the space between shows for the kids."
Then music agent Jerry Lima of California-based concert agency Monterey International came looking for a small, intimate setting for the Los Lonely Boys, a critically acclaimed power trio that scored a No. 1 adult-contemporary hit in 2004 with "Heaven."
The group played two sold-out acoustic shows at the venue on Oct. 3, 2015, with tickets selling at $45 to $55. It was then that Ramsey began to aim bigger. She spent $60,000 on a renovation that added a state-of-the-art sound system, acoustic wall panels, a taller stage, merchandise booth and 150 theater-style seats with cup holders.
With word-of-mouth from the Los Lonely Boys shows and help from former Ritz Music Hall owner Bob McCutcheon—a longtime local event booker and ex-production manager for John Mellencamp—Ramsey began to land more big acts.
Dozens of national artists have since played The Warehouse, including Howie Day, Rickie Lee Jones, John Waite, Edwin McCain, Spyro Gyra, Phil Vassar, Shawn Mullins, John Hammond, David Benoit, Rhett Miller, the Black Lillies, Tiffany, Marc Broussard and Lou Gramm.
Upcoming shows include "American Pie" singer Don McLean, Leon Russell, Jim Messina, Judy Collins, Madeleine Peyroux, John Mayall, Lisa Loeb, Joan Osborne and Diane Schuur.
Ramsey plans to pick up the pace in 2017, with a goal of 100 national acts.
How did the Los Lonely Boys shows make you believe The Warehouse could become a national venue?
When I saw them perform, I thought it was unbelievable. The energy in the room was incredible. Everybody was just so excited to see them perform, and it was just electric.
I realized when you take that kind of an artist and you put them in this small room, what that can do for the audience experience as well as the artist experience is something that most people have never seen before. At that point, I thought, "I gotta figure out how we can have more of this."
So how long after that did you begin to realize that you could attract acts like Howie Day or John Waite or Don McLean or Judy Collins?
I honestly didn't know who we could get, but I wanted to see if we could make it happen. And Bob [McCutcheon] was really instrumental in that because he really knew how to get to the John Waites of the world.
So, I started going out and meeting with agents, doing the old-school sit-down-and-have-some-coffee thing to tell them what we do at The Warehouse—because this room takes a lot of explaining. When national acts see 150 capacity, there can be a tendency to immediately say no.
But these days, when you've got a Leon Russell or a David Benoit who needs to go on tour because there's no money to be made in the recording industry anymore, the whole game shifts, because they want opportunities to be musicians again.
What is the process for deciding which acts are a good fit for The Warehouse?
There are some very talented acts that I'd love to have here but we've had to turn down because they don't have a market history. When we reach out to customers, people need to recognize the name. It's less likely they're going to take the chance on something new in this type of format.
We focus on folks who have a good, strong draw—a good, strong history—but artists who aren't necessarily wanting to play a larger format like Klipsch [Music Center].
That's what makes a Marc Broussard or a Lisa Loeb ideal, because there aren't as many places for those types of artists to play, because they don't play the huge arenas and they don't want to play in a bar. And there are other artists who are at the age where their guests aren't going to want to stand for the whole show. We fill that void very nicely.
Is it difficult to attract some artists? Is there a certain amount of negotiating that goes on?
There's always some negotiating and, yes, it is sometimes difficult to convince an artist to come here the first time. It might be a manager that just looks at [capacity] and says, "That's not what I want." Or they say they won't charge over a certain amount per ticket, which might preclude them from performing here unless I can find a sponsor for that show.
Then, there are others like Phil Vassar, who said, "I'm getting ready to play for 100,000 people tomorrow night at a festival in Wisconsin, but I would much rather be here again." Those artists, once they see what's happening here, they say, "Please, can I get another date? I can't wait to come back."
Many of your concerts include a VIP experience where ticket buyers get to meet the artist. Are artists pretty understanding about doing that?
There are some older artists, like those in classic rock that we like to feature, who have had cancer or other health problems, and it's affected their ability to have random people shaking their hands because of germs. And they are very particular about meeting people before or after the show. Every artist is a little different in the way they want to meet people. Some just want to meet two or three at a time so they don't get overwhelmed. Some want to do it after the show, some before and some simply won't do it at all. Some want to meet everyone. We just try to accommodate each artist based on what they want.
What's been your favorite performance so far?
I don't think I can pick just one. Because I love him—Shawn Mullins. I just love his music. And Phil Vassar because I was blown away by the quality of his voice and the way he engaged the audience. He and Shawn Mullins—and John Waite—really epitomized the-big-persona-in-the-little-space energy.
The musicians who really engage with the audiences are the ones that really make an impression. We hear this a lot—the audience feels like they're in the artist's living room. They feel like they're getting to know this guy. He's cracking jokes, taking requests. They're having a conversation. It's a two-way street, truly.
John Waite actually held a Q&A with the audience, asking them what he should play next.
Rickie Lee Jones had a sinus infection and we thought we were going to get 75 minutes if we were lucky because she really wasn't feeling well. But she was having so much fun that she played for two hours and five minutes without a break. And her road manager said he heard her play songs he'd never heard before, after 65 shows on that tour alone. She just really felt like she could connect with the audience and do whatever she wanted to do.
Because of the venue's small size, you have to charge higher prices. [VIP tickets for Don McLean, for instance, are selling for $275.] Is there a certain price point where you're afraid to go?
There are price points for certain artists that I just don't think I want to try, but people are willing to pay a little more for these types of shows. The interesting thing in the industry now is, because there is no money to be made on recordings, everything is about ticket sales and merchandising. So you're seeing ticket prices going up. I think people are realizing that they're going to have to spend their money to get that kind of experience and it's shifting the marketplace.
You've introduced a membership program that rewards your regular customers. Is repeat business going to be a key for the business?
We have people who come to one to two shows every month and maybe more, and they come from all walks of life and they really feel at home here. There's definitely a particular demographic and age group of people who are going to be that loyal. We have one guy who has a guitar that he gets signed at every show. It's his "Warehouse guitar."
And the membership program is an opportunity for us to give them something back as opposed to a discount program because we can't afford to do that at this type of venue.
From the music side, it seems like this might be a dream come true. But you still have to make a living. Is The Warehouse making a profit?
We've only been doing this particular model for five months, so if I said yes, I'd absolutely be lying. But we have a lot of other things that we do to financially support what's happening here. We have sponsors and other financial backers who are behind what we do.
But it will be [profitable] soon. Our fall schedule is when that will start happening because we'll have the consistency in our lineup and we have the awareness of fans and what we're doing. It's a slow-growth model. It's not something that just takes off like that because we're not a bar or a place that serves food. We're not open every night. We're very much a destination location. But I'm a hundred-percent pleased with where we are right now.•
Click here for other interviews.
Please enable JavaScript to view this content.