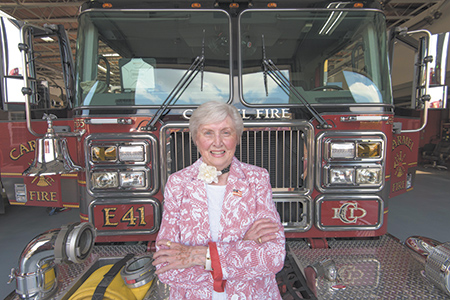 When Carmel city employee Jane Reiman gets tired, she takes an hour or so nap. And that's OK. The former two-term mayor is proud to be 83-1/2 years old and still working part-time.
The Republican, who served as mayor from 1980-1987, has been involved in Carmel politics since the 1970s.
She described her life to IBJ in chapters.
Moving from Canada to Carmel:
I grew up in Toronto and went to the University of Toronto [to become a] dental assistant. One of the professors at the dental school at the time … asked me if I would ever come over to the University of Michigan and work if there was a job. That brought me to Ann Arbor, where I met my husband. … He was with an insurance company, and they transferred him to Indianapolis. That brought us to Carmel in 1968.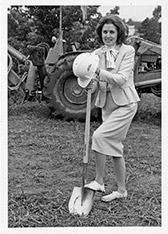 During former Carmel Mayor Jane Reiman's administration, the city purchased the land where City Hall, the police headquarters and fire department headquarters stand today. The city broke ground on the fire department headquarters in 1986.
(Photo courtesy of Jane Reiman)
Getting into politics:
A lady came to the door one day and she asked if she could register me to vote. Then she said, "Would you mind helping me?" She said, "Every time a moving van comes, would you go out and register people to vote?" I said, "Oh sure, I'd be glad to."
Then, in 1974, the town board put a referendum on the ballot: Did Carmel want a city manager or a mayor form of government? That passed as a mayor form of government. And one of the men on the town board said to me, "You know, nobody is signed up to be an at-large candidate for the city council. How about you try for that?" So, I did and I won. That term was 1976-1979.
How she became mayor:
In 1977, I was at a party Ralph Wilfong was giving. We were standing in a group and he said, "You know, I think my dream is going to come true. I'm going down to the state Legislature and I'm going to talk to them about getting the first pari-mutuel track right across from my property." That would be about where Kohl's is today—just north of 146th Street.
I was the only woman in a group of about eight men talking and he passed the map around and I memorized the map. I didn't want a racetrack in Carmel. I knew that Carmel had a great future and people wouldn't want to live by a betting racetrack.
I became a chairman of the group against the pari-mutuel racetrack, and we defeated the referendum 65-35.
After that, people started to say to me, "You should run for mayor."
So then I ran for mayor in '79 and I won 65 percent of the vote, which surprised me. I had been home for 23 years raising two children. I hadn't worked in 23 years. … I always give the racetrack the credit for what happened in my life, which I never expected.
Serving two terms as mayor:
One of the things we—I always say we, as in the seven-member council and the mayor—were very, very proud of was Meridian Street overlay. It was in our administration that the Plan Commission put that together. I call that the "miracle mile" because they put so many constraints on being back from the highway, landscaping had to be beautiful, the height, and no fast foods were allowed, no gas stations.
I like to surround myself [with] people who are smarter than I am because I've got the common sense, but I'll let them have the brains.
One day, Councilors Fred Swift and Jim Garrestson came to visit me and they said, "We have to think about building a new city hall." And I looked at them and said, "Oh, that's a good idea."
We bought 13 acres and then the eight of us decided, if we're going to put a city hall there, we have to have a main police station and a main fire station.
All those bonds have been paid off now. People always worry about bonds, but Carmel has wonderful bonds. And even now, there's a lot of outstanding bonds, but they'll all be paid off. People don't have to worry about those kinds of things. That's what government is for.
I served eight years, and then I was absolutely exhausted, and I didn't run for a third term. I don't know how Mayor [Jim] Brainard keeps going. Eight years just did me in.
Other roles:
Gov. [Otis] Bowen put me on the environmental management board and I was the only woman on that board. There were about 20 of us and, at the first meeting, they kept saying, "We want to talk about the EPA and CDO" and all these acronyms. Finally, I put my hand up and I said, "I'm so sorry, but I don't understand anything you're talking about." And all the men looked at me, and I felt kind of silly. And about four of the men started chattering and saying they'd been wanting to say that ever since they'd been on this board.
After that, I was the most popular person on the board because I had the courage to ask, "What are you talking about?" So, that was wonderful.
Moving away—and coming back:
At 62, I retired. I had divorced in '87 and never remarried.
One of my daughters lived in Corydon and she said, "Mom, why don't you come down to Corydon?" She had one baby and was expecting another, and she said, "Maybe you could help with the grandchildren."
So, my next chapter was 14 years in Corydon. Then the girls were in junior high and high school, and I thought, "What am I doing here?" So in 2009, I moved back to Carmel.
Working at City Hall, again:
I've worked for [Director of Community Relations and Economic Development] Nancy Heck for 4-1/2 years—two days per week. I generally work about 16 hours a week, and it's been wonderful for me.
But even before I moved back here … I worked for Jim Brainard. He came into office in 1996 and he phoned me down in Corydon and asked me before he took office if I would come up four to six months, go home on the weekends, and just work with him for a while. I came up January through April. Then I looked at Mayor Brainard and said, "Oh, my, you don't need me."
Taking on another job:
I've lived in an apartment for 8-1/2 years and always loved it. But the Woodland Terrace of Carmel retirement home people met me and asked me if I would be their ambassador and if I'd be interested in moving into the retirement home when it is completed.
I love old people, and I am an old person. I think we just have so much to offer. So I'll move into that retirement home, living with about 180 other older people.
I'm looking forward to it so much. I'm going to be teaching a Christian Bible study for them, and we will have a current events seminar every week.
For me, it's another chapter.•
Click here for other interviews.
Please enable JavaScript to view this content.