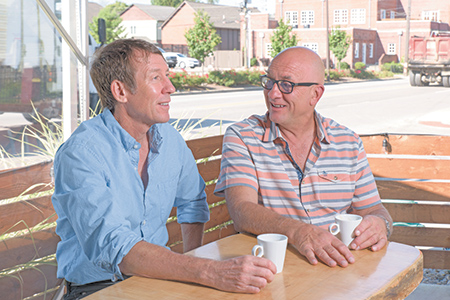 Thomas Main and Peter George opened Tinker Street in 2014 with six decades of restaurant experience between them.
Starting with Peter's Restaurant in 1985, George helped spur the local culinary scene toward chef-driven eateries with a farm-to-table bent. Main launched the local casual Italian chain Puccini's Smiling Teeth in 1991 with his brother, Don.
George and Main fell on hard times in the 2000s and ended up as housemates. By then out of the restaurant business, they began plotting a return as partners in a new venue, which became Tinker Street, at 402 E. 16th St. Modestly sized and in a resurgent neighborhood, Tinker Street was an immediate hit with its copious outdoor seating and forward-thinking, plant-based menu.
The duo now is working on a Mexican restaurant at 1217 E. 16th St., which could open by the end of the year.
How did you first know each other?
Main: It was 31 years ago. I walked into Peter's restaurant [936 Virginia Ave.] a few days after he opened. And I would say that first I was a guest, then we were friendly, then we were friends, then we were really good friends.
How did you decide to do a restaurant together?
Main: Here's how it happened: Peter and I went through sort of a down period, close enough to the same time.
George: Definitely.
Main: Three marriages [each]. Peter's restaurants. I had some other businesses.
George: It was intense.
Main: It was just meltdown stuff. They folded hard. So Peter was living out by Fortville. I moved in. He had another part of his house, and I stayed there for a while.
George: You had the guest wing.
Main: Peter and I would cook. We'd talk. We'd sit out on the porch. We'd be miserable together. I am not kidding you. We'd listen to music. We were just getting through it. We were already friends, but it sort of galvanized our friendship in a different way. And we knew we had to do something. And this is what we know.
This was when?
George: 2008, 2009. Right in the throngs of the recession, the nastiness.
Main: We just had to lick our wounds for a while. It took us a while to get up the gumption, to charge the hill again, man. And we looked and looked. And we thought about different places around town. We were going to open up in Michigan and then that fell through—it was a short sale on a building—and thank goodness it did. Then we were back and looking at each other and going, "Are we doing this or are we not doing this?"
George: We were talking about it. Boring our friends with it.
Main: Then we did two pop-up dinners [for charities] to see how that felt and we got a really good response and had a reasonably good time. Those were in October or November of 2013.
George: The pop-up dinners gave us a great little springboard. Then it was New Year's Eve 2013, pushing into 2014, and we had a nice bottle of champagne and we said, "Either we get something done by June 1 or we're done." … We looked at 60, 70 places. It takes a lot of time. If we had done this five years earlier, we would have failed miserably. The neighborhood wasn't ready. The food scene was just starting to hit takeoff.
Main: And we probably weren't ready, either.
George: They say timing is everything, and I tend to agree.
Main: Besides the fact that it's location, location, location.
George: Yeah, right! And it's true!
How do you think you complement each other as co-owners?
George: Tom really takes care of managing the business side of our business. The bookkeeping. The numbers. All of that. I keep a good handle on day-to-day numbers, but I'm more like facilities management. I make sure things work. It's a lot like a boat. You know that if one thing doesn't work on that boat, you know you're not going to get out of port. This isn't any different. Every day, everything we have has to work, 100 percent perfectly. And when you're serving 1,000 or 1,250 people per week, it takes a lot of abuse.
Main: And then there's the people part of it, which is really both of us. There's the staff.
George: Team Tinker is made up of 99 percent millennials. They're young.
Main: They're definitely way younger than we are.
George: We have four servers on the floor who aren't even 21.
The conventional wisdom is that millennials have a terrible work ethic. Is that your experience?
Main: No. Our people bring it. They work hard.
George: The way that we complement each other is that we communicate so much. We don't leave anything up to chance. We talk about everything that needs to be talked about. I have a great sounding board, so why not use it? Why not fill him in, because he's going to have a different way of looking at it, and that's good.
Main: We can kind of draft off each other. When you carry the business by yourself, it seems a lot heavier. Peter brings more intensity, which I need.
George: And I need his more gentle behavior.
What happens if you disagree on something?
Main: It doesn't happen very often. And we work through it. We just get there.
George: I bet we haven't had 10 arguments in five years of putting this together. I mean arguments where somebody had some angst or something. That doesn't mean I haven't gotten verbal about something, but I mean actually angry at each other. And it's probably less than that.
Main: Yeah, I don't think it's 10.
George: I just said 10 because otherwise he wouldn't believe me. I know that sounds absurd. And keep in mind that we're together like 60 to 80 hours per week. Most marriages, you'd be at each other's throat.
So how is this like a marriage?
Main: It's lasted longer than any marriage I've ever had. The friendship has. That's the other part. We've been through some rough times together. So that was really helpful. But, how is it like a marriage? I don't really know. We talk way more than I have ever talked to any of my wives. Have you talked to any of your wives as much as you and I have talked?
George: Absolutely not.•
Click here for other interviews.
Please enable JavaScript to view this content.