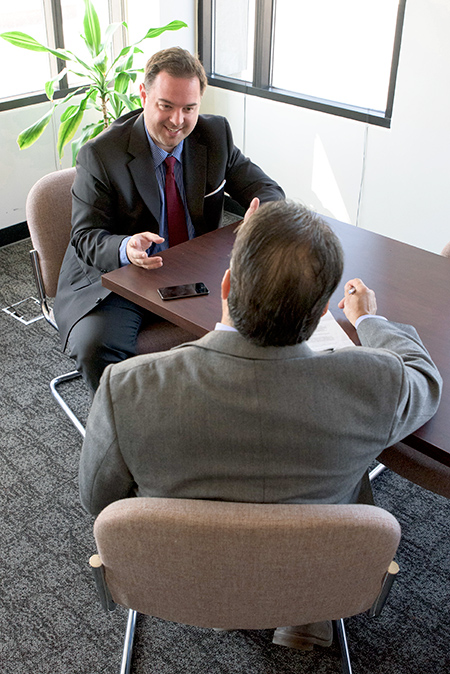 As Indiana's public access counselor, attorney Luke Britt spends his days trying to ensure state and local officials follow laws that require government to do its business openly.
Often, that means educating elected officials and bureaucrats about public records and open-meetings requirements. Sometimes, it's mediating disputes between the media or members of the public and a jail or city council. Other times, it's writing formal opinions that set precedents local officials are expected to follow.
IBJ asked Gerry Lanosga, an assistant journalism professor at Indiana University and board member of the Indiana Coalition for Open Government, to talk with Britt—who came to the job in 2013—about the state's laws and how well officials do complying with them.
What are your big impressions for the last three years?
As far as trends that I see statewide, it has varied so wildly from community to community. There are some municipalities that are really good about keeping up on public access, transparency and things like that and some government units which really do fall short. It really is all over the place.
What are the biggest areas of complaint from the public? What are the types of contacts you get from officials?
Timeliness is the biggest issue. Agencies have a certain amount of time to acknowledge receipt of a complaint and then another amount of time to actually produce the records. That's the biggest by far. A lot of public officials or public employees miss that initial deadline and that almost always triggers a complaint from a requester.
The ones that drag out for a while even after the acknowledgement period are the ones that concern me the most.
Once you pass that initial deadline, what's a reasonable amount of time for the public to actually receive records?
Unless it's an extenuating circumstance, my expectation is that most records requests should be fulfilled within 30 days, most within a week. If it's just asking for meeting minutes, that's in the file cabinet, they're in the office; [officials] can pull that and give that to them right away. If it's something that takes some research or has to be vetted through an attorney for sensitive information, then I understand why it may take a little longer. If we're looking in a situation where it's months and months and months, that's very concerning to me.
What is the record in terms of foot-dragging or delays that you've seen?
Six months. That's my threshold even if it's a large amount of documents. The only one that long I've OK'd was a very complex, very large email request. Something like 7,500 pages of documents. That was understandable and that was reasonable. What the agency did was, they doled them out as they became available as well, which I think is the best practice, anyway.
You do get occasional officials who ask you for guidance. What are they wanting?
They want to know, first, my expectations—what I think is reasonable under the circumstances. They'll ask me, "Should we redact this? Should we not redact this?" I'll work with them and try to come to some common ground on what I think is appropriate for release. Sometimes, they'll ask me for formal guidance as well. I get to write an opinion based on what the law says and give that to them that way. I always encourage officials to reach out to do that before they get themselves in hot water or before the complaint starts.
Is there a particular issue that is most likely to be on their minds when they seek that guidance?
These days, it's probably email production.
Can you think of something that's really surprised you in three years?
Believe it or not—and I don't want to sugarcoat it, because there are problems—I think, the willingness of public officials to work with me and not treat me as an antagonist or a public access cop but embrace that public access counselor role. They don't always listen to me. In my opinion, they don't always do the right thing. [But] there's a willingness there to at least adapt.
Having been a journalist for almost 20 years in the state and then worked with the Coalition for Open Government studying these issues, you can get a bit of a jaded perspective. You can tend to start to think that public officials are, maybe, genetically inclined to want to withhold information as opposed to release it. Is that fair?
I think anybody would be territorial about their work product. In the private sector, work product is between me and the client or me and the supervisor. In the public sector, it's between a public official and anybody who wants to see it. I think that raises the hackles of public employees sometimes and understandably so. My job is to change that perspective.
What about frustrations? Can you think of one or two or maybe your biggest frustration in doing this job over the course of three years?
It's the turnover in public employees and administrations. After each election, there's a whole new set of folks that I have to educate. They may be coming from the private sector with the mentality that our records are our own. We can have our board meetings behind closed doors because that's what we did in the private sector. Changing that mentality is the biggest frustration. It's a Sisyphean task. Every time I think I get to the point where I'm making some progress, I hear another problem. It keeps the job fresh and keeps it interesting. It's job security.
The typical finding [in studies about open records] is that the Indiana law is pretty good in theory, not necessarily in practice. Does that comport with your general impressions?
It's a law with a lot of gaps and some loopholes, which can be a good thing because, when I'm writing my opinions, I get to fill in the gaps with what I think the law should say. Because my decisions don't have the effect and force of law, I can add a little editorialization or a little color to it and come from a pro-transparency perspective. At the same time, those loopholes can be exploited.
One of the things that a lot of advocates have identified as an issue in our state is the lack of a real meaningful enforcement effort that's accessible to regular people. If you think you have a right to a record and you're denied by an agency, you can come to the Public Access Counselor's Office and get an opinion. It's non-binding. Your only recourse as a citizen is to go to court. There has been discussion from time to time about having some better enforcement mechanism.
Right. I see both sides. This current office-holder, I've taken a pass. From where I sit now and the type of work I do now, I'm as accessible and approachable by the public as I can be. If I was an ALJ—administrative law judge—once a complaint is filed, I couldn't talk to either party. A lot of these [current] complaints are mediated and they are resolved. Because of ex parte rules and things like that, it would hinder my ability to reach out to those parties and course-correct during the course of a complaint.
At the same time, you are correct. There are situations where a public official just doesn't take my recommendations. In those cases, it would end up in court.
There are some major holes in the access law for deliberative material. There's a provision that allows agencies to release or not release, I think, more than two dozen categories of records and a law enforcement investigative exception that never really seems to expire, whether an investigation is 50 years or 50 days old. Are there fixes that are feasible?
Let's take the deliberative-materials exception. That's been called the exception that swallows the rule. I do see that abused at times. People stretch that definition of what a deliberative piece of communication is to include almost everything. I could see that definition being revised, finally, and not necessarily broadly, to put some more parameters on that.
With investigatory records, I could foresee having a cap on it as far as when that expires. I don't necessarily know what that would look like. You're right, a 50-year-old investigatory record could still ostensibly be considered investigatory by law enforcement.
You're thinking, maybe, small tweaks in the law as opposed to major.
Yeah.
Do you share that concern that some access advocates have? That if we open up the access law to a major revision, we could end up with something worse?
Yeah. I think we're seeing that with the legislation that came into play with body-worn cameras for police officers. That was a major, major push. That law does some very good things. It's also, I've heard from a lot of police departments, it's discouraging them from having those programs in the first place. Again, as far as overhauling the law, I think it should be a set of fine tweaks and revisions as opposed to just a whole new statutory scheme.
You mentioned earlier emails as one of the big areas of interest/concern with officials who contact your office. That seems to me like the big challenge for open-government access.
A combination of statute, case law, and then my opinions as a supplement to those, I think, provide a pretty good framework as to what public officials should do with their electronic data. It can always be improved. Again, it's an ongoing task to make sure that there is good guidance for best practice. Technology changes so much and so quickly that it would be impossible for a legislator to keep up with that or even the courts to keep up on that.
Where is Indiana in terms of active transparency where agencies are proactively making information available online?
I think the [state] transparency portal and the online gateway is a big step in the right direction with agencies having to upload—even on the local level—contracts and expenditures and appropriations and things like that. That's pretty robust even though it's in its infancy. In Indiana, I think, from what I can see nationwide, we're a leader in that kind of proactive transparency.
I'm sure you're aware of some of the complaints that people have had from time to time about these transparency portals—that sometimes there's a bit of an illusion of disclosure. For instance, there may be searchable data where you can run an individual search about something, but you can't actually download machine-readable data. Have you heard some of those complaints?
Not really, because I don't think that that data that's put on that portal is cherry-picked in either way. There's a pretty consistent guideline of what goes on there and what doesn't have to go on there.•
Click here for other interviews.
Please enable JavaScript to view this content.