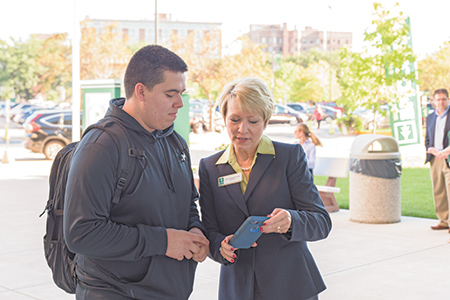 Sue Ellspermann, 56, has been a lot of things in her life: industrial engineer, business consultant, university teacher, state legislator and—from 2013 until earlier this year—Indiana's lieutenant governor.
Now, the southwestern Indiana native has a new gig: president of Ivy Tech Community College of Indiana, which she started July 1. On the first day of the fall semester, Ellspermann talked about what's ahead for the school.
On her top goals for Ivy Tech:
There are really two priorities, and that goes along with our mission as an institution. That is, to have students succeed in post-secondary credentials and degrees, and the second is to align with the needs of the workforce for employees.
On her definition of student success:
I speak a lot about the metric that we ought to be measuring for student success, which is students completing on their expected time frame. There's been criticism of Ivy Tech because of our two-year and four-year graduation rates. My response is that we are a highly nontraditional student base. Certainly, we want them to graduate as quickly as they can.
If they don't come in the door intending to go full-time taking 15 hours, we should be pacing it along the pace. If they say, "I'm going to take two classes a semester," then that ought to set the pace.
On using data and technology to help students succeed:
We just launched a new data warehouse [in July] called NewT. That is real-time data that combines all of our separate systems across the college into one combined data warehouse from which we can look at real-time data to see how a student is doing. What that showed us is that, within two weeks of the start of school—so, two weeks from now—we will know with 80 percent certainty which of our students will succeed, are likely to succeed.
We know: Did the student go into [educational management system] Blackboard and how are they tracking compared to their peers in that class? If they've only gotten on once and all their peers have gotten on three times a day, we know that probably something's not good. It could be whether they went to the bookstore. It could be any number of things that we can see behaviorally in this algorithm that correlates strongly with which ones succeed.
Why that's important is that we know that real-time. At that two-week mark, we'll be able to know by name … which ones are struggling. We can reach out and we will be reaching out to each one of them to find out what's wrong, what kind of intervention do they need?
We're not going to be 100 percent successful. There will be some students who, for various reasons, are not going to make it. But at least we will know that we have done all the things to help that student succeed. The rest of it is up to them.
On Senate Bill 301, which the Legislature enacted earlier this year with Ivy Tech in mind:
It required that the president of Ivy Tech would not only have a provost who is your chief academic officer, but we would also have a VP of workforce at that equal level with the provost. That's unusual for a higher ed institution to think that you would have an academic person and a workforce person.
The second part was that the Department of Workforce Development would be required to develop demand-driven data on the jobs that are out there in our state.
We will be realigning our programs to meet the demand that is out there with our employers.
On why she visited 22 Ivy Tech sites around the state and met with more than 750 faculty members and staff this summer:
It was important for me to get what I call the "music" of the institution. I could get reports and I could read about them and I could get on the Ivy Tech website, but what I really wanted to understand was—from a faculty-member standpoint and from a staff-member standpoint—what was their experience? What was important to them? What were their particular concerns going forward? And meeting the faculty and staff across the state, you realize that each region has a little bit different culture and employer base. So they're going to look different in Gary compared to Sellersburg compared to Fort Wayne compared to Terre Haute.
It's both the strength and the challenge of this institution that we are the biggest workforce engine for the state of Indiana, yet each community really wants to own their own Ivy Tech and do their programs differently.
On why workforce development is so important:
You name it, there's just a lot of jobs that have high demand that employers are struggling to fill. The challenge is, if we don't graduate and complete those degrees and credentials, those employers will hire but they'll start importing workers from other [states]. And that's the worry for me—that, if we don't do it, our Hoosiers stay in the entry-level jobs and other people come in to those better-paying jobs.•
Click here for other interviews.
Please enable JavaScript to view this content.