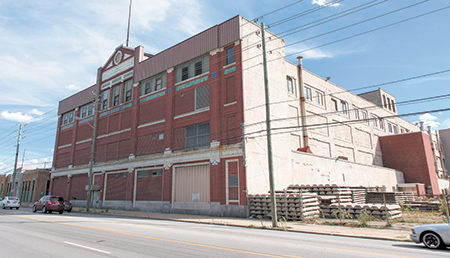 If a building can be called a celebrity, Ford Motor Co.'s Washington Street assembly plant was certainly an A-lister in its day.
For its grand opening in March 1915, Ford used 350 Indianapolis-produced vehicles to ferry business and community leaders to the plant for tours.
And two months later, 2,000 Indiana members of the Independent Order of Odd Fellows, a service group, toured the plant at 1301 E. Washington St. It took 100 Ford touring cars five trips to transport them all from downtown Indianapolis.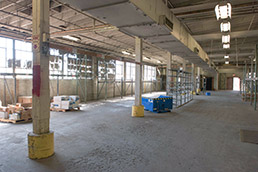 Indianapolis Public Schools had used the building for storage but is now selling it. (IBJ photo/Eric Learned)
"The cars were so close together that they presented one continuous parade," a May 30, 1915, Indianapolis Star story reported.
But despite its triumphant beginnings—and the 600,000 cars the plant would turn out through 1932—Ford closed what remained of its sales and service departments in 1942.
Now, the facility is on Indiana Landmarks' 10 Most Endangered buildings list, a roundup of historic properties around the state that the preservation group sees as most in need of help. The plant is one of three central Indiana buildings on the list.
The others are a former German cultural center, built in 1900 at 306 E. Prospect St. just south of downtown, and the Rivoli Theatre, at 3155 E. 10th St., a glamorous movie house when it opened in 1927 but now badly dilapidated.

The list identifies priority sites for both Indiana Landmarks and outside entities, said Mark Dollase, the group's vice president of preservation services.
"It's always kind of this rallying point to bring people together to find solutions," Dollase said.
Over the years, 112 sites have been on the list. Of those, 78 have been restored and 15 have been demolished. The status of the others is somewhere in between.
Not every most endangered property is in dire condition. Some make it onto the list because they're underutilized, like the old Ford plant.
Indiana Landmarks says it's keen to save the property because it has a leaky roof that is causing mold to grow inside the building which, left unchecked, can cause major damage, said Tina Connor, an executive vice president at Indiana Landmarks.
"We hope to find a new use quickly before the decline makes it a financially unattractive prospect for renovation," Connor said.
Already, the building's exterior appears worn and many windows have been bricked over. Inside, the bare floor is marked with occasional puddles. Every painted surface is dirty, chipped or faded and a musty smell fills the air. Indianapolis Public Schools, which currently owns the building but put it on the market in September, used it for storage until recently. Late last month, workers were clearing out the last of the supplies—rows of old lockers, piles of textbooks and the like.
A sale might reignite the plant's star power. Supporters of both the building and the neighborhood are excited for the potential a new owner could bring.
IPS acquired the building in 1979 from P.R. Mallory Co., a battery maker that moved in after Ford moved out. The school district decided to sell based on the property's location and its maintenance costs, IPS Operations Officer David Rosenberg said. The move is also part of a larger plan to get rid of excess real estate.
Rosenberg said the building is structurally sound, but he acknowledged it does need work. "It's a 100-year-old building that's had a lot of use."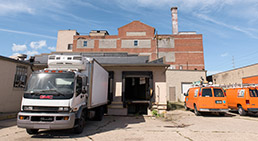 In late September, workers were clearing out the last of the storage items. (IBJ photo/Eric Learned)
It's difficult to estimate how much it would cost to redevelop the site, he said, because that would depend on how the new owner wants to use it. And the school district is not taking a position on what that should be.
"We'll leave that to the market to determine," Rosenberg said.
There's been interest in the past.
In 2014, Indianapolis-based Angie's List Inc. announced plans to buy and renovate the building, converting it to office space that would serve as the company's new headquarters. The conversion was to be part of a $40 million expansion, half of which would have been spent on the Ford building.
But Angie's List called off its expansion plans. The company now has "no current plans to acquire the building," Angie's List spokeswoman Cheryl Reed told IBJ.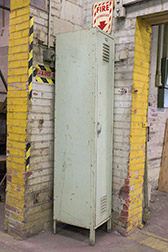 Old signs and left-behind objects hint at the building's industrial past. (IBJ photo/Eric Learned)
Reed would not say whether Angie's List might change its mind at some point.
"I'm not going to speculate on the future," she said.
But neighborhood leaders have some visions of what that property could be—and what its reuse could do for the neighborhood.
"It's maybe the best possible development opportunity along the East Washington Street corridor," said Joe Bowling, director of the East Washington Street Partnership and the Englewood Community Development Corp.
Bowling is still disappointed that Angie's List's plans fell through. That would have brought 2,100 jobs to the old Ford plant—800 people who were to be moved from Angie's List offices elsewhere in the city and another 1,300 jobs that were to be added by 2019.
Bowling said he prefers a reuse that would once again bring jobs to the area. The building, he said, "could be a wonderful corporate home for someone."
Dollase, of Indiana Landmarks, agreed the site has potential.
"I think there will be strong interest," he said. But he envisions affordable housing as a possible use.
He also cited a similar Ford plant in Oklahoma City that is now a boutique hotel. Louisville-based 21c Museum Hotels turned a former assembly plant into a 135-room hotel that opened this year. In Indianapolis, 21c is planning to convert the former city hall at Alabama and Ohio streets into a hotel.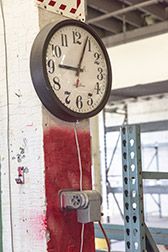 The Ford plant produced 600,000 vehicles between 1915 and 1932 and then used the building for sales and service through 1942. (IBJ photo/Eric Learned)
"It gives you a sense of what [the Indianapolis plant] could be when it's brought back to whatever use it may have," Dollase said.
A few months ago, he said, he talked to two interested developers—one local, one out of state.
Still, historic properties come with certain challenges, said Dennis Dye, a principal with Indianapolis-based TWG Development.
"We've done a bunch of [historic redevelopments] and we've learned something different every time," he said.
For one thing, older buildings often have physical problems the developer discovers only once renovations have begun.
"You're taking a big risk on what the structure of the building really is," Dye said.
When preparing a budget for a historic renovation project, he said, he typically adds 15 percent to 20 percent of projected costs to cover contingencies, more than twice the cushion of new-construction projects.
Older buildings do offer advantages. Buyers can usually acquire the sites for below market value, Dye said. And if a property has historic significance, city leaders might offer grants or other incentives to help push things forward.
Dye said he sees potential for the old Ford plant, though he also believes "it's going to take a heck of a lot of heavy lifting"—and will likely involve state and local incentives.
The original building encompasses nearly 166,000 square feet. A later addition on the back added another 41,000 square feet.
The building's large size and relative lack of parking also pose challenges, Dye said, but envisioned its being developed into collaborative office space for multiple companies.
"I think it'd be a great place for the tech world."•
Please enable JavaScript to view this content.