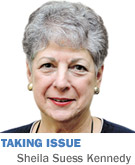 As the incoming Trump administration rolls out one appointment after another—virtually all inexperienced ideologues—many of us are still trying to wrap our heads around an election result that seems incomprehensible.
At this writing, Hillary Clinton leads the popular vote by some 2 million; Trump won the electoral votes of the swing states by a combined total of approximately 100,000. For the second time in four elections, the candidate who won the popular vote did not become president.
The Electoral College—originally devised as a way to allow Southern states to "count" their slaves (albeit at a "discount")—continues to favor the votes of rural America over those cast by urban residents. In order to win the presidency, it isn't enough to win more votes than your opponent—those votes must be properly distributed.
The electoral map is not—as often described—cosmopolitan "elitist" coasts against the "heartland." It's a nationwide series of blue islands in seas of red—urban centers surrounded by suburban, exurban and rural precincts.
A number of political scientists and pundits have highlighted the growing divide between what they characterize as urban pluralists and rural nationalists. It isn't unique to the United States; white nationalism had been sweeping Western Europe even before Brexit and the improving prospects of France's Marine Le Pen.
As Benjamin Barber recently wrote: "[T]he disconcerting truth is that Donald Trump and his voters are sailing not merely in the face of the winds of change but against history's dominant trends: Global demographics are against him, as are American demographics; the reality of urbanization is against him; the mobility of peoples is against him; and the growing dysfunction of national sovereignty on an irreversibly interdependent planet is against him."
If Barber and others are right, the reality they describe goes a long way toward explaining the anger and resentment in dwindling rural communities. Unfortunately, anger, resentment and the disorientation caused by rapid social change too often facilitate the search for scapegoats, for someone to blame.
In the wake of the election, we have seen a celebration of the bigotries Trump was only too happy to exploit. Swastikas on churches. Threatening graffiti in minority neighborhoods. Racist posts on Facebook and Twitter. The Klan and the American Nazi Party celebrating Trump's "win for the Whites."
This is scary stuff. And people of good will—urban or rural—need to confront it.
The good news—and there actually is some good news—is that people of good will are organizing and rallying to do just that.
Donations to organizations like Planned Parenthood, the ACLU and Exodus are sharply up. Citizens in a number of cities are coming together to consider how best to protect not just threatened rights, but threatened neighbors and friends.
A couple of weeks ago, I was invited to speak to a "Women's Rally for Change" event, along with Betty Cockrum from Planned Parenthood and Christina Hale, the Democratic lieutenant governor candidate. Convened by Rabbi Sandy Sasso and Jennifer Williams, the event was billed as an effort to craft an agenda to resist the assault on women and minorities—to answer the increasingly common question: What can I do? It was promoted by Facebook posts; organizers hoped a hundred women might attend.
Five hundred women crammed into a space meant for far fewer. Another 400 had to be turned away.
And Mayor Hogsett attended, a reminder that Indianapolis' "urban" value of civic equality is the quintessentially American value, and worth defending.•
__________
Kennedy is a professor of law and public policy at the School of Public and Environmental Affairs at IUPUI. She can be reached at skennedy@ibj.com.
Please enable JavaScript to view this content.