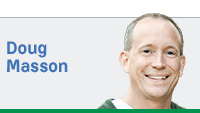 You can't know where you're going if you don't know where you've been.
Dec. 11 marks Indiana's bicentennial. A year ago, I decided I did not know enough about Indiana's history and set out on a project to blog all 200 years' worth of it. The project spiraled out of control and ended up spanning more than 110,000 words and 100 posts over the course of a year. That was a little nuts, and I would not recommend it to anyone. But, I would recommend that Hoosiers learn more about their history. Every place has a tale to tell, and that tale tells you about yourself, yourpredecessors, and the world in which you live.
Knowing history can provide perspective that encourages compassion and a sense of proportion. While your time and place are not so special as you might have thought, it's also true that conditions are not so dire or hopeless as they might seem. And time is fleeting. We are strutting and fretting our hour upon the stage. We had better make the most of it.
Even if all of that is a little too abstract or philosophical for your tastes, there are some good stories to be found. We were a small community strung out in a crescent from the Whitewater down to the Ohio and up the lower Wabash rivers, battling the wilderness and Native Americans on our way to becoming a complex state of 6.6 million people in the center of the most powerful nation in the world.
There was the clash, in the beginning, of Jonathan Jennings and his anti-slavery faction versus the aristocratic William Henry Harrison and his pro-slavery forces. Jennings won, slavery was outlawed in Indiana, and Jennings became the first governor. Nevertheless, Jennings ended his life in an unmarked grave while Harrison ended his life in the White House.
There was the great gamble on the Mammoth Internal Improvement Act of 1836 that led to bankruptcy but also laid the foundations for Indiana's transportation infrastructure. There was the dyspeptic Democratic Party boss, Jesse Bright, who dominated Indiana politics for years only to end his career in disgrace, forced out of the U.S. Senate for introducing the Confederate Jefferson Davis to an arms dealer.
Lt. Gov. Oliver Morton took the governor's office in a deal that sent Henry Bright to the U.S. Senate, and then Morton, almost through force of will, held the state together and on the Union side during the Civil War. Twenty-four thousand Hoosiers died fighting the Confederacy in the 19th century, and yet, in the 21st century, misguided Hoosiers can be seen flying the Confederate flag.
The General Assembly was the scene of gunshots and brawls on more than one occasion in the late 1800s. The state struggled with white caps and how to control their brand of vigilante justice. Belle Gunness had bad luck with mysteriously dying husbands and suspiciously good luck with insurance policies. There were Progressives, eugenics and Paul McNutt's nearly total control of Indiana government. The Klan rose and fell along with its leader, D.C. Stephenson. Carl Fisher built roads and the Indy 500. Our state produced Lew Wallace, James Whitcomb Riley, Booth Tarkington, Kurt Vonnegut and other great authors. We fell in love with basketball, and Bobby Plump hit his shot to complete the Milan Miracle. And so much more.
We have a great history and, in this bicentennial season, we should all take a little time to learn more about what it means to be a Hoosier.•
__________
Masson is a Lafayette attorney, author of Masson's Blog and former counsel for the Legislative Services Agency. Send comments on this column to ibjedit@ibj.com.
Please enable JavaScript to view this content.