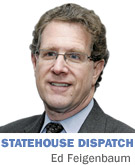 What should you expect from Republican Eric Holcomb when he becomes Indiana's 51st governor?
Though he served as lieutenant governor for much of 2016, he did so in the shadow of Gov. Mike Pence—and Holcomb's four-month campaign for governor didn't allow much opportunity for outlining details of specific policies and programs (Jobs! Roads! Education!) he intended to undertake.
But while Lt. Gov. Holcomb was largely a cipher during his campaign to those trying to pin down precise points, you can infer some things.
During the 2016 campaign, the question many asked was whether he'd be more like former Gov. Mitch Daniels, a Republican and the state government boss whom he effectively served for two full terms, or Pence, who installed him as LG in March to help mend assorted business, political, legislative and fundraising fences.
Your answer: He's a little bit country (Pence) and a little bit rock 'n' roll (Daniels).
Looking back over the last pair of elected two-term governors, history treats them differently than when they left office.
Former Gov. Frank O'Bannon, a Democrat, was viewed as the kindly caretaker, but he shepherded a major tax restructuring package and his true legacy will be the revitalized community college system, then seen by many as change of little consequence. Now, of course, the community college and vocational and technical education roles of Ivy Tech Community College and Vincennes University play a vital role in our economic development framework.
Daniels grumbled about devoting lots of early attention to putting the state fiscal house in order and focusing agencies on serving customers (key examples: the Bureau of Motor Vehicles and Indiana Department of Environmental Management). He sought to move the state ahead in jobs and economic development with daylight saving time, enact local government efficiencies, pass the Toll Road lease transportation program, reshape the Department of Commerce into a largely public-private enterprise, and retool agriculture programs to boost trade.
But under the Pence administration, the state grappled with internal issues that hadn't been addressed, I-69 development was stymied, infrastructure deteriorated, and the goal seemed to be shifting from streamlining government to moving Indiana (and the nation) from government-run schools to a mix better suited to deal with individual student needs.
Pence hasn't even formally left office yet (despite his attention focused elsewhere since July), and few are now debating legacies. While RFRA looms large in how history processes his term, that (and the RFRA fix) was an impediment (arguably self-inflicted), and not the consequence. In another decade or so, expect Pence to be praised for taking the first key steps toward mental health reform, improving the network of state-operated mental health facilities with a state-of-the-art Indianapolis neuro-diagnostic institute.
Holcomb assumes office in Indiana's 201st year of statehood, and that will help shape the Hanover College history major's perspective. As LG, he oversaw the bicentennial celebration, and it affected him. While he's always looked beyond short-term solutions, the 200-year context convinced him that we've recently been too consumed with making decisions based upon getting us past a crisis or doing something within given funding constraints.
Look for the new governor to take a longer and broader view of every critical program and issue, asking where we want to be in not just a year or two or at the end of his term, but in at least 10 or—better yet—20 years. He wants us to decide on the desired end-product and work to determine what resources are needed to get us there and how that can be accomplished.
In that sense, he's likely to be a governor more focused on process than policy, but Hoosiers know form and function are not always easily separated. The Holcomb legacy in a generation might thus be far more broadly felt—if not as easily discerned—than that of governors he served and his predecessors.•
__________
Feigenbaum publishes Indiana Legislative Insight. He can be reached at [email protected]
Please enable JavaScript to view this content.