International Vending Management Inc. is the furthest thing from a Silicon Valley firm. But the Indianapolis-based company has been winning the affection of industry titans in and around that tech hotbed lately, and it sees plenty of room for growth.

The company, known as IVM, started in 1991 by managing vending machines that contained snacks. Today, it sells and leases vending machines and lockers that dispense employee supplies like computer mice, headsets and other IT accessories. Its client list includes Facebook, Salesforce.com, Dropbox, Zillow and Intel.

IVM doesn't just sell machines; it runs the underlying software that allows businesses to manage what goes in those machines and who has access to what. It's had such an offering for safety products for years, but recent interest in tech-related products by tech and non-tech companies has boosted sales.

"IT peripherals can be anything from a $2 thumb drive to a $4,000 laptop or a $1,500 screen," IVM President Michael Pitts said. "The machines for those products are exploding right now, because every company uses them."

IVM was started by the Calderon family, which also owned Calderon Bros. Vending Inc. until the family sold it to Treat America Food Service in 2009. Howard M. Calderon is the sole owner of IVM today, having bought out his family in 2010.

The company, near East 30th Street and Mitthoefer Road, has 36 employees and occupies about 12,000 square feet in a company-owned building. Pitts said the "conservative" company doesn't have plans for a hiring binge but does plan to add salespeople.

The company has two divisions: Vending Management, its original bread-and-butter segment with about 60 clients, involves managing snack-filled machines in corporate break rooms. Supply Vending, with about 90 clients, provides machines that dispense employee products.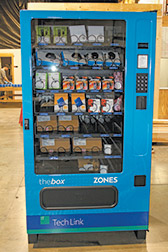 IVM's supply vending machines are used in IT offices nationwide, including this machine delivered to Microsoft in 2016. (Photo courtesy of IVM)
Supply Vending has been around since 1993, when Union Pacific Railroad Co. asked IVM if it could make machines that doled out gloves and earplugs. Facebook made a similar request for tech products in 2011, Pitts said. Before long demand increased for those kinds of machines by companies in health care, finance and other sectors.

"Before Facebook, we had no tech clients—we didn't even know such a market existed," Pitts said. The company doesn't disclose revenue but said annual sales gains for the Supply Vending segment have averaged 11 percent since 2014 and that the division expects a 29 percent increase in 2017.

Other companies distribute vending machines to dispense employee equipment. Minnesota-based Fastenal Co. sells industrial and construction supplies through vending machines it operates that are made by a third party. And Ohio-based Myers Tire Supply sells supplies used by auto dealer service shops in a similar fashion.

But IVM actually creates the vending machines and the underlying software, while the clients control what goes in them. Employees, depending on what they are approved for, simply visit the machines, swipe a badge and grab their products.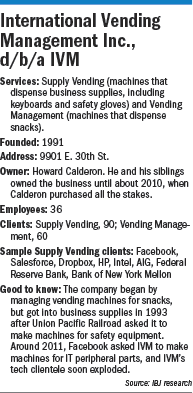 Some companies, like printer maker HP Inc., not only use the vending machines for internal employees, but also sell their products in IVM vending machines at other companies. Rob Ekwerekwu, a worldwide portfolio manager at the Hewlett-Packard spinoff, said the vending machines have positively impacted efficiency and morale.

"It's helped with employee satisfaction—they're not having to wait two or three days to get their product in the mail," he said about the firm's roughly 20 machines.

IVM's pitch is that its vending and locker system is streamlined and cost-efficient. Clients, many of whom have hundreds or thousands of employees, are relieved of the cumbersome, multi-department process of ordering and distributing supplies.

Tim Sanford, editor of Maryland-based trade publication Vending Times, said IVM's concept makes sense. "This is a lot more efficient than my unrolling a rug in the town marketplace, setting my turnips out on it, and waiting for you to come along wanting some turnips," Sanford said.

"[The] office/small computer supplies machine is a good example of that model; why have somebody guarding the supply cabinet when he or she might be doing something more productive?"

IVM has no grand plans to ratchet up growth. Asked whether company leaders have contemplated taking on venture capital to accelerate sales, Pitts said, "It has been a conversation, for about five minutes. We are very fortunate to have an owner that is more than able to support us if we need the support. We are very profitable and are more than able to grow within our own means at this time."

"That's not to say the future won't change and the owner might say, 'Well, maybe we can really ramp this up.'"•