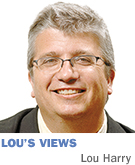 Most of us have experienced situations where an opening act proves more entertaining than a headliner, when a JV game turns out to be more exciting than the varsity, or when an appetizer eclipses the entree.

Such is the case at the Indianapolis Arts Center, where the creations in the "2017 College Invitational" prove much more dynamic and challenging than the work at the primary group show, "About Face" (both run through April 1).

Not that it's a competition. One of the benefits of the Indianapolis Art Center is that you can wander in anytime during open hours and see what the galleries and halls hold. (You might even be tempted to sign up for a class.)

"About Face," the headlining show, features five artists exploring portraiture, most in ways interesting for a piece or two but redundant thereafter. Among them are Brian Donnelly's paintings, in which the features seem cried—or scratched—away, and Davis Samuel Stern's intricately interwoven photographs, which have clear ideas but also share an "if-you've-seen-one" quality that led to diminishing returns.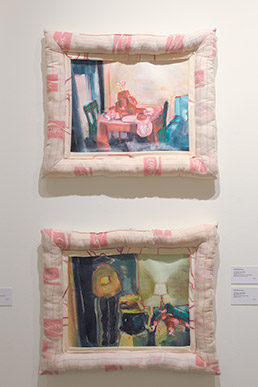 Danielle Graves from the Herron School of Art uses repurposed sheets to frame her canvas paintings. (IBJ photo/Eric Learned)
On the other hand, the work in the student show offers variety even within sets of similarly themed work. Austin Friedline, from the Herron School of Art, is fascinated by the light cast from ordinary homes he photographs, creating a supernatural-ish glow out of the very thing that is supposed to represent safety. Yes, his work here all falls under that same conceptual umbrella, but I found myself mining each piece for its unique details.
The photographs of the University of Notre Dame's Melonie Mulkey capture carefully constructed sets and painful efforts to claim these spaces via torn wallpaper, mangled chairs and more; while Allyssa Burch of Ball State University delves into deterioration through photography and installation work.

The efforts of Danielle Graves, a Herron School of Art BFA, to redefine the uses of plush make for some of the show's most interesting work. In "Burger Babe" and "Piece of Meat," she literalizes societal food-ification of women (via such terms as "sugar" and "sweetie"). "In "Sit here, rest a while, you deserve it," soft frames surround restless still lives. And "S.C.U.M" offers a wall hanging filled with fabric knives, making something commonly domestic both childlike and menacing at the same time.

There are more exhibitions running concurrently at the Art Center, which is always a hub of activity. If you want to take a load off and rest in the library, there you'll find figure studies by IAC students, staff and faculty.

And, before you step into the Allen W. Clowes and Sarah M. Hurt Galleries, be warned: Exposure to Hillary Erin Russell's series of photographs—charting the effect of time on a Thanksgiving meal covered in cotton candy—is not for delicate stomachs.•

__________

This column appears weekly. Send information on upcoming arts and entertainment events to lharry@ibj.com.