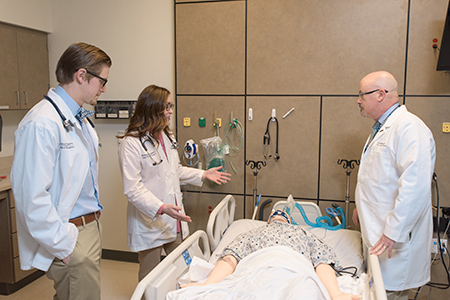 Just two years ago, Marian University medical student Gregory Specht was seriously considering going into a highly specialized field, perhaps involving cancer treatment and research.
"I was thinking radiation oncology," Specht said. "That sounded really cool."
Then in his junior year, he did clinical rotations in family medicine, internal medicine and pediatrics, all considered primary care fields. He quickly decided he liked treating a wide span of patients and types of ailments, from asthma to heart disease, along with providing routine checkups and preventive counseling.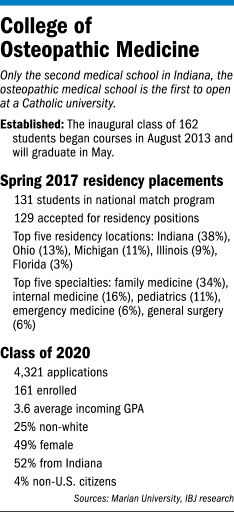 When it came time to apply for a residency program this year, he selected family practice at Franciscan Health Indianapolis. Last month, after a long process of tours and interviews, he learned the hospital had selected him.
The decision to focus on primary care in Indiana, shared by almost half of graduating students at Marian's novice College of Osteopathic Medicine, could help address a severe shortage of primary care physicians in the state.
On a per-capita basis, Indiana ranks 38th in the number of primary care physicians, according to the Association of American Medical Colleges. Much of the shortage is hitting hardest in rural areas, where entire towns are without doctors.
Indiana will need 817 more primary care physicians by 2030, an increase of about 21 percent, says a recent study by consulting firm Tripp Umbach of Pittsburgh.
But Marian University, which will graduate its first class of osteopathic doctors next month, could help make a dent in the shortage.
Of the 129 Marian graduating seniors who entered the competitive matching program for residency slots around the country, 63 won residencies in primary care.
Just as encouraging, 38 percent of Marian's graduates will do their residency training in Indiana. That is expected to help, because many residents stay in the states where they do their residencies.
Osteopathic schools, which teach structural and muscular manipulation as treatments along with surgery and drugs, are similar to but less common than traditional, or allopathic, medical schools such as the Indiana University School of Medicine. Allopathic schools tend to turn out more specialists; osteopathic schools graduate larger numbers of primary care physicians.
Marian has a mission of training doctors of osteopathy with a goal of keeping many of them in Indiana—many in rural, underserved areas.
Health leaders here say they are encouraged by the results.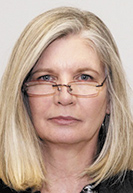 Alley
"We've been waiting for that graduating class from Marian for a while, knowing that most of the time, D.O.s do go into primary care," said Ann Alley, director of chronic disease, primary care and rural health for the Indiana State Department of Health. "Indiana is experiencing a dearth of primary care providers, so we're really happy about this."
Strong start
Overall, of Marian's 131 graduating students who participated in the residency matching program, 129 were successful in getting residencies. That works out to a placement rate of 98.5 percentage, slightly higher than the national average of 94.0 percent.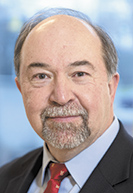 Sefcik
"My prediction was that the numbers wouldn't be as good as they were," said Dr. Donald Sefcik, dean of Marian's osteopathic college. "The surprise was, we did extremely well for a brand-new school."
For more than a century, IU's medical school was Indiana's only one. Over the decades, it had grown into the nation's largest medical school, annually turning out more than 300 physicians.
This year, 95.6 percent of its 321 seniors were matched to residency programs. Of those students, about 115 will attend residency programs in Indiana. The remaining two-thirds were accepted into residency positions in 40 states, including at Harvard, Johns Hopkins, Yale, the Mayo Clinic, Stanford and Duke.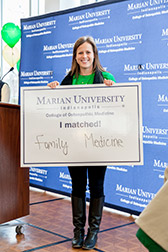 Marian University medical student Lee Anne Tetrick of Fishers learned on nationwide Match Day that she will serve her family medicine residency with Community Health Network. (Photo courtesy of Marian University)
About a decade ago, sensing the state could use a second medical school, Marian began exploring the idea of starting an osteopathic program. President Dan Elsener sold the vision to business and health leaders, and raised more than $100 million to get the program off the ground.
Four years ago, the school began accepting its initial class of 162 students. On May 2, the first graduates will receive their diplomas and start their careers—many of them in Indiana.
In the meantime, Indiana is gradually expanding the number of residency slots available in the state. Currently, Indiana hospitals offer about 1,400 residency positions, but that's not enough to keep up with the growing number of doctors graduating from medical schools in Indiana and in nearby states.
Between Marian's osteopathic school and an enrollment expansion at the IU medical school, Indiana alone will see about an 80 percent increase in the number of graduating doctors this year.
For now, many have no choice but to look outside the state.
"Hopefully, someday, all those who want to pursue their residencies in our state will be able to," said Bryan Mills, CEO of Community Health Network, which operates five area hospitals. "That's just not possible today."
Not enough slots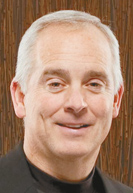 Mills
A big problem is the shortage of money to fund residency programs. The average residency slot costs a hospital $100,000 to $150,000 a year, which covers a resident's salary and benefits, along with teaching expenses and overhead.
Nationally, Medicare reimburses most of the cost, $10 billion a year. The federal funding, however, has been capped since 1996, and Congress has shown little interest in increasing it.
Slowly, Indiana is creating a few more residency spots. In January, the Indiana Commission for Higher Education awarded $1.4 million in grants to fund nine new residency positions around the state, mostly in primary care. It is hoping to award future rounds of grants if the Legislature approves the funding.
Tim Putnam, president of Margaret Mary Health in Batesville, said training physicians to serve rural, medically underserved areas, is critical. He is president of a group called the Indiana Graduate Medical Education Group, which is working with the Legislature to try to win more support and funding.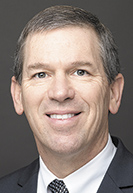 Putnam
"We're producing some very high-quality physicians from our medical schools," Putnam said. "It would be nice to keep them here."
Some of the medical students graduating from Marian agree.
Tess Edvardsen, a senior from Schererville, will begin a family practice residency at St. Joseph Health in Mishawaka, not far from where she did her undergraduate studies at the University of Notre Dame, and only about 90 minutes from where she grew up.
"For me, the point of family medicine is really being part of the community," she said. "I love where my family is from. Those are people I see myself taking care of."
Another Marian medical student, Trenton Schmale of Carmel, landed a family practice residency at Indiana University Health's Ball Memorial Hospital in Muncie. He said it was a natural decision to stay in Indiana, since both his family and his wife's family are here. Like many of Indiana's medical students, he has already settled into the scenery, doing clinical rotations at five local hospitals.
And Specht, the Marian student who once considered radiation oncology, said he is energized by the thought of settling into a long career of primary care in Indiana. He is from the Broad Ripple area.
"I've been in Indiana my whole life," Specht said. "Most of my connections are here. I don't have any reason to want to leave."•
Please enable JavaScript to view this content.