When the Marian University College of Osteopathic Medicine opens next month, it will complete one of the least likely success stories in higher education.
Marian, a small Catholic college started by Franciscan nuns, will launch just the second medical school in Indiana, joining the 110-year-old, state-supported Indiana University School of Medicine.

Elsener
Marian President Dan Elsener is credited with pulling off the audacious move with a mix of big dreaming, careful planning, deft networking—especially among Indianapolis' most prominent Catholic business executives—and "don't take no for an answer" fundraising. He also enjoyed some good luck or, as Elsener would call it, divine providence.
"When Dan broached this idea a few years ago, a few of us scratched our heads and said, 'You know, this isn't just a new academic program,'" said John Lechleiter, CEO of Eli Lilly and Co., one of several well-known contributors to the new school. "But I learned to never underestimate Dan Elsener. Dan said then, as he often says, 'Have faith.'"
Marian has raised $100 million so far to launch its medical school, which will welcome 162 students on Aug. 12. The school intends to grow to 600 students—about half as many as the IU medical school enrolls.
About 30 percent of those funds have come from Indiana's leading health care institutions, including Eli Lilly and Co., Roche Diagnostics Corp., Hill-Rom Holdings Inc., St. Vincent Health, Community Health Network and the Suburban Health Organization.

Caponi
But the rest has flowed from 250 individual donors, which include Lechleiter and his wife, Sarah; former St. Vincent Health CEO Vince Caponi; and AIT Laboratories founder Michael Evans—who kicked off the medical school fundraising with a $30 million gift and later raised it to $48 million.
"Who would have thought Marian would be the next medical school in Indiana?" said Angela White, CEO of Johnson Grossnickle & Associates, a Greenwood-based fundraising consultancy. The firm has advised Marian in the past, but did not work on this project.
White said $100 million fundraising campaigns by small private schools are rare. But she said they're possible when two key things come together: "dynamic leadership, like in the president, and transformational projects, when you are dreaming big."
'Up a weight class'
Marian's dreaming began in 2001 when board members sought the blessing of local philanthropist Christel DeHaan to recruit away Elsener, who was then executive director of her foundation and education-lobbying organization.
Marian was struggling at the time, with about 1,300 students, most of whom pursued careers as nurses, teachers, social workers or lay religious leaders. The school was threatened by bankruptcy—a dire outcome it averted by completing its largest fundraising campaign to date, $8 million.
DeHaan, who went to high school at a Franciscan convent in her native Germany, gave not only her blessing, but also money, to fund a study of other universities that had once been struggling but were now thriving.
After evaluating the study, Marian drew this conclusion: Successful turnarounds happened when universities focused their existing strengths on the most compelling needs in the communities around them.

Lechleiter
Two years later, Elsener began to think a medical school might fit that bill. The school had a long history of training nurses and other health care workers. The state and city were placing special emphasis on growing the health care and life sciences industries here. And around Indiana, 57 of 92 counties suffer from a shortage of doctors.
But Elsener had lots more work to do before he had a prayer of convincing anyone that Marian could be the institution to meet that need.
"To say that we were fighting up a weight class is an understatement," Elsener said. "It's like going from peewee football to the NFL the next year."
Local real estate developer Michael Browning, a longtime supporter of Marian who has been vice chairman of its overall fundraising committee, lent Elsener his plane to visit other Catholic universities with medical schools, such as Creighton University in Nebraska.
Elsener also started looking at osteopathic medical schools, none of which were at Catholic universities, because it had long been known that the Indiana Osteopathic Association wanted to start a school here.
Osteopathic schools are similar to but less common than allopathic schools, such as the IU medical school, which tend to turn out more specialists. Because osteopathic schools graduate larger numbers of primary care physicians, going the osteopathic route seemed a good way to address Indiana's doctor shortage, which is mainly a shortage of primary care doctors.
In the midst of this planning, Elsener started attending a men's Bible study with a handful of other Catholic executives. One of them was Caponi, CEO of the St. Vincent hospital system.
At one of the Bible studies in 2007, Elsener told Caponi about his medical school idea.
"You really need to do this," Caponi told Elsener, noting that the IU medical school was doing great work turning out specialists, but was not producing enough primary care physicians. And, Caponi said, "I think the opportunity [for Marian] is to produce a physician that's acutely aware of the needs of the poor and underserved, to take care of patients mentally, physically, but also spiritually."
Caponi's support was critical because Marian needed to establish close relationships with hospital systems, so it could arrange practical experiences for its students' third and fourth years of medical school, as well as for the residency training they must do after graduation.
Caponi would go on to recommend that St. Vincent Health donate $5 million to the school, which it did. And he gave personally as well, although he declined to say how much.
But even more significantly, Caponi's early support gave the medical school credibility with other donors and health care partners.
'I want to be part of it'

Evans
In 2009, Elsener approached Bryan Mills, the recently appointed CEO of Community Health Network, who was so supportive he "didn't even flinch," Elsener said. Community donated $5 million to the medical school and committed to help train Marian's med students.
Elsener's big break came that same year when a member of Marian's fundraising staff paid a visit to Michael Evans. Evans was in the process of selling his company, AIT Laboratories, to the company's employees for a whopping $90 million.
The fundraising officer arranged a meeting between Evans and Elsener, who had never met.
Instead of asking for money, Elsener posed a few questions about osteopathic medicine, and how it was perceived in the medical field. As an allopathic doctor himself, and a former professor at the IU medical school, Evans was in a position to know.
In late 2009, Elsener invited Evans to lunch at his office in Allison Mansion, the former estate of auto entrepreneur James Allison, which serves as Marian's administration building.
At that meeting, Elsener told Evans he soon would make a presentation to the Indiana Osteopathic Association to start a medical school. And Marian needed a major funding source to convince the association the university had the means to do it.
A few days later, Elsener got a text message from his assistant, with a letter from Evans attached. It pledged support of $30 million. Elsener called his assistant, Cyndi Kamp, to verify that he was reading the number correctly.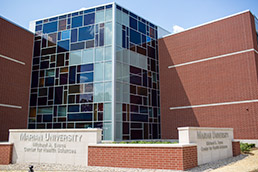 Michael Evans' $30 million donation helped launch the state's second medical school. (IBJ photo/ Aaron P. Bernstein)
"I really had no connection with Marian. But I found that Dan really had a passion for this. I had a connection with him," said Evans, who as a young man trained for a year to be a priest before deciding on a science career.
"You're really not pledging to a particular school of medicine," he added. "You're pledging to a person who you believe will make that happen."
After the sale, AIT fell on hard times as the federal Medicare program sharply reduced payments for the blood and urine tests the company performs for patients taking narcotic painkillers.
Because Evans is still owed tens of millions of dollars from the sale, that has cast some doubt over his ability to pay the remaining $38 million of his $48 million gift. But he expressed confidence he'll be able to do so.
Evans did extend the payment schedule from seven to 10 years. He's also provided detailed financial information to the university to assuage any concerns.
But he's encouraged that AIT is on the rebound. And even if the company falters again, Evans noted, he personally owns the three office buildings out of which his businesses operate, and those alone are worth more than $24 million.
All told, Marian has $40 million in hand to fund its medical school, with the rest of the $100 million pledged to be paid over time.
The support of the hospitals, combined with the gift from Evans, gave Elsener the momentum he needed. Soon after, donations started flowing in.
"The thing that got this going was Mike Evans' phenomenal gift. Then people started saying, 'I like the idea and I think it's going to happen and I want to be part of it,'" Lechleiter said.
Lechleiter's connection to Marian came through his wife, Sarah, who was asked to sit on an advisory group shortly after Elsener became president. The couple has been supporting the school ever since, with contributions to the medical school just one part.
John Lechleiter declined to say how much he and his wife gave, but he said their support for Marian is roughly on par with their gifts to the United Way of Central Indiana, which totaled $1 million in 2009. In addition, the Eli Lilly and Company Foundation gave $1 million to the medical school.
Marian isn't done raising money. Elsener said the university needs another $50 million to $60 million to completely fund a full house of 600 students. And there will be more fundraising after that.
But Elsener thinks the clear need for physicians serving poor and rural communities will keep the necessary funds flowing in.
Donors "can see that they can give and give large gifts and give joyfully," he said, "because they can see the significant impact of their gift."•
Please enable JavaScript to view this content.