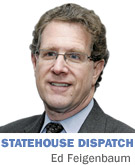 Back in the day (starting when Jeff George was Colts quarterback), this column set the stage each January, running through the inherent tensions present in each legislative session and outlining some transient elements that would spice things up.
This year, saving that until now lets you see how the framework sets the stage for the final hours. The assorted tensions that will affect how legislation is ultimately shaped in the waning days of deliberation serve as a microcosm of sorts for the January-April drama (or the seeming lack of any 2017 "Hold my beer and watch this!" legislative moments).
Five different tensions typically intersect to shape legislative activity, and will do so again as lawmakers look to leave Indianapolis April 21 or 22.
Governor vs. Legislature. The oft-expressed axiom about no one being more powerful during the legislative session than the speaker of the House rings true, but there is also an expectation that a popular new governor deserves a honeymoon period—and a fair shake for pet proposals. That's particularly true when a supermajority of his party controls the Legislature. 
Republican Gov. Eric Holcomb, though as popular as any Republican governor this century, entered office without a signature issue. He has not pursued an aggressive legislative agenda, nor priorities outside legislative lanes. 
He's won early victories for preferred legislation jibing with leadership preferences. Key remaining issues center on pre-K expansion and road funding.
Some question why he hasn't been active around the state speaking out and generating support for his position on those issues in particular. That's just not Holcomb's style.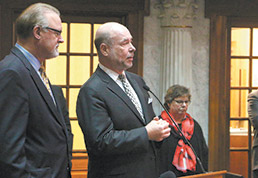 House Speaker Brian Bosma, right, and Senate President Pro Tem David Long are seeking to bring their chambers together on several issues—including roads, alcohol and pre-K education—before the legislative session ends later this month. (Photo courtesy of Deonta Larkins/TheStatehouseFile.com)
Look for him to emerge with pre-K and roads packages better resembling his preferences than might have been the case a few weeks ago. Why? Because he's avoided embarrassing or mousetrapping lawmakers and crisscrossing Indiana painting them in a bad light. Time and effort has instead been invested in endless private meetings with individual lawmakers and caucuses (including the Black Legislative Caucus and the Rural Caucus), and it's paying off.
Democrats vs. Republicans. This perennial face-off is lowered in profile due to supermajorities and the lack of Republican overreach (much of what Democrats feared long ago became law or was overturned by courts). 
Democrats aren't a threat to Republicans today, but they have successfully flipped the GOP tax argument against the majority on roads, effectively teaming up with fiscally conservative Republican entities to raise doubts about raising taxes for roads when resources can be redirected (and business tax cuts placed on hold). Resultant public pushback prompted a Republican strategy change heading into the end game.
House vs. Senate. The two bodies never quite see eye-to-eye. There seems to be an even broader fiscal gap between the chambers this year. The transportation debate exposed a rotunda-size chasm on gas taxes, backfill and addressing local-government road needs. Policy and finance divisions proliferate on the pre-K pilot program and handling almost $50 million of state-subsidized local government riverboat revenue-sharing dollars.
The April 12 forecast of revenue collection smooths over much of this, but a tussle between the chambers on spending parameters will persist until April 21.
Leadership vs. rank-and-file. Leadership protected members from themselves on pesky social issues and kept the process moving. Leaders intervened to end debate on some thorny issues (think alcohol). Count on them to provide final-week adult leadership on the budget.
Lobbyists vs. legislators. The lobby has focused on regulated industry issues (solar energy, alcohol sales and gambling taxes), but with an omnibus utility bill enacted, an alcohol law recodification study pending, and casinos uninvolved in the big revenue distribution element in their tax bill, education and roads are the remaining key lobbying concerns.
That's how inherent tensions might affect the closing days. By 2019, with an even larger Millennial Caucus, you might see a new inherent tension in the mix: younger solons questioning why we've always regulated some things certain ways.•
__________
Feigenbaum publishes Indiana Legislative Insight. He can be reached at edf@ingrouponline.com.
Please enable JavaScript to view this content.