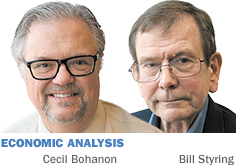 On March 27, IBJ reported that Indiana Education Superintendent Jennifer McCormick suggested further expansion of Indiana's education voucher program be halted until research demonstrates vouchers "work." The next day, Federal Education Secretary Betsy DeVos gave her first major policy speech, arguing for an expansion of school-choice programs, including vouchers.
Seems there's a difference of opinion between the top state education officer and the top federal education chief.
Indiana's voucher plan is 5 years old. Superintendent McCormick notes that some 34,000 low- and moderate-income Indiana kids receive vouchers. There has been no full review of how or if this program has affected academic achievement. What to make of this?
Pre-vouchers, parents faced an uneven deal. Choose education Option A (public school) and tuition was free. Choose Option B (non-public school) and pay the school's tuition. That is like imposing a tax, the cost of tuition, on the decision to send a child to a non-public school. It should come as no surprise that, year in and year out, about 92 percent of parents chose public schools. It's tough to compete against someone giving away a product. Vouchers level the playing field.
Assuming the government's interest is in educating the child and not in providing employment at public schools, the state should be indifferent as to how and where the educating takes place. As long as voucher schools meet standards of health, safety and curriculum, why should the state care? When the non-public school "tax" was removed, 34,000 Indiana parents, about 3 percent of the K-12 population, left the public schools. They think their children are better off. Economists call this "revealed preference."
Henry Kissinger was once asked if he could know just one thing about a country, what would it be? He answered, "Are people trying to get in, or are people trying to get out?" Applying the Kissinger test to public schools: What more do you need to know?
By all means, let's find out as much as we can about the voucher program's impact on standardized test scores. We'd suggest a fair test would be comparing pupils who have spent at least three years in the voucher program with a peer group that remained in public schools. Ideally, the peer group would be children whose parents applied for a voucher but lost a lottery that allocated available spaces. In the meantime, let's not make the lack of such a study an excuse for inaction.•
__________
Bohanon is a professor of economics at Ball State University. Styring is an economist and independent researcher. Both also blog at INforefront.com. Send comments to ibjedit@ibj.com.
Please enable JavaScript to view this content.