Debbie Zipes has long believed that after-school and summer programs change kids' lives.

She thought that when she directed the United Way of Central Indiana's Bridges for Success program, and she still thinks that as president of the Indiana Afterschool Network, where she's worked since 2008.

The Indiana Afterschool Network supports more than 1,000 after-school and summer programs in Indiana, reaching about 20,000 kids.

Her role is to increase investment and resources for programs, especially in low-income communities. She said the work is extremely rewarding.

"We know that the lowest-income kids have about 8,000 fewer hours of learning and enrichment compared to their more affluent peers," she said.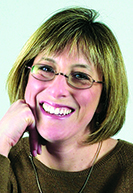 Zipes

"So if we can give all kids great access to after-school programs, they can be exposed to things like building robots and art and music and sports and things they may not have the opportunity to do."•

—Marc D. Allan