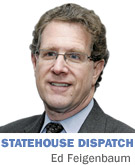 When the Indiana General Assembly adjourns sine die, that's the signal for a session wrap-up column noting business left undone—cans kicked down the road for the next session. 
Sometimes that's because an election is pending (such as a gas-tax hike for roads in the 2016 session). In some situations, it's because agreement simply couldn't be reached on a controversial issue and no imminent hard deadlines confronted lawmakers (the Marion County judicial selection process in 2016 is a good example). In still others, it's because something is simply too hot to handle and solons saw no acceptable solutions (the 2016 religious liberties vs. LGBT civil rights dilemma comes to mind).
In 2017, legislators didn't leave much short-term work pending for the 2018 session, with adult leadership leading the way. 
Gov. Eric Holcomb, a Republican, approached his first legislative session with a limited, achievable (and not aspirational) legislative agenda "laser-focused" on practical items. Senate President Pro Tem David Long, R-Fort Wayne, and House Speaker Brian Bosma, R-Indianapolis, entered January with their own respective pragmatic platforms framing discussion and action and holding members on task on matters important to daily lives of Hoosiers. And Senate Democratic Leader Tim Lanane, D-Anderson, and House Democratic Leader Scott Pelath, D-Michigan City, were responsible leaders of the minority. They kept the majority from straying and overreaching, offered reasonable alternatives to key items, and worked with the governor and a receptive supermajority in both chambers to shape measures at the margins. 
That's the feel-good, 40,000-foot view, but there are some caveats.
Two of the most expensive outlays will require more work over the next few years (lawmakers like to refer to this as "fine-tuning" or "massaging"). 
The voucher or scholarship school program will be continually refined, in terms of overall cash outlays, spending on this segment vs. public ("government") schools, and failing non-public schools and repayments. At the same time, troubled public school systems are growing in number and severity (some academically, some financially, and some on both standards) and lawmakers and state education officials are still feeling their way through the tough-love process, ascertaining just how much state involvement is needed, affordable and appropriate. The pre-K program will also command attention as pilot results offer guidance and consideration is afforded to universal expansion. 
If you thought the state's transportation woes and future needs were magically resolved via passage of the mega-funding package, your deficient vision should bar you from driving in the future. While the milestone funding effort will largely address maintenance needs and substantially assist local governments in patching their respective road-building initiatives, to a certain extent, some of this is as illusory as misplaced expectations from the much-vaunted 2005 Major Moves program. 
Major new road-building projects and some highway six-laning will be dependent upon income from tolling. While Hoosiers (and interstate drivers) have not been turned off in large numbers by increased Indiana Toll Road fees and tolls on bridges between Clark County and Louisville, elected officials in 2017 were reluctant to risk their careers by approving tolling for projects down the road (even as they were willing to raise taxes for some projects favoring future generations of Hoosiers, instead of sticking them with some of the freight via bonding).
Some also lament that the infrastructure bill didn't bill for upgrading water infrastructure, a multibillion-dollar undertaking we can't ignore this decade.
Indiana's alcoholic beverage sales framework couldn't be revised in two weeks and will be reviewed over two-plus years, as appropriate. Changes to firearms laws will be addressed in summer studies, and Airbnb regulation, workforce realignment and consideration of removing Indiana from the short list of states lacking a bias-crimes law will also be at the 2018 forefront.
While some of the big cans languishing by the legislative road were disposed of, you'll still see some familiar ones recycled next year.•
__________
Feigenbaum publishes Indiana Legislative Insight. He can be reached at edf@ingrouponline.com.
Please enable JavaScript to view this content.