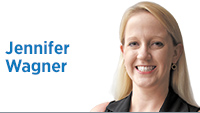 The Washington Post recently began running the motto "Democratic Dies in Darkness" on its front page and online, a reminder of the need for a free press and access to information generated by our government and our public servants.
It was a direct response to a presidential administration that calls every critical story "fake news" and has been downright hostile toward members of the Fourth Estate.
Was it a little cliché? Yes. But then again, we live in a nation where only one out of four Americans can name all three branches of government, according to an Annenberg Public Policy Center survey last September. We probably need to be a little more obvious when it comes to our founding principles, including the First Amendment.
With all the obfuscation and name-calling in Washington, it was a relief last month when Gov. Eric Holcomb got out his veto pen for the very first time to strike down a proposed law that would have permitted units of government to charge up to $20 an hour to produce public records.
"Providing access to public records is a key part of the work public servants perform and is important from a government transparency standpoint," Holcomb said in a statement at the time.
We may not agree on much else, but he knocked that one out of the park.
Look, if you've ever worked in government, you know that records requests can be a huge pain in the derrière, especially when they're submitted by your political opponents for partisan gain. But you know you have a responsibility to provide information to those who want to see how their government is spending their money. If you're not doing anything wrong, it's merely a time-suck that's part of your job. If you're doing something wrong, the system is designed to shine sunlight on your negligence or bad acts.
To her credit, our great state has a legacy of governors who've championed freedom of the press, including former Gov. Frank O'Bannon, a newspaper man by trade, and now-Vice President Mike Pence, who got his start in broadcast journalism long before hitching his star to the Trump Truth Train. Like Holcomb, Pence vetoed fee-setting legislation in 2015.
All that being said, our public records law is in serious need of an overhaul, and the bill vetoed this year wasn't all bad news: It would have allowed the government to provide records in electronic format when possible. That's a small step in the right direction.
Indiana's law also needs to be updated to address the use of personal email accounts, which are not explicitly prohibited for official business, though the law has been generally interpreted to require retention and disclosure.
And what about social media posts? Snaps? Text messages? Voicemails?
It's true that government officials have always been able to pick up the phone or visit with someone in person without creating a public record beyond a potential meeting notice, but our current law simply does not adequately speak to modern technology. That's a problem when it comes to transparency.
As lawmakers move forward in future sessions—and it's worth noting that they've tried on other occasions to completely exempt themselves from the disclosure of public records—they should work with the executive branch to come up with new rules that make sense in a digital world and make it easier, not harder, for members of the public and the media to keep an eye on their investment as taxpayers.•
__________
Wagner is a lifelong Indianapolis resident and vice president of communications at EdChoice. Send comments to ibjedit@ibj.com.
Please enable JavaScript to view this content.