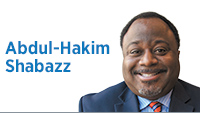 If you live in Marion County, can you name the most recent judge you voted for? Can't do it? Don't feel bad. A lot of people can't. And that's just one of the reasons legislation that changed Marion County's judicial selection system from elected to appointed is a good idea.
Indiana lawmakers passed House Bill 1036, eliminating Marion County's current judicial election process (which was found unconstitutional by the courts) and replacing it with what's called "merit-based" selection. In other words, the best candidates for the job will be picked.
Opponents of the new system say HB 1036 takes power away from Marion County voters. Well, here's a news flash: Under the old system, unless you were the ultimate insider, Marion County voters didn't have much say in the process.
Under the prior system, Republicans and Democrats would get together at their respective county conventions and "slate" judges. In other words, the party insiders and precinct committeemen would vote on who would get the party backing in the primary. Of course, to participate in slating, you had to pay a slating fee, which was usually 10 percent of the salary of the office you were trying to get.
Now, take note: Before the convention, you ran around to every rubber-chicken-and-peas dinner to beg precinct committeemen and insiders for their support. And if someone asked you how you would rule on a certain case, you couldn't tell them, because that would be violating judicial ethics.
Annoyed yet? Wait, there's more.
Under the old system, there were 28 spots to fill. Republicans got 14 and Democrats got 14. If you won the primary, you won the general election. And to make life even more interesting, most people don't vote in primaries because they don't want to pick a political party. So now only a handful of party insiders are choosing the people who will oversee the judicial process for the other 900,000-plus people.
Under the new system, a 14-member Marion County judicial selection committee will pick the judges. Four of the commission members will be appointed by Indiana House and Senate leaders from both parties. The Marion County Democratic and Republican parties will each appoint two members, one of whom must be a minority or a woman or both. The Indianapolis Bar Association, Marion County Bar Association, Defense Trial Counsel of Indiana and the Indiana Trial Lawyers Association will each appoint one member. One judge of the Indiana Court of Appeals and one Indiana Supreme Court justice will round out the committee. No more than 52 percent of the committee members can be of the same political party.
The current 36 Marion County judges will be split into two retention classes based on judicial seniority. Retention Class A consists of 20 judges whose terms expire Dec. 31, 2018, and Retention Class B consists of 16 judges whose terms expire Dec. 31, 2020. After their election, each judge who is retained will serve a six-year term.
The bill also mandates that the commission take into account whether the judicial candidate reflects the diversity and makeup of Marion County. And you need nine out of the 14 committee votes to get selected, so no one party can dominate the courts.
This might seem complicated, but it isn't. It's a thoughtful process to get quality judges on the bench and to comply with the courts that found the old system unconstitutional. If you object, get ready to find yourself overruled.•
__________
Shabazz is an attorney, radio talk show host and political commentator, college professor and stand-up comedian. Send comments to [email protected]
Please enable JavaScript to view this content.