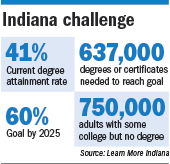 The state is inching toward an ambitious goal that requires convincing more than a quarter of the 750,000 Hoosier adults who dropped out of college before earning degrees to return to school.
But officials acknowledge they have significantly more work to do to meaningfully boost the number of residents with higher education credentials.
More than 9,000 adults contacted by the state through its "You Can. Go Back." Initiative—which was approved in 2015 and launched last year—have re-enrolled in college, according to a report released in January.
That's about 4.5 percent of a larger overall goal set by the Indiana Higher Education Commission of re-enrolling 200,000 people by 2020.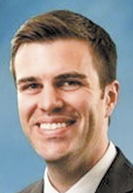 Bearce
The progress may sound scant. But "these are very stubborn numbers to move," said the agency's senior associate commissioner, Jason Bearce.
"We were very encouraged by the uptick in enrollment in the adult population in a relatively short time frame," Bearce said. "We're trying to change the culture of the state around the education and training you need to be successful. More people seem to be getting that message."
The state is also encouraged by the Legislature's decision earlier this year to fund a related program that officials believe will bolster the "You Can. Go Back." effort.
So far, the program has been primarily supported by a $7.5 million annual grant, which provided funding for more than 5,360 scholarships for returning adults last year. In April, lawmakers approved an additional $2 million per year for a new "workforce ready" grant program, which Gov. Eric Holcomb said will "remove financial barriers for adult Hoosiers who are willing to invest their time and effort to gain workforce certificates and training."
The two grants have slightly different restrictions and focuses but, Bearce said, "to some degree the funding streams are fungible" and that will allow the state to stretch dollars further.
The state is working with a marketing firm to kick off the second academic year of the program. "We think we're going to be in a position to move the needle in a considerable way starting this summer and fall," Bearce said.
The campaign will "all but guarantee there will be engagement on pretty much every front you can think of" with potential students, including email outreach, calls and paid media.
The larger goal is to boost Indiana's college attainment rate, which is the number of residents with college degrees, associate degrees or high-quality certificates. Right now that number is hovering at 41 percent. State officials want to raise that rate to 60 percent by 2025 and think targeting people who have shown an interest in school but never finished may be the fastest way to get there.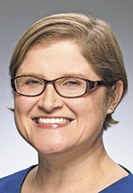 Glover
Indiana is one of a small number of states that seems to be "choosing to focus on this population," said Haley Glover, strategy director at the Lumina Foundation, a group that focuses on improving college attainment rates nationwide and is based in Indianapolis.
"It's a problem that demands a solution," Glover said. "It's great to see they're having some success."
She said re-enrolling more than 9,000 students so far—a number last updated in January—"is absolutely admirable in the time frame they've been going."
"I especially think it's important that the campaign to bring people back was not just a campaign, it was accompanied by real resources," Glover said.
Thirty public and private colleges in Indiana are participating in the campaign and many are offering grade forgiveness and other perks and services to attract students back. Many say the fledgling program is already making a difference.
At Ivy Tech Community College, the number of readmitted students—people who had previously attended the college but left before finishing—was 3,347 in spring 2017 compared to 3,172 students in 2016. Officials said that 5 percent increase is significant considering that Ivy Tech's overall enrollment was down 6 percent in 2017.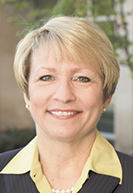 Ellspermann
"We're pleased and we'd hope to continue to see even more adult incumbent workers choosing to come back," said Ivy Tech President Sue Ellspermann. "I think it's been well-messaged and my hope is to continue to build upon the groundwork the higher education commission has laid and build additional strategies that help encourage adult workers."
At Vincennes University, the state's other two-year college, officials received 492 leads from the state's outreach program for potential students. So far, 24 adults—just under 5 percent of the leads—are enrolled.
"We expected many more inquiries than enrollees and that has been the case," said Laurel Smith, the college's interim provost. "The value of this program lies in its marketing plan to attract students who might not otherwise consider completing their degree."
Western Governor's University-Indiana, an online university, has had 100 students enroll from 1,000 leads it received. Chancellor Allison Barber said she was "excited about the progress of the campaign, the impact it's had on Hoosiers, and the fact that people are choosing WGU."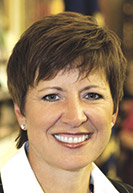 Barber
"We're hopeful it continues to be funded, and we're hopeful the commission continues to focus on this audience … people who value college education and for whatever reason stepped away from it."
In other places, the potential is still untapped.
Stephanie Moran, director of engagement and partnerships at Anderson University, a Christian school with about 2,200 students, called the effort "an emerging program" with high potential.
"It might be a little more time until there's enough recognition that it exists," Moran said. "Not everybody is aware of the resources. We're hoping to see more impact in the next year."
Colleges say they're continuing to encounter the challenges—from strapped finances to busy schedules—that make the adult population harder to serve in the first place.
Moran said Anderson is restructuring its programs for adult students to be more responsive to their needs.
"The needs of adult students are much more regionalized economically," Moran said. "They're looking for career opportunities that exist where they reside now. What are the areas of our regional economy that are growing so we can match what we offer to adults?"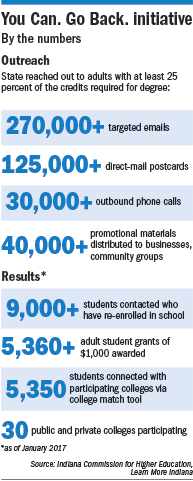 The main challenge—unsurprisingly—is money.
Ellspermann said the $1,000 scholarship offered by the state is helpful—it pays for two courses at Ivy Tech—but often insufficient to see even motivated adults through their studies because "in semesters two and three, that student is on their own."
"Money is a way to get both their attention and some help," Ellspermann said. "What we know about adult students is they typically don't have that $1,000 or $2,000 that it might take to come back. They are willing to go back, particularly when they know the program they're in will help lead them to a promotion."
Bearce said the state is evaluating how to make the prospect of returning to college easier for students. The workforce ready grants won't have the same income restrictions on them as the adult student grant, which could reduce barriers, he said.
"What we're learning with this population is they might not be lower-income by the traditional definition, but after they're done paying all their bills and their responsibilities, they don't have a lot of extra money where they can pay for their education," Bearce said.
Partnering with employers and businesses has emerged as a key strategy.
"To the extent we can have the employers part of the conversation from the beginning, it's going to make this a lot easier," Bearce said. "We have a significant amount of employers that offer some kind of tuition support. It doesn't seem to be particularly well-utilized by employees."
Ellspermann said Ivy Tech has seen success with its new "Achieve Your Degree" program, which partners with employers across the state. The companies pay for their employees to receive specific credentials at Ivy Tech—and individual students are never billed.
That approach has been successful. Ellspermann said the persistence rate in that program (similar to retention rate) is 80 percent, which is "huge" for part-time adult students. The college's persistence rate for full-time adult students overall is about 50 percent.
The reason it's working? "They have the goal in mind," Ellspermann said. "They know their employer is supporting them to do it, and there's a high probability they'll be promoted."•
Please enable JavaScript to view this content.