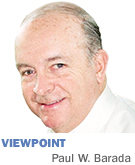 There are some pretty basic things out of whack in our society. Not too long ago, a local newspaper reported that a union
member from an area General Motors Corp. plant, with a job title of something like "assistant tool room organizer,"
was being paid in the high $20-per-hour range, not counting benefits. The only requirement for the job—maybe a high
school diploma.
For the sake of discussion, let's assume our assistant tool room organizer is being paid
$28 per hour. That amounts to an annual salary of more than $58,000. Now, for some interesting juxtaposition, within a nearby
school district, a teacher with 30 years of experience and a master's degree is earning just over $52,000 per year.
Clearly, somebody's either being paid way too much, or somebody else is being paid way too little. There's no
way a tool room organizer's job has as much value to society as a classroom teacher with 30 years of experience and
an advanced degree.
There are two issues at work in the foregoing scenarios that reflect two of the most serious
problems we're facing in contemporary society. On the one hand, a fair share of the reason GM and Chrysler asked for
government bailout money is the $28-an-hour pay for the assistant tool room organizer. That's precisely why American
car sales continue to decline—the product is overpriced due in part to inflated wages for relatively menial jobs. The
other part of inflated wages is the lifetime health and pension benefits paid to GM and Chrysler retirees.
This
isn't to say management is not also to blame for the colossal mess in the American automobile industry. Senior executives
at both car companies are being paid far more than any reasonable person could consider an appropriate contribution to the
companies' worth—particularly in light of their profitability.
On the other hand, we wonder why public
education isn't getting the job done for our children when boards of education will pay teachers only slightly more
than $52K per year after 30 years of service and an advanced degree. The essential problem with public education is it's
"public" and overseen by publicly elected boards, many of whom think $50K per year is a lot of money. That is
in fact the average starting salary for an Indiana University Kelley School of Business graduate with no experience and only
an undergraduate degree!
One can't help but wonder why any bright, ambitious young person would even think
about being a teacher, let alone going on to graduate school, when he or she can never earn as much as a kid with a high school
diploma who works for GM or Chrysler. Clearly, something is out of whack.
Before anyone brings up the argument
that teachers work only nine months per year, I hasten to point out that good teachers normally put in more hours of work
in nine months than most people do in 12. Time spent in the classroom doesn't include doing lesson plans or grading
papers every night and on weekends, not to mention the other duties that come along with teaching. When the tool room organizer
is done, he's done. There are no papers to grade or preparations to be made for the next day.
If we really
want the economy to improve, we'd better start placing a higher value on education in our public schools and rethinking
the relative value of the hourly wages paid for semi-skilled labor.•
__________
Barada is an
author and president of Barada Associates Inc., a reference-checking service in Rushville.
Please enable JavaScript to view this content.