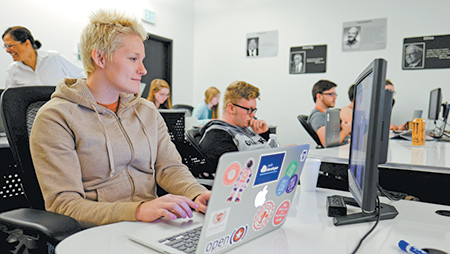 Who attends coding boot camps? It might surprise you.
IBJ talked with an eclectic mix of students—from a 19-year-old chasing his passion for technology to a 57-year-old who has no plans to retire—to find
out why they chose this non-traditional route into an IT career. And we asked those attending The Iron Yard how they feel about its decision to shut down after this summer's classes are finished.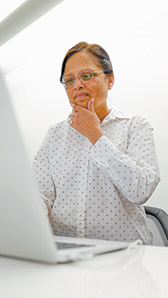 Kay Ranade, 57
Eleven Fifty Academy
I've worked in planning and strategy, marketing, business development and sales roles with manufacturing firms. I was looking for a change, looking at what my next step might be. Now is as good a point as any.
You could call me late-career, but I'm not the kind of person who wants to retire. I'm thinking of at least a 10-year horizon. I can leverage my experience and background and use it in a different field.
I have a science background and I've always been interested in technology, so I thought that was the direction I wanted to go. But I did not have a software background. The first step might be to understand what coding is about and learn coding.
At the end of this, I want to be fairly hands-on, with a beginner-level ability to write code. If I can do that and write applications, that will be an accomplishment for me. I think a business analyst position would be a great fit for me. Those roles are a bridge between users and the business side of the organization and the technology folks. Business analysts are in demand in virtually every industry you can think of. It's just a matter of positioning myself with these skills I'm learning now and will continue in the future.
The support that I'm getting here was a surprise in a sense. Resources are being committed in the right areas to encourage people to take this up and make talent available locally, which is badly needed. I appreciate what the community is doing to encourage this.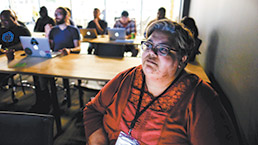 Rebekkah Porter, 47
The Iron Yard
I went to college at Purdue University, graduated with a bachelor's degree in English, and ended up working in banking. I ended up at a bank that was bought out. … I ended up taking a job at Purdue. It was a clerical position in the admissions office, and I had no particular interest or intention of staying there. I just needed a new job. I ended up staying here and have been here for almost 14 years. After getting promoted over time, I found out I actually really liked it. My current position is the senior associate director of admissions. My job involves working closely with our information technology support teams.
As I was looking at what I might want to do next, I realized I really wanted to be more involved in information technology, to be more of a support person for all of our student services.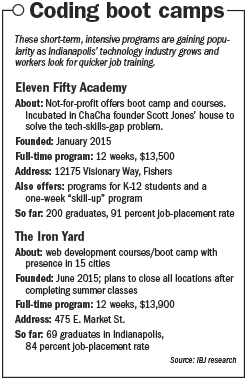 I started talking with my supervisor that this was something that I would like to get into, and he was very encouraging. I started looking at online coding schools, and it was enjoyable, but I wanted more of an interpersonal teaching experience. The Iron Yard was right in my back yard. I started investigating them as a company. I really liked the environment and felt it was going to be something that was useful for me not just in my current job, but for advancement in the future. Purdue has actually paid for me to come here and complete the program.
The Iron Yard closing was shocking and unfortunate. It saddens me that Indiana is losing a valuable technology training resource such as this. But there are many other boot camps out there and I hope they'll see Indiana as a good investment.
It's amazing to look back and see how far I've come. You go through those roller-coaster emotions as you finish one section and get ready for another one. As you're immersed in it, it becomes more real. It's not magic anymore. I find myself looking at web pages differently. I know what made it all work, or I know what is causing it not to work. I liken it to the light switch on the wall. You don't know how it works but you expect it to. Technology has become embedded in our lives. You don't think about all the things that had to happen.
I don't know I ever thought growing up that I wanted to be a developer, but I've always been a creative person. Several of the people I've worked with have been women. I thought, 'If so and so can do it…."
One of the things I liked about this program was their desire to bring in more women and people of color. You look at tech companies and the overwhelming population of white males that exist in those institutions. I think it's really important for us as a society to encourage more women and more people of color to get involved in technology. It's a mind-set and way of looking at things that hasn't been in the room. It benefits all of us if it does change.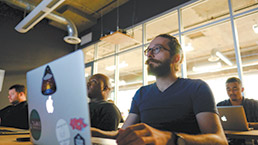 Joshua Flack, 31
The Iron Yard
My dad worked in IT growing up. My brother and I would play computer games all the time. When it came time to start thinking about what to do in college, the natural choice was computer science. I had a lot of false starts in college. I moved up to Chicago and stopped going to college. I've been working in sales, but I have never really liked sales. It just really didn't take. I knew this wasn't what I wanted my life to be. The desire to do something technical had never really left, but I forgot everything I knew. I explored coding boot camps to try to restart. Starting [college] over was not appealing. I'm not even done yet and I know this is going to help me develop skills to put me on a path for an actual career in software development.
People don't want to see degrees. They want to see portfolios and the ability to work in the technology stacks and the spheres these companies are working in right now. The positives of [The Iron Yard] certainly outweigh disadvantages. This isn't traditional education; it's effective if you're willing to adjust your expectations. This is on you. You have a responsibility to hold yourself accountable to doing well in this class. We are learning at our own pace and can approach material in a way that works best for us. One of my biggest problems in college is, I would just fall asleep. I can't just listen to someone lecture. It's very easy for me to stay interested in this.
The advantage is, it's relatively inexpensive compared to a four-year degree. There's disadvantages. It does shrink the pool of potential employers. You're not going to be on the top of some people's lists.
The broad concern [about the impending closure is] that The Iron Yard has banked on the integrity of its brand the last couple of years because it spent a lot of time developing itself as a premier coding school. This is about you getting a job. If that is harder [because of the closure], what did I pay for?
You have to come in here prepared to be very hungry and to excel and to be the best person in the class. They're going to be part of the same job market as you are. Employers are going to look for people who have that attitude. They don't want people who came here just to pass.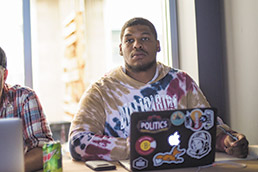 Nikolas Trabue, 26
The Iron Yard
I went to Lawrence Central High School and had a computer teacher who noticed that I was a little bit more proficient with computer applications. I did all the extra credit. I had a 106 percent in the class. I would help him with people who were struggling. I just enjoyed it. He let me know I had a gift for this stuff. It manifested into a love.
When I went off to college, I wanted to be a computer programmer or do computer science. I got a full ride to Southern University and A&M College in Baton Rouge to play football. I ended up getting injured and coming back home because I couldn't play. I wound up going to Vincennes. I felt the pressure to get something and ended up switching my major to business management. Honestly, I really don't like business management, but it was something to get me on track to at least graduate.
I got into the workforce and started working for retail shoe stores. In 2015, I ended up becoming a manager for City Gear. Then came the complacency. Two years of retail management can weigh on you. I felt it was time for a change.
Coding boot camps were starting to pop up. I came down here and checked it out. They cared what I wanted out of this program, which was really to better myself and actually start doing what I set out to do years ago and bring my dream full circle.
I'm not going to say there haven't been days where I wanted to pull my hair out. But it's a good struggle. It's almost like training for something you want to be really good at. When you struggle, you know you're about to break through a wall and learn something and be enlightened. Being in this environment, surrounded by people who are passionate about code, it's been an all-around great experience.
While The Iron Yard's closure is shocking and a bit jarring for myself and every student here on campus, I don't want people to think that this was a worthless program that went under. The skills and knowledge that we have learned while enrolled in The Iron Yard are second to none, and should not be overlooked due to a decision that came from higher up on the corporate ladder.
Make no doubt about it, this place has definitely changed my life for the better. My first major goal out of this is to fulfill my philosophy of, "Work where you love." When I come here, it doesn't seem like work. Compared to people who've been studying this for years, I'm not going to be a master of the trade right away, but this teaches you how to learn and how to pick up things on the job. I want to be a back-end developer. Just thinking about the future gets me kind of excited. I'm in the field I've been meant to be in for some time.
I came into this kind of thinking about making more money, but this opens your eyes and lets you know you can leave your mark on the world with this stuff. You can make something that outlasts you and it can benefit people and humanity for years to come.
It's almost staggering, the possibilities. There's just so many issues in the world. If I could contribute to one of them, I'd be happy, even if it seems minor.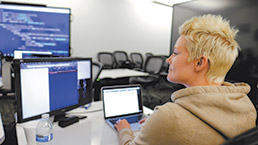 Caitlyn Tetmeyer, 31
Eleven Fifty Academy
I had been raised to expect to be a wife and mother and nothing else. But when that didn't work out and I left that belief system, I realized I would need to provide for myself.
Right after I graduated college, I didn't know what to do with myself. I was divorced, and so I joined the U.S. Peace Corps. They sent me to the Philippines for two years, and I taught English as a second language at a high school. While I was there, I felt like it would have really benefited the students to have more access to computers and to learn tech skills. That percolated in my mind. I completed the Peace Corps in 2010.
Since then, I've had a variety of jobs. I was a dueling piano player at Howl at the Moon. I did a stint in the culinary arts. I was an administrative assistant. I just hated it, and I felt so like I was floating from thing to thing. I felt I had to use my brain. I saw on social media some mention of a coding boot camp. I looked into it and found this nonprofit called Girl Develop It. They have chapters all over the U.S., and there's one in Indy. They offer judgment-free, low-cost opportunities for women to learn to code. Men can participate, too. I took as many courses from them as I could: HTML, CSS, Javascript, user experience. It was really fun.
I felt so empowered seeing a woman in front of the class teaching these hard skills. I felt like I could take control of my life and have a good income for once and work at a place that treats me well. When I was young, it didn't occur to anyone to encourage me to get into tech. When I took the courses from Girl Develop It, I thought I could do this.
It seems like the tech community here is pretty healthy. I'm confident I can get a good job with this program—ideally before the program ends.
I want to work at a place that treats women well and pays them fairly and has good benefits. I also want to agree with their mission and values and I want it to be a good culture fit.
Over the last 10 years, I've found what I don't like. Now I get to figure out what I do like. I want to develop applications that will help women, the queer community, and those with mental illness. Those three groups I really care about and want to help.
Bryce Greene, 19
Eleven Fifty Academy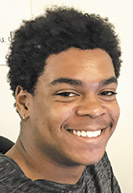 Greene
From a very young age, I was always big into technology. I took things apart, and I broke a lot of them. It was a big part of my life growing up in the 21st century. When I was in high school, they were offering an Advanced Placement computer science course. I had not programmed a day in my life. It was extremely difficult, but I put in the effort and I started learning more concepts. Toward the end of the year, Eleven Fifty visited Pike High School and did an "Hour of Code." They built an IOS app on stage. After, I asked the president, John Qualls, if there were any discounts to attend. They offered me a full ride to do one of the courses the following summer. It was pretty intensive, and I loved it. I've been on this path for a while and I like it.
They invited me back to be an apprentice, and now I'm a teaching assistant [to current boot camp students]. I'm learning a lot with them, and reinforcing what I do know with them, and offering my help with people who are struggling. It's really fun to watch people grow. I've spent three hours after class just helping people to figure out their bugs.
The difference between this program and a college program is that, in college, you spend $40,000 and four years, and then you go get a job. In this program, you spend significantly less, and in 12 weeks, you still go get a job. Some people would say this would prepare you better. But college is much more than being prepared for a job. It prepares you for life.•
Please enable JavaScript to view this content.