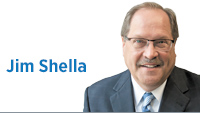 I still get the newspaper delivered to my house and I get upset when the delivery person fails to bag it properly during a rainstorm. You can't read a soggy paper. Yet I know that I can go online and read the stories and even see the print layout, if I desire.
For that matter, almost all the stories were available on my iPhone yesterday.
Journalism has changed, the ways we consume it have changed, and the way people view journalism and journalists has changed, too. Journalists are not popular. Recent polling shows approval percentages for the mainstream media in the 30s. In some polls, it is lower than the approval rating of President Trump. That's not good.
So, what is the mainstream media? That's part of the problem. Media is now hard to define. The same story that appears in a television newscast will also appear on a website, in a tweet, and in a Facebook post. Headlines on social media look legitimate, even if the source might not be.
Cable TV networks look like mainstream media, but some of them (Fox News and MSNBC, for example) are presenting news from a point of view. It is advocacy journalism that looks like real journalism. Those who decry a liberal bias in the media, by the way, ignore the fact that most media outlets that admit bias are conservative. True reporters are biased in favor of a good story and nothing more. News consumers, meanwhile, process stories through their own bias.
There are other problems. It used to be easy to tell news from opinion and now it's not. The template that called for news on the front page and opinion on the editorial page means nothing to Internet surfers.
Reporters who used to spend an entire day researching, writing and shaping a story now are required to do live shots three, four and five times a day. And they also make Facebook posts and tweet; some are required to do so up to 15 times a day. Newspaper reporters are required to produce video segments for the website.
That leads not only to less substance, but also to mistakes. And, in some of the worst cases, it leads to reporters injecting their opinions about a story on social media. Industry websites regularly run stories about reporters who cross the line.
All of this is due to changes in technology, and in corporate structure in the media. Most local TV stations and local newspapers are owned by corporate conglomerates that are traded on Wall Street. The risk is that profits become more important than accuracy. There are fewer reporters, and those reporters rely on public relations and public information people more than they did in the past.
These are not excuses, just facts. There is still a lot of good journalism out there and we need it. Plus, the immediacy in today's world is a positive; you don't have to wait for the 6 o'clock news or tomorrow's paper to know what's going on.
Can journalists repair their reputations? Maybe, but it will be tough. They are a convenient target for politicians and the attacks are hard to counter. Some people will always want to shoot the messenger.
If you care about receiving accurate information, you can do a couple of things. Get your news from multiple sources, for one. And find news sources you can rely on. They're out there.•
Click here to see all of the latest Forefront columns.
__________
Shella hosted WFYI's Indiana Week in Review for 25 years and covered Indiana politics for WISH-TV for more than three decades. Send comments to ibjedit@ibj.com.
Please enable JavaScript to view this content.