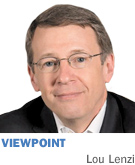 The internet of things is a simple phrase used to describe a network of connected physical objects that collect and exchange data in order to improve the functionality, performance, and efficiency of a larger ecosystem. While broad IoT deployments are in their infancy, they are growing exponentially through rapid technology developments in sensors, communication interfaces, security protocols, cloud computing, data analytics and machine learning.

Just as the digitization of popular media—books, music and video—upended long-established business models, IoT deployments will present similar challenges and opportunities in process and production manufacturing, logistics, and agribusiness. With these industries playing a major role in Indiana's economy, how can we prepare businesses to thrive during this disruptive transformation?

As head of the New Media business unit at Thomson/RCA some 20 years ago, I led the development of new businesses and business models that emerged from the digitization of media. I witnessed the landscape of consumer-based hardware, software and services reshaped, and saw a host of new companies emerging from unlikely places and incumbents either disappear or re-emerge in new forms.

There are plenty of "lessons learned" from this experience, but most are best shared over a beer. More significantly, what emerged are proven design-led methodologies and creative tools that can drive business success—regardless of industry vertical—in the coming era of upheaval associated with IoT technology deployments.

These methodologies and tools are design-thinking and human-centered design, applied at scale. By way of example, while leading the design team at GE Appliances in Louisville, we realized that building smart refrigerators made more sense if we also designed smart kitchens within smart homes. The entire system made the most sense when understood within the larger context of healthy lifestyles.

Making these connections means designers must be more than form-givers or usability experts for the ubiquitous smartphone app. In the IoT era, design must address the integration of objects, functions and processes at the systems level along with the creative ability to see connections previously unnoticed, and within a business's economic and technological constraints. This can be taught.

This semester at the School of Informatics and Computing at IUPUI, we're launching courses intended to prepare our students to connect these human-centered design methodologies to IoT business strategies. Key to our educational approach are industry-led student projects. We believe educating students for professional careers incorporates professional experience.

To supplement this course, the school is hosting a lecture series, "Driving Innovation in IoT Ecosystems through Human-Centered Design." The series is open to the academic and business communities. Leading design thinkers from major national corporations will speak at 4 p.m. on select Thursday afternoons. All are welcome to attend.

On Aug. 31, we welcome Chris Bissig of GE Appliances, describing innovations in the connected home. On Oct. 5, Mike Gallaher of Crown Equipment discusses transforming warehouse operations through smart-materials-handling equipment. The 2017 series concludes on Nov. 9 when Will Seidelman from Amazon.com will explain the design processes behind Amazon's innovative warehouse operations and systems.

Our series will continue into the spring 2018 semester, with a lineup of speakers and themes announced shortly. We hope you can join us on campus.•

__________

Lenzi, a professor of practice at the School of Informatics and Computing at IUPUI, is a former executive at IBM, Thomson, GE Healthcare and GE Appliances.