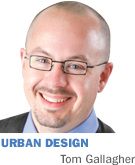 This year, the Indianapolis Historic Preservation Commission celebrates its 50th anniversary. Few could have predicted its positive effect on property values, which I'll address below. At the time, its creation was a meaningful statement of our city's values at a moment when social and technological change was challenging our core beliefs.
1967 saw the first Super Bowl, the first issue of Rolling Stone Magazine and the release of the Beatles' "Sgt. Pepper's Lonely Hearts Club Band." It was the "summer of love" and a season of violent anti-Vietnam War protests. Race riots debilitated numerous cities in a year that also saw Thurgood Marshall confirmed as the first African-American Supreme Court justice. In urban design, the famous battle in New York City between author and activist Jane Jacobs and city development czar Robert Moses reached its climax, with Jacobs' humane and populist stance winning out over the so-called "urban renewal" planning strategy of the post-World War II era.
It was the year Richard Lugar was elected Indy's mayor. Presiding from the new international-style City-County Building that replaced the historic Marion County Courthouse, he inherited a city where much of the Mile Square had been converted to parking lots. The adjacent neighborhoods, once the lifeblood of the city, had lost population and vitality. Like many American cities, antiseptic zoning, an affinity for the less-lavish, clean lines of modernist architecture and a preoccupation with a space-age future fueled redevelopment schemes that seemed devoid of concern for human experience or for unique local characteristics. "Main streets" were considered quaint, antiquated things of the past, relegated to theme park triteness.
Such was nearly the fate of Lockerbie Square. But for the forethought of community leaders at the Historic Landmarks Foundation of Indiana (Indiana Landmarks now), the neighborhood around the James Whitcomb Riley home was on its way to becoming Lockerbie Fair, an amusement-park parody of a Victorian Indiana town. Indiana Landmarks spearheaded the legislation that established IHPC and, ultimately, allowed for the creation of IHPC's first district plan, which saved Lockerbie as a residential neighborhood.
Today, the nine appointed members of the board, together with designated professional staff from the Department of Metropolitan Development, look after 12 historic districts, five conservation districts and 11 individually designated properties. Officially, IHPC is empowered "to preserve the character and fabric of historically significant areas and structures for all present and future citizens of Marion County, Indiana."
In its 50 years, IHPC has done this faithfully through district and property designation, halting unnecessary demolition, and facilitating restoration and rehabilitation guidelines. More than simply a review board, however, this commission is thoughtful, firm and willing to roll up its sleeves to provide technical assistance and professional guidance. Less overt but perhaps most meaningful is its role as one of the city's strongest planning and economic development boards. Its design-and-zoning jurisdiction helps assure the economic future of the districts.
Donovan D. Rypkema, who, in 1994, wrote a respected book on the economic value of historic preservation (The Economics of Historic Preservation: A Community Leader's Guide), was hired in 1997 by Indiana Landmarks to study the effect of historic-preservation efforts on property values. Describing the Indianapolis portion of the study, Rypkema noted "the property values in the local historic district increased at a rate … (that) exceeded the rate of both the adjacent and highly similar neighborhoods and the larger area of Indianapolis within which it sits."
Additional good news from the study: Historic districts often mirror the entire community in terms of their economic, educational and racial diversity; they promote increased levels of home ownership, and historic downtowns still effectively serve their traditional multifunctional role in a community.
Congrats to all those who have been involved with IHPC over the years. Your successes are worth lauding. Looking forward to the next 50 years, the biggest challenges facing the preservation community will likely not be to continually prove its worth but rather how to extend its success. How will IHPC continue to provide meaningful guidance?
A more immense task lies before us all, responding to our own moment. Can we apply what we've learned about historic districts to the design of the rest of the city? We have plenty of neighborhoods that could benefit from a compact, fine-grained, urban pattern, with buildings and places made with attention to detail, scale and human experience—in short, places worth preserving someday.
You can learn more about "Lockerbie Fair," the history of the commission, an update to Rypkema's study, and meeting future design and historic preservation challenges in a series of events celebrating IHPC's 50th anniversary. They began this month and will continue through the end of the year. For a calendar of events, go to http://bit.ly/IHPCevents.•
__________
Gallagher is an urban designer with Ratio. His column appears monthly. Send correspondence to TGallagher@ratiodesign.com.
Please enable JavaScript to view this content.