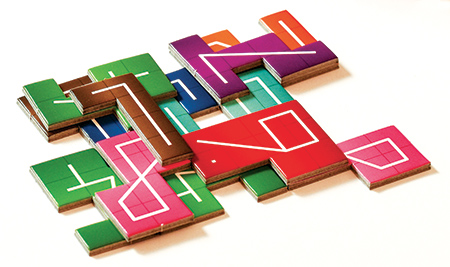 More than just a place to play, Gen Con is also the launching pad and/or marketing and selling spot for hundreds of new board games—far beyond what you'll find at your local Target or Walmart.
I played as many new and recent releases as possible during this year's four-day con in search of games to recommend. Here are the ones that stood out from the crowd. Most can be found now—or soon—at your local game store or, if you must, online.
Anybody up for a game?
■ NMBR9 (Z-Man Games)—A card is turned over revealing a number from zero to nine. Each player gets a piece representing that number and connects it to previously played pieces. If possible, the number is stacked on top of others, provided there are no empty spaces covered. The challenge is that numbers on this second level score their point value, numbers on a third level score double, and so on (sorry, no points for the base). Count on this one testing your skill with spatial relations.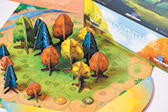 The tree-growing Photosynthesis (IBJ photo/Eric Learned)
■ Photosynthesis (Blue Orange Games)—Contrary to the Gen Con stereotype, not all games have to do with fantasy characters and science fiction adventures. In fact, few on this year's list do. Take this one, for instance: a wonderfully strategic game in which up to four players grow trees and collect light points—provided they aren't in the shadow of other trees as the sun travels around the board. The more points, the more growth potential. But victory points aren't earned until the tallest trees are cut down—which cuts down on your light points. A game that deserves its day in the sun.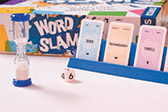 The word-guessing party game Word Slam (IBJ photo/Eric Learned)
■ Word Slam (Kosmos)—Talk about a limited vocabulary. In this game, you have only 105 word cards to use in order to get your teammates to guess a selected word. Speaking, singing, humming and pantomiming are forbidden. As such, this one's got the energy of charades but with no need for any acting ability. Group. Play. Loud.
■ Barenpark (Mayfair Games)— Here, you are a zoo designer. Your task: Position enclosures, restrooms and other amenities on your game tiles. The trick is to cover icons that allow you to acquire the pieces you'll need on future turns. Expanding your zoo, taking the pieces your opponent covets, and being the first to completely cover sections of your park are all part of the strategy. Forbearance could help you win this one.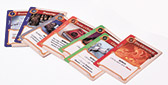 The fantastical, including Fantasy Realms. (IBJ photo/Eric Learned)
■ Fantasy Realms (WizKids)—OK, here's one strong game that includes wizards, dragons and other fantasy creatures. This one-deck card game involves drawing and discarding in an effort to score the most points. Each unique card can trigger a benefit or penalty depending on what other cards are in your hand at the end of the game. Smart players will find a strategy early but adapt to the benefits of other cards as they become available. Casts a surprising spell.
■ FunEmployed (Mattel)—Original? Not really. But this is a playful variation on a popular formula (and one that, while not in the realm of Cards Against Humanity, is recommended for adults only). I suggest ditching the basic rules and playing the "Late to the Interview" variant. In it, each player takes turns being the employer. A card reveals an occupation (e.g., personal trainer, televangelist, plumber) and the employer takes turns interviewing each player. Four qualification cards (e.g., jazz hands, hoarder or lives with parents) are revealed one at a time and must be incorporated into the job applicant's responses. With the right players, silliness trumps any care about winning. Improv skills are a plus.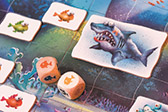 Reef Route (IBJ photo/Eric Learned)
■ Reef Route (Brain Games)—Kid games are also featured at Gen Con and this one plays great even with younger kids—provided they aren't bothered by the fact that many of the fishes attempting to get across the board to victory will get eaten by predatory sea creatures coming at them from the opposite direction. Making it a bit more morally complicated: Often, the roll of the dice will require you to move the predator and/or your opponent's fishes. First fish to make it to the other side wins. A great catch.
■ Kingdomino (Blue Orange Games)—The Spiel des Jahres award has become the Oscar of the board game business. This year's winner was this seemingly gentle tile-placing game in a child-friendly box. But clever game mechanics involving the selection of domino-like tiles and placement in your kingdom (plus easy learning) make this a fun "filler" game—that is, a game you play to fill time while waiting for the rest of your game gang to arrive. It's good to play this king.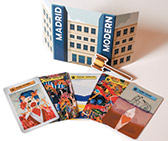 Modern Art (IBJ photo/Eric Learned)
■ Modern Art (CMON Ltd.)—This is actually a reprint of an earlier game with much-improved artwork. In one of the best bidding-based games I've played, players offer paintings for sale through various auction processes. The twist here is that the more paintings sold by an artist, the more each of the paintings is likely to be worth. Bonus: The rule book predominantly consists of a beautiful introduction to the actual artists featured on the cards. A masterpiece of its kind.
■ The Chameleon (Big Potato Games)—The roll of a pair of dice determines which word on a grid is the chosen word for the round, and all players must give a clue for it—even the chameleon—a player randomly and secretly selected who has no idea which word has been picked. Clues are offered, debate ensues over who is doing the faking, and even if most identify the proper person, the chameleon still can win the round by naming the correct word. A deceptively simple party pleaser.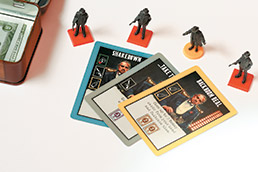 The Godfather: Corleone's Empire (IBJ photo/Eric Learned)
■ The Godfather: Corleone's Empire (CMON Ltd.)—The best licensed game I found this year comes from a 45-year-old-property. But you don't need to know the classic film to enjoy this area-control game. You represent a mob clan sending out henchmen and family members vying for control of New York neighborhoods. The acquisition of booze, blood money and machine guns helps increase your persuasive power as you attempt to influence politicians, cops and union leaders while stashing as much cash as possible in your metal suitcase. This one's a hit.
■ Spoils of War (Arcane Wonders)—Some games take familiar concepts and add a twist or two. The core of this game is the familiar game Liar's Dice. But what makes it work is that, before truth or lie is revealed, players bet on whom they trust. The results determine who gets first selection of the Viking treasure in each round. This one could get loud, truth be told.•
__________
This column appears weekly. Send information on upcoming arts and entertainment events to lharry@ibj.com.
Please enable JavaScript to view this content.