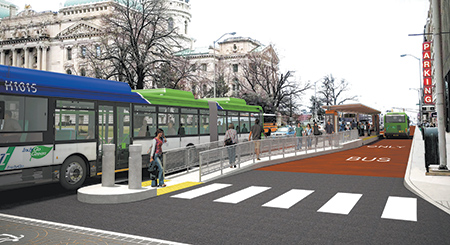 IndyGo is revving the engines on its much-anticipated Red Line, with the bidding process under way and construction set to begin in January on the first 13.1 miles of the bus rapid-transit line.
On Aug. 31, the Indianapolis Public Transit Corp.'s board—the entity that runs IndyGo—began soliciting bids for construction of both the bus line and the 28 stations along the route. The bid submission deadline is Nov. 13 and the board plans to award bids at its Dec. 7 meeting, with the expectation that construction will begin the following month.
You likely already know the Red Line is the first of three bus rapid-transit lines designed to offer more frequent service along heavily traveled routes. And that the broad Marion County Transit Plan calls for the Red Line to be followed by a Purple Line and a Blue Line.
But chances are you don't know all the details about the Red Line, let alone the other parts of the plan.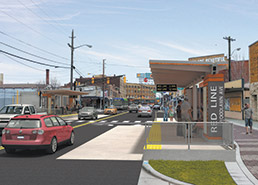 Fountain Square
This list should help you get up to speed:
1. The cones are coming.
Though IndyGo should break ground on the Red Line in four months, the exact construction schedule isn't yet known. Contractors will submit proposed schedules as part of their bid.
When possible, Red Line construction will be coordinated with other planned projects, including the Indianapolis Department of Public Works' Capitol Avenue bridge replacement over Fall Creek, and Citizens Energy's Fall Creek tunnel project, which will close Meridian Street at 28th Street. IndyGo says Red Line construction will cause lane restrictions but no full road closures.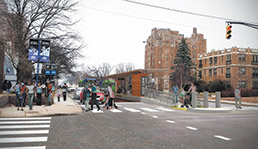 30th and Meridian
2. All aboard.
The Red Line stations will all look similar, but not identical. Shelters will have the same design and features, including canopy roofs, digital scheduling signs, elevated boarding and ticket-vending machines. Some stations will be curbside, with passengers boarding on the right side of the bus. Other stations will be in the center of the road, with boarding on the left side of the bus.
3. Bikes welcome.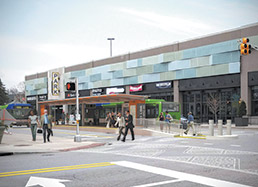 Broad Ripple
The buses will be custom-designed, 60 feet long and electric-powered. They won't have external bike racks; cyclists will roll their bikes aboard the bus from the elevated station platforms.
BYD America, a Chinese company with a U.S. subsidiary in California, is supplying the buses. In July, IndyGo placed an order for 13 Red Line buses (total cost $16 million); and another 18 to replace existing diesel-powered buses (total cost $22.2 million).
4. In passengers we trust.
The Red Line will eventually run on a sort of honor system. Passengers will purchase tickets but won't have to show them unless asked. Enforcement officers will randomly check passengers for proof of payment.

5. Keep the lane clear.
About 60 percent of the Red Line will have dedicated bus-only lanes, including the portions that run on College Avenue, North Meridian Street and Capitol Avenue. A raised curb will be installed along Meridian and College to keep cars from turning left across the bus lane—but U-turns will be permitted at traffic signals at specified intersections.
6. Plug and play.
When the Red Line opens for service in mid-2019, IndyGo will have one of the first all-electric rapid-transit bus systems in the country. In November, the city of Albuquerque, New Mexico, expects to open its 8.8-mile Albuquerque Rapid Transit, or ART, line, which will be powered entirely by electric buses. And in August, the San Joaquin Regional Transit District in Stockton, California, east of San Francisco, switched one of its bus rapid-transit lines to all-electric service. Stockton launched bus rapid-transit service in 2007 and says it is the first in the country to have an all-electric bus line. Stockton is in the process of transitioning to an all-electric fleet for its entire bus system by 2025.
7. Get out your wallets.
Starting Oct. 1, Marion County residents will begin paying a higher local income tax to help fund transit improvements. The City-County Council approved the 0.25 percentage point rate increase in February, raising local withholdings from 1.77 percent to 2.02 percent. A person who earns $100,000 per year will pay an additional $250 per year. The tax will be collected from people who live in Marion County and from those who live outside of Indiana but whose primary place of employment is in Marion County, said Indiana Department of Revenue spokeswoman Emily Landis. People who work in Marion County but live in another Indiana county will not pay the tax, she said. Residency status is based on where a person lived as of Jan. 1 of the tax year. The transit tax is expected to generate at least $54.4 million annually beginning in 2018, IndyGo says.
8. Your gift is tax-deductible.
IndyGo must—by state law—generate non-tax, non-fare revenue equaling at least 10 percent of the revenue it collects from the transit tax during its first year. That means roughly $5.4 million. After the first year, IndyGo must find non-tax, non-fare sources to cover at least 10 percent of system operating costs for new or expanded service. To meet this requirement, IndyGo is creating a public transit foundation to collect donations. The foundation should be up and running by the end of the year.
9. It's all politics.
Some of the federal funding for the project remains up in the air. IndyGo is counting on a $75 million Small Starts grant from the Federal Transit Administration to cover most of the $96 million cost of building the Red Line. But in March, President Donald Trump proposed cutting U.S. Department of Transportation funding 13 percent and ending the Small Starts funding. In May, Congress approved a budget bill that included $50 million in grant money for the Red Line—two-thirds of what IndyGo was seeking. As of Sept. 14, the U.S. House was still debating a budget bill for the 2018 fiscal year that begins Oct. 1 that must also pass the Senate.
"We are cautiously optimistic that there will be money on there for the rest of the Red Line, but it's kind of a waiting game right now," said Jessica Gail, a spokeswoman for Rep. Andre Carson, a Democrat. The House appropriations bill under consideration includes $182 million for Small Starts grant projects, said Amy Hasenberg, a spokeswoman for Rep. Todd Rokita, a Republican.
10. The next big thing is coming.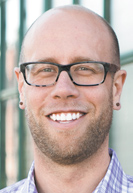 Luellen
Despite the federal funding uncertainty, IndyGo is already looking ahead to the Purple Line. Plans call for it to run 14.6 miles between Lawrence and IndyGo's downtown transit center, mostly along the current Route 39. Construction is estimated at $139.5 million—considerably more than what the Red Line will cost. That, according to IndyGo Vice President of Public Affairs Bryan Luellen, is because the route includes areas with no sidewalks, poor-quality pavement and drainage problems; infrastructure upgrades will be necessary.
IndyGo has already submitted its application in hopes of securing another $69.7 million in Small Starts funding for the Purple Line. IndyGo has also started holding community meetings to share its Purple Line plans, and preliminary information about the route is online at indygo.net/purpleline.
11. Word of mouth.
IndyGo is reviving its Transit Ambassador program to help explain the Red Line and other transit changes to passengers. As they did when the downtown transit center opened in 2016, volunteer ambassadors will visit bus stops and ride routes to let passengers know of what's to come. The visits are scheduled to begin in October.•
Please enable JavaScript to view this content.