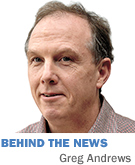 For Carmel technology executive Dilip Vadlamudi, an Indian immigrant who'd never been in trouble with the law, news of his indictment last year in an alleged bribery and kickback scheme was the ultimate humiliation. It even got coverage back in India, where his parents still live.
But look a little deeper into the case, and it becomes easier to see the events that led to his indictment on three felony charges through a more sympathetic lens. It also helps explain how Vadlamudi, after pleading guilty to one felony count in June, received no prison time and three years of probation when he was sentenced by a federal judge in Manhattan on Sept. 26.
According to the indictment, Vadlamudi, the founder of Indianapolis-based Pyramid Technology Solutions, funneled hundreds of thousands of dollars to his co-conspirator, Nimesh Patel—the former senior director of IT at the national headquarters of the Leukemia & Lymphoma Society in Westchester, New Jersey—in return for millions of dollars of IT work from the 1,500-employee not-for-profit.
That certainly sounds bad. But according to court papers, Vadlamudi contends the payments he made to Patel began under entirely innocent terms, as part of side projects the two began working on in 2010, a year after Pyramid started doing work for the leukemia society. The first side project, a software program that would streamline electronic child support payments, soon branched into others.
The turning point was in 2014, when "it became clear to Mr. Vadlamudi that these side projects were not going to succeed," according to a filing by his New York attorney, Sharon McCarthy. "It was at this point that Mr. Vadlamudi came to understand that, should he stop paying Patel, PTS' business could suffer."
Vadlamudi worried that Patel would use his clout at the leukemia society to reduce the number of Pyramid employees working on-site at the society's headquarters. He also did not want to see Pyramid's relationship with the society deteriorate because Pyramid had set up an office in India solely to handle the society's IT work.
"Thus, Mr. Vadlamudi made a very poor decision and, during the course of 2014, made three additional payments totaling $145,015.85 to Patel solely to ensure continued business from LLS, not for Patel's work in connection with the side projects," McCarthy's filing says. "Mr. Vadlamudi is deeply sorry for his actions."
Before his arrest in December of 2016, Vadlamudi had seemed to embody the American dream. The only child of parents of modest means in India, he showed an early fascination with electronics—a passion that eventually led him to Indiana State University in Terre Haute, where he obtained a master's degree in electronics and computer technology in 1994.
Letters friends and family filed with the court in hopes of securing leniency for Vadlamudi cast him as an extraordinarily hard worker. In 1998, while working full time as a software programmer and computer engineer, he started Pyramid—a business he ran on nights and weekends for 13 years before finally joining the business full time in 2011. Its Indianapolis workforce eventually swelled beyond 60.
Vadlamudi had to resign as president of Pyramid as a result of his conduct, one of many blows he's suffered since the investigation came to light, according to McCarthy's filing. She wrote that "Mr. Vadlamudi's case has provided his community with a tragic example of how someone so successful and so admired can lose virtually everything he or she has built by violating the law."
The government, meanwhile, is continuing to press forward with its case against Patel, 46, who entered a not-guilty plea late last year.
According to government filings, the scheme had began to unravel by the fall of 2014, when the society hired a law firm to conduct an internal investigation into allegations of bribery and kickbacks in its IT department. It's not clear what sparked that inquiry.
When the law firm interviewed Patel, he said he only had met Vadlamudi once or twice, did not have much direct contact with him and never received money from him.
Email exchanges exposed that lie, according to federal investigators, who turned up 790 emails from June 2009 and May 2014 between the two men.
In court papers, federal prosecutors said Vadlamudi's "offense is undoubtedly a serious one" and warranted prison time. They recommended he be sentenced to 10 months to 16 months—the range called for under federal sentencing guidelines.
"Kickback schemes are often difficult for law enforcement to detect, as they rely on secretive means and methods," the sentencing recommendation said.
"For every kickback scheme that is brought to light, others go undetected because of the secretive means used. A Guidelines sentence here, by raising the cost of criminal activity, would lead to greater general deterrence and help mitigate some of the undetected criminal activity."
McCarthy argued prison was too extreme, given that Vadlamudi, 46, has fully cooperated with investigators since he received a grand jury subpoena in March 2016 and already has experienced such anguish.
"He lost his grip on the American dream that he came to this country to pursue 25 years ago, and which he and his wife worked so hard to achieve. As a result, Mr. Vadlamudi has been specifically deterred from committing future crimes. There is no societal benefit to sentencing Mr. Vadlamudi to a term of imprisonment."•
Please enable JavaScript to view this content.