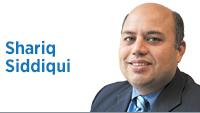 The beginning of October put to an end, for now, the GOP push to repeal Obamacare. As a person with a pre-existing condition, I can breathe temporarily.

I remember those days vividly before Obamacare when I was denied health insurance because of my pre-existing health condition. There was a high-risk pool but premiums would have required nearly 70 percent of my monthly income for a high deductible plan. Without insurance, a major illness in my family would have led to bankruptcy.

Furthermore, the fine print of policies was unclear. Once, when one of my covered family members had to have surgery, we made sure that the insurance company was covering the process. So it came as a surprise when we received a bill and then a collection notice from the anesthesiologist. Apparently, while the insurance company would cover the doctor to give anesthesia, it wouldn't cover the physician assistants. It took a few years to recover from the financial setback.

My family is better off because of Obamacare. Premiums have been rising although not at the same break-neck level as before. Even more importantly, I can be assured if someone in my family gets sick, I won't have to file bankruptcy.

That doesn't mean I don't think Obamacare needs some changes. I supported the Indiana Medicaid expansion through HIP. I believe there should be some flexibility for each state to tackle this issue. While the recent Graham-Cassidy bill had this flexibility, it failed to have the protections or long-term funding commitment that would protect families like mine.

As a scholar of not-for-profit organizations and philanthropy, I am struck how Obamacare has negatively impacted organizations that I have been engaged with. For example, an employee working 30 hours a week is considered a full-time employee. That means that many not-for-profits limit part-time employees to 25 hours a week so they don't have to offer health benefits.

Another major flaw in Obamacare is its impact on the development of free health clinics. The Islamic Medical Association of North America just turned 50 years old and the members announced that they would focus on improving health care for all Americans.

Establishing and supporting free health care clinics is one strategy. But there are at least two challenges. First, not all states provide "good Samaritan" protections to provide immunity to doctors who volunteer their time. Second, Obamacare requires that new clinics be regulated like major medical facilities. To receive tax-deductible status, these not-for-profits must first satisfy Obamacare regulations, which reduces the ability to offer free health care to the needy.

Let me suggest a few ideas:

We should provide greater incentives to employers to cover more employees. We should also consider taking people with pre-existing conditions out of the individual market and allow them to participate in Medicare or Medicaid. They can pay for premiums based on their incomes. That would allow us to have three major pools: The employer pool where most Americans receive insurance, the individual market, and a pool that consists of people with pre-existing conditions who can rely on government to negotiate with health insurance companies.

We should consider expanding the definition of family. Perhaps parents who are under 65 but lack insurance should be allowed to be added to their children's insurance.

We need a blue ribbon commission that can study this issue and come up with ideas that leaders on both side of the aisle can come together and support. President Trump can lead by pushing for such a commission.•

Click here to see all of the latest Forefront columns.
__________

Siddiqui is an attorney, has a doctorate from the Lilly Family School of Philanthropy at IU and leads the Association for Research on Nonprofit Organizations and Voluntary Action. Send comments to ibjedit@ibj.com.