Indianapolis' economic performance in recent years has been as good or better than that of most of its peer cities around the Midwest, new government data show.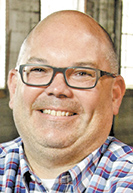 Gigerich
The economy in the 11-county Indianapolis/Carmel/Anderson metro area grew 2.1 percent in 2016. That's not as much as in Nashville (3.4 percent) or Cincinnati or Columbus, Ohio, both of which posted 2.5 percent growth. But it is better than several other Midwestern cities with similar-size economies, including Kansas City, St. Louis, Cleveland and Milwaukee.
For the five years from 2012 through 2016, the Indianapolis area's economic growth averaged 1.8 percent annually—outpacing all the cities listed above except Nashville (4.3 percent) and Columbus (2.4 percent).
"I think there's a lot of good things as you review those numbers, and nothing that jumps out as a huge problem that we really need to be concerned about," said Larry Gigerich, executive managing director at Ginovus LLC, a Fishers-based firm that helps clients select sites and obtain incentives.
The data comes from the U.S. Bureau of Economic Analysis, which last month released its annual look at the gross domestic product for the nation's 382 metro areas. GDP measures the value of goods and services produced within a specified time.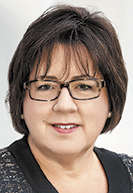 Krauss
Business leaders and economists say they pay attention to local GDP numbers for a variety of reasons. In addition to helping Indianapolis assess how it's faring compared with other cities, the numbers are useful for identifying trends and for strategic planning.
"Obviously, it's important to look at where our peers are, what they're seeing in growth," said Maureen Donohue Krauss, chief economic development officer at the Indy Chamber.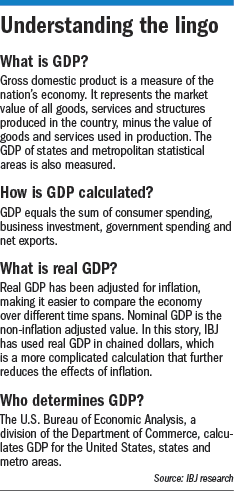 Krauss said she generally considers Indianapolis' peers to be cities with economies of a similar size and industry mix, most of which are in the Midwest. But the definition of peer can vary by industry. Within tech, for example, Krauss considers Austin, Texas, a peer. For manufacturing, her list includes Detroit and St. Louis.
Both Krauss and Gigerich identified Columbus as a key Indianapolis competitor and peer—and it's one whose growth has outpaced Indianapolis' in recent years.
Both cities are similar in size: The Indianapolis area's 2016 GDP was $117.6 billion, making it the 27th-largest metro area in the country. The 10-county Columbus area had 2016 GDP of $114.5 billion, tying it with Cleveland as the nation's 29th-biggest.
From 2012 through 2016, the Columbus area's GDP grew an average of 2.4 percent annually, easily outpacing Indianapolis' 1.8 percent average.
Columbus is helped by the fact that The Ohio State University is downtown, Gigerich said. As a major research university, the school is a driver of that city's economy.
Columbus also has more headquarters of publicly traded companies than does Indianapolis, Gigerich said. Those include Huntington Bancshares Inc., utility company American Electric Power Co. Inc., manufacturer Mettler Toledo International Inc. and retailer Big Lots Inc.
But Indianapolis has strengths of its own.
Compared with Columbus, Gigerich said, Indianapolis has a stronger downtown, a better airport and a faster-growing information technology sector.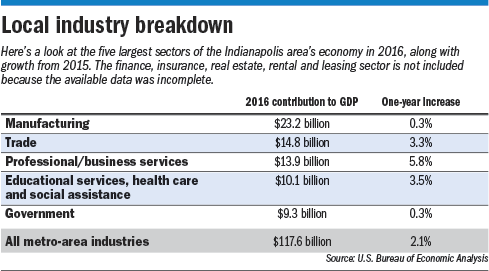 According to BEA data, Indianapolis' professional and business services sector—which includes the tech industry—grew 5.8 percent in 2016. It accounted for $13.9 billion of the metro's GDP last year, making it one of the area's largest industry sectors.
Krauss said she expects this sector to maintain its momentum in 2017, in part because of ambitious expansion plans by Salesforce and Infosys Ltd.
"That's where we are seeing great opportunity, great growth," Krauss said of tech.
Salesforce in May 2016 announced that it planned to hire 800 more Indianapolis workers over five years. In May of this year, India-based Infosys said it planned to open an $8.7 million technology and innovation hub in the Indianapolis area, hiring 100 by the end of this year and as many as 2,000 people by 2021.
Overall, however, Indianapolis' growth has paled in comparison to that of the Nashville-Davidson-Murfreesboro-Franklin metro area. Its 3.4 percent growth last year lifted that region's GDP to $109.4 billion, putting it 33rd in the nation.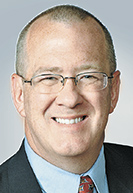 Hicks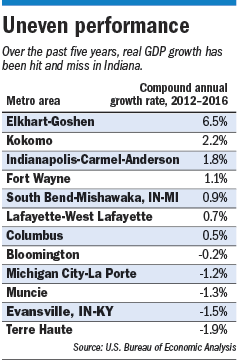 The Nashville area's economy is booming because it is seeing population growth in most of its metro counties, said Michael Hicks, director of the Center for Business and Economic Research at Ball State University. In comparison, Indianapolis' suburban growth is in pockets.
From 2010 through 2016, the Indianapolis area's population increased more than 116,000, climbing to 2 million. However, four of 11 counties lost population: Brown, Madison, Putnam and Shelby.
Over the same time, the Nashville area gained more than 194,000 people, reaching 1.9 million. And only one of its 14 counties declined in population.
Without population growth, Hicks said, it's difficult to have economic growth: "It takes people to produce goods and services."
Another potential impediment to growth is a shortage of workers with the proper education and training to fill openings.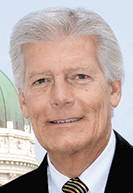 Burton
Over the next decade, Gigerich said, the Indianapolis region will need to fill 1 million jobs, with more than half of those vacancies—700,000—due to retirements.
The state needs to re-examine training programs for high school students and beyond, with a goal of steering more into high-wage, in-demand jobs, said Brian Burton, president of the Indiana Manufacturers Association.
Burton noted that, statewide over the next 10 years, 40 percent to 45 percent of workers across all industries will be retiring.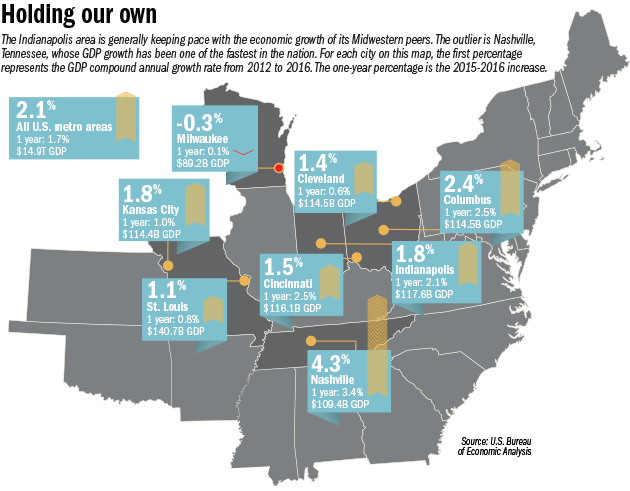 "We need to address the workforce issue," he said.
Manufacturing contributed $23.2 billion to the Indianapolis-area economy last year, which represents 0.3 percent growth over 2015.
But GDP figures for manufacturing can be affected by a variety of factors—including the timing of orders and changes in what items are produced—and Burton said the sector actually is doing better than that figure suggests.
He noted that, in the 12 months that ended in August, the manufacturing workforce grew 2 percent, to 92,700 jobs.
"It was a very minor [GDP] change, but we had job growth and we had wage growth, and that adds value," Burton said. "You blend this information together to get an understanding of where the economy's going. The outlook for Indiana is continuing strong manufacturing growth."•
Please enable JavaScript to view this content.