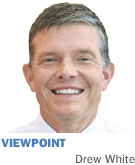 For evidence that climate change is here to stay, one need to look no further than Hurricane Harvey in Houston, Irma in the Caribbean and Florida, and now Maria in Puerto Rico. As these areas reel from the storms, one can't help but wonder how much resilient design—or lack thereof—contributed to the mass destruction.
Climate change is happening, and stresses on our environment will grow exponentially alongside the world's population. As we just witnessed, the consequences of urban sprawl and overdevelopment, especially in a low-lying area like Houston, can be devastating. But resilient design is not just about buildings. It's about people.
Which begs the question: Are we as a city prepared to handle natural and manmade disasters? The city of Indianapolis has made great strides of late with the combined sewer project and the Reconnecting our Waterways effort. But there is still room for improvement in walkability and connectivity, in park and public land use, and in emergency response planning.
So, what is resilient design?
While not a new term, resilient design is certainly gaining steam in the architecture and city-planning worlds. In fact, the primary focus of this year's American Institute of Architects conference was the idea that architect-led strategies are effective when it comes to building more resilient social and physical infrastructures. 
There are commonly three types of resilient design at play in a community: social, disaster and chronic. Through the social lens, design studios and built-environment professionals are concerned with a community's ability to rebound after a disaster. After all, a resilient building in a vulnerable community isn't truly resilient. Infrastructure, utilities, food supply and services are all necessary for adequate functionality.
Why does resilient design matter?
As designers, we have the ability to learn from our mistakes and the ability to get better at anticipating and alleviating disasters in our communities. Resilient design is rooted in our ability to mitigate and survive environmental stressors, but it's also about concern for future generations and for those members of society who cannot fight for themselves.
By incorporating changing environmental, social and economic conditions into our projects, we can ensure durability and flexibility, providing the end user with the ability to not only bounce back, but forward.
How does resilient design apply in the Midwest?
From a geographic standpoint, it's easy to think of resilient design as a coastal concern. But some of the most chronic problems can be found clustered around the Great Lakes, where water levels are dropping much faster than they should be.
The Midwest must also deal with wind and waterway concerns. When wind forces come from the west, how does this affect a building's orientation? Or how can we return a waterway back to its natural state to help combat erosion and flooding, like we are doing now in Indianapolis?
Making it better
So how can we as designers and architects and planners work together to prepare and protect communities from future natural disasters and from the inevitable stressors associated with climate change? One approach lies in community-based solutions. While it's useful to build up resilience before a big or small crisis hits, there are plenty of active steps architects, designers, and clients themselves can take during and after a crisis to speed the recovery process.•
__________
White is a partner at Axis Architecture + Interiors.
Please enable JavaScript to view this content.