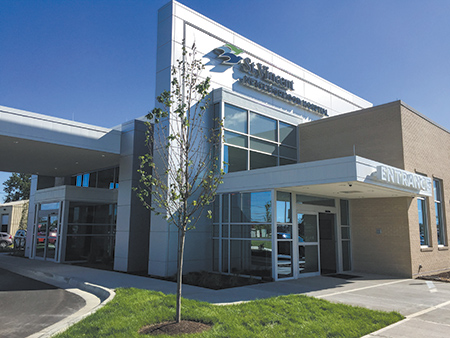 St. Vincent's new "neighborhood hospitals" are so small you could build three of them side by side on a football field with enough room left over to park a dozen ambulances.
The compact, 16,000-square-foot layouts—less than one-tenth the size of many traditional hospitals—are set up to provide fast, convenient service, with free parking, exam rooms just a few steps from the front door, and waiting times of 15 minutes or less to see a doctor.
But there's nothing small about the profits the hospitals might rack up.
According to internal documents obtained by IBJ, each hospital could clear $2.1 million a year—or 24 percent of revenue. That's about double the operating margin at many general, acute-care hospitals in Indiana, experts say.
The outsized earnings are possible because each tiny hospital costs just $10 million to build and will operate on a shoestring budget, with six to eight people on duty at any time—compared with more than $100 million to build a traditional-size hospital, many of which have a staff of more than 1,000.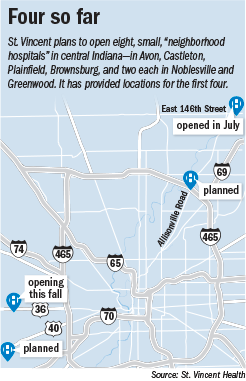 The documents also lay out projected revenue and expenses, balance sheets, lease agreements, and ownership and operating structures.
St. Vincent plans to open eight of the small hospitals over the next few years, mostly in high-income suburbs. The first one opened in Noblesville this summer and the second will open in Avon this fall. Others are planned for Plainfield, Castleton, Brownsburg, two in Greenwood, and another in Noblesville.
Critics say the tiny hospitals—sometimes called "micro-hospitals"—will add unneeded hospital beds to a region already suffering from a glut of them, and will allow owners to game the system by charging full hospital rates to Medicare and private insurers. Defenders say the move is all about providing convenient service and putting patients first.
Either way, the move toward tiny hospitals is in full swing in Indiana and more than a dozen other states, from Georgia to Arizona, as health care systems look for alternative settings to attract patients and act as feeders for their acute-care hospitals.
At a recent open house at St. Vincent's Avon hospital, caterers set out a spread of cheese and cold cuts, fresh fruit, beer and wine. Officials led tours of the brand-new building on a busy commercial strip on U.S. 36, about 11 miles west of downtown Indianapolis.

With just a few dozen steps, a visitor could see the emergency exam rooms, X-ray room, nurse's station, laboratory, pharmacy and seven overnight rooms.
The hospitals are designed to treat patients with injuries or illnesses that aren't serious enough to require a trip to an acute-care hospital, such as a stomach bug that causes a patient to vomit throughout the day.
"We're just hoping to improve the patient experience," said Dr. Richard Fogel, a St. Vincent cardiologist and chief clinical officer. "We want a hospital visit to be as easy as possible."
Complex structure
Although St. Vincent's logo is on the outside of the buildings, and its physicians are working inside, the Indianapolis-based health system appears to be a minor player in day-to-day operations.
St. Vincent will own the hospital—and others like it—under a joint venture with Houston-based Tandem Hospital Partners, a 3-year-old company that specializes in small, neighborhood hospitals. St. Vincent will own 51 percent of the joint venture, with Tandem owning 49 percent.
Tandem has set up another unit to run most of the hospital's services under a separate management-services contract.
That unit, called THP Management, will provide nursing, laboratory services, billing and collection, financial and operating-system management, budgeting, purchasing, marketing, advertising, technology, recruitment of personnel and management staff, and "supervision of the day-to-day operations of the facilities."
Each hospital is designed to tend to about 8,000 patients a year, according to Tandem's internal financial projections, compared with 65,000 a year at St. Vincent's flagship hospital on West 86th Street in Indianapolis
That would generate an estimated $8.7 million a year in revenue at each micro-hospital, the documents said.
While that sounds like a modest amount, expenses are projected to be even lower—$6.6 million. That would cover wages for 23 full-time-equivalent workers, utilities, office supplies, janitorial expenses and leases for the property and medical equipment.
Another developer, Embree Group of suburban Austin, Texas, is buying the land, building the hospitals, and acting as landlord for the St. Vincent-Tandem joint venture.
St. Vincent has declined to say how much it invested in the hospitals, or to reveal the financing or ownership of the projects. The health system is part of St. Louis-based Ascension, the nation's largest chain of Catholic hospitals.
But according to Embree's cost breakdown, the Avon parcel the hospital sits on cost $1.54 million, and the building, site improvements, permits and other expenses add about another $9 million to the construction costs.
"St. Vincent is unaware of, and thus cannot comment on, any of Embree's internal financial projections," spokeswoman Tangela Floyd said in an email to IBJ.
Neither Tandem nor Embree returned calls or emails to discuss the financial structure.
'Pretty strong'
But some health care finance experts say the projected 24 percent operating margins seem robust compared with those of traditional hospitals, which typically see operating margins in the 8 percent to 12 percent range.
That's especially significant since the small hospitals plan to treat only a few dozen patients a day.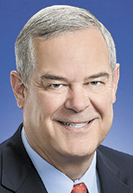 Abel
"If they can make that kind of money on that volume, that's pretty strong," said Ed Abel, director of health care practice at Indianapolis-based Blue & Co., an accounting and consulting firm.
Despite the high potential payoffs, some other health systems in Indianapolis are staying away from micro-hospitals. Bryan Mills, CEO of Community Health Network, told IBJ earlier this year that the vast majority of medical and surgical procedures are provided on an outpatient basis, creating a glut of unused inpatient beds.
"I just don't see any reason to add any more hospital beds in a place that's already saturated with them," he said.
And the state's largest health system, Indiana University Health, said it decided to pass on micro-hospitals after concluding that the cost of care in that setting was about seven times that of urgent-care centers.
Greg Francis, founder of Verdant Healthcare, a Dallas-based consulting firm, and former vice president for Cirrus Group, a health care real estate and development group, was so upset at what he considered the excessive margins enjoyed by micro-hospitals that he wrote an 850-word essay in April scolding the players.
Booze
"Cutting through the marketing hyperbole reveals that micro-hospitals are fundamentally high-margin emergency departments with associated high-cost ancillary services wrapped in mostly-unfilled beds in order to protect sky-high payment rates," he wrote in the essay, which he posted on his LinkedIn page.
He added: "They are the most expensive available setting in which to receive care, and they rely on an uninformed populace that will continue to utilize the facility for everything from sore throats to sniffles because currently convenience is king, regaled even above cost."
But some others say the tiny hospitals are meeting a demand from patients, who want a full-service hospital close to home, where they can see a doctor within minutes.
"They can bring health services closer and closer to a consumer, in a convenient setting," said Rod Booze, an architect and principal with E4H Architecture in Dallas, which has designed 28 micro-hospitals in Arizona, Colorado, Texas, Louisiana and Ohio. "They're usually not in a congested urban area."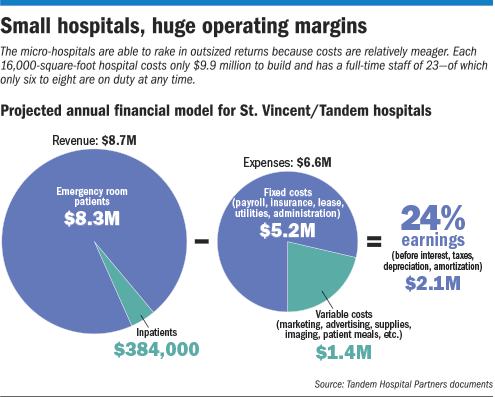 Tightened parameters
One reason the hospital can make so much money: It can charge at full hospital rates, rather than the lower rates charged by urgent-care centers or ambulatory surgery centers. Medicare often pays two or three times as much to hospitals as to outpatient clinics.
But Medicare has recently imposed stiff guidelines on what kind of facilities meet the definition of a hospital, and can charge the government at hospital rates.
In September, the Centers for Medicare and Medicaid Services said any facility that considers itself a hospital for reimbursement purposes will be required to have at least two patients in overnight beds on average, and the patients must have an average length of stay that includes at least two midnights.
Some legal experts say it could be a challenge for micro-hospitals to meet the new requirement. Even though the number requirement might seem small, it's unclear whether micro hospitals are consistently treating injuries and illnesses on an inpatient basis, or operating more as an outpatient clinic and fast-turnaround emergency room.
"I do think that any system or company that already has a micro-hospital, or is looking at developing a micro-hospital, they definitely have to look at how their numbers play out," Kevin Woodhouse, a health care attorney at Ice Miller, told an IBJ Health Care & Benefits Power Breakfast last month.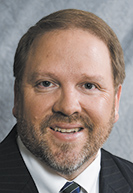 Woodhouse
He added: "They may need to make some operational changes in order to get comfortable that their facility is going to be able to pass muster if a [CMS] surveyor comes in."
According to internal projections, 95.6 percent of revenue at each St. Vincent micro-hospital will come from the emergency department, and only 4.4 percent from inpatient services.
St. Vincent declined to provide an inpatient census for its Noblesville hospital, or to say whether it was making any adjustments to comply with the new Medicare guidelines.
"We are aware of the CMS regulations regarding the definition of hospitals and our performance to date is in alignment with expectations," St. Vincent said in a statement.
But some experts wonder whether micro-hospitals are taking advantage of the system to ring up outsized revenue and operating margins.
St. Vincent, however, said 90 percent of survey participants gave the Noblesville hospital a five-star rating in patient satisfaction.
"Our main goal in opening neighborhood hospitals," said Floyd, the hospital spokeswoman, "is to provide high-quality and convenient access to care across central Indiana."•
Please enable JavaScript to view this content.