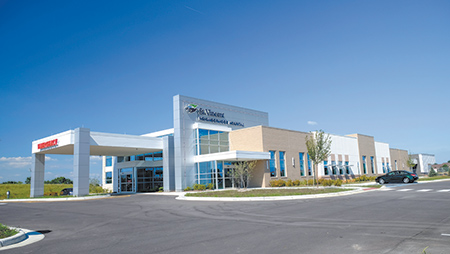 When is a hospital not a hospital?
That question could be worth millions of dollars to health systems in central Indiana, as some begin racing to build "micro-hospitals"—small versions of traditional hospitals, with just a few overnight beds and a skeleton medical staff.
The tiny hospitals are cheaper to build than full-service hospitals, and have lower overhead, meaning they stand to rake in big profits if they can charge at full hospital rates, rather than the lower rates charged by clinics.
But whether the hospitals can succeed financially might depend on whether they can meet Medicare's definition of a hospital: a medical facility that dedicates the bulk of its services to inpatient care, rather than for treatment that doesn't require admission and an overnight stay. So far, the answer seems murky.
In recent months, health lawyers around the nation have begun alerting clients to be careful about opening micro-hospitals, especially after the U.S. Department of Health and Human Services ruled last year that an eye hospital in Philadelphia with four beds did not qualify under Medicare rules as a hospital.
Medicare often pays two or three times as much to hospitals as to outpatient clinics and surgery centers.
The Philadelphia ruling sent tremors through the hospital industry, and experts wrote reports and blog posts about the unpredictability of what might qualify as a hospital.
The issue could loom large in central Indiana, where two Catholic health systems, St. Vincent and Franciscan Health, have jumped onto the micro-hospital trend.
St. Vincent plans to build eight "neighborhood hospitals" throughout the region, where patients can get in and out quickly. Last month, it opened the first location in Noblesville, just a few blocks from an elementary school and within a short drive of numerous subdivisions.
The hospital is designed for emergencies that aren't life-threatening, such as twisted ankles or intense vomiting caused by a stomach bug. It has 12 exam rooms, eight inpatient beds, an X-ray room, pharmacy and small lab under one roof.
The St. Vincent neighborhood hospitals are equipped to handle about 20 patient visits a day. The health system has not said how many of the visitors it expects to keep overnight.
When asked if its tiny hospitals would meet Medicare's standard, a St. Vincent spokesman responded with a short statement: "St. Vincent is aware of the applicable [Centers for Medicare & Medicaid Services] rules and regulations and our St. Vincent neighborhood hospitals are structured to comply with those standards."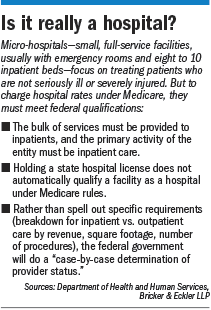 He declined to say what percentage of the small hospitals' care would be dedicated to inpatient visitors, compared with quick-fix, out-the-door emergency care.
But last month, during an open house at the Noblesville hospital, St. Vincent officials said the goal was for medical staff to see patients within 15 minutes and get them treated and back home as soon as possible. In certain cases, patients could stay overnight until they could get in touch with a primary-care physician, or to transfer to a larger hospital that could handle more severe issues.
"With our size and location, we can see patients quicker and get them home faster," Dr. Richard Fogel, a St. Vincent cardiologist and chief clinical officer, told IBJ during the open house.
And in an interview with IBJ last summer, St. Vincent CEO Jonathan Nalli said a patient's bill "is going to be similar" for treatment whether it's at the small hospitals or at a traditional hospital.
The primary benefit to the patient, he said, is quicker medical attention.
The Noblesville hospital, at 9460 E. 146th St., is licensed in Indiana as a hospital, but even so, under Medicare rules, holding a state hospital license does not automatically qualify a medical facility for hospital-level reimbursement.
St. Vincent plans to add neighborhood hospitals in Avon, Castleton and Plainfield by next year.
Meanwhile, Franciscan Health broke ground in June for a hospital with eight inpatient rooms and an emergency room near State Road 135 and Stones Crossing Road in Greenwood.
As part of the development, Franciscan is building an 85,000-square-foot outpatient and specialty care pavilion, which will connect to the micro-hospital.
Franciscan declined to say whether the hospital had won Medicare certification to bill at hospital rates.
"Franciscan Health is still assessing the process involving its Stones Crossing facility," a spokesman said in a statement. "It would be premature to comment on this initiative at this point in time. However, Franciscan is committed to compliance with all applicable state and federal laws and regulations and any business initiative will be in full compliance."
Staying on sidelines
As Franciscan and St. Vincent are jumping onto the micro-hospital bandwagon, two other central Indiana health systems are taking a pass.
Indiana University Health and Community Health Network both say a hospital developer from Texas met with them in recent years to pitch them on building micro-hospitals. Both health systems decided the tiny hospitals didn't fit into their strategies.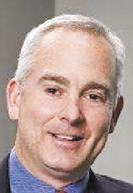 Mills
Instead, both are opening more urgent care centers and other retail clinics, which they say offer more convenience and lower cost, rather than adding more inpatient beds.
"I just don't see any reason to add any more hospital beds in a place that's already saturated with them," Community Health CEO Bryan Mills said.
Numerous studies have shown the overall demand for inpatient care is falling. According to the American Hospital Association, 35 million patients were admitted to the nation's hospitals in 2016 for overnight care, down about 3 percent from 2014. The vast majority of patient visits were for outpatient care.
For its part, IU Health said it does not believe building micro-hospitals would serve its patients' financial interests.
"Our research said that the micro-hospital cost to the patient or employer was about seven times that of urgent care centers, which is what we're pursuing," said Ryan Kitchell, an IU Health executive vice president who's also chief administrative officer. "We're getting ready to open our seventh urgent care center in central Indiana."
Kitchel
Urgent care centers, unlike micro-hospitals, don't offer overnight medical attention. But like micro-hospitals, they offer walk-in care for low-acute problems, such as twisted ankles or stitches for a cut.
Legal nuances
Some health care lawyers say whether a micro-hospital can qualify under Medicare rules as a hospital is gray.
Although Medicare says hospitals must dedicate the bulk of services to inpatient care, it has never said what constitutes "bulk"—whether that's 50 percent of patient revenue, number of procedures, or some other criteria.
"There's nothing you can point to, and say, 'If you meet this test, you're going to be OK,'" said David Johnston, partner at the law firm Bricker & Eckler in Columbus, Ohio, who wrote a widely shared blog post on the topic last year.
The federal government has said it will make determinations on a case-by-case basis.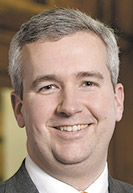 Johnston
That vagueness apparently played into the widely watched Philadelphia case. Wills Eye Hospital, established as an ophthalmology clinic in 1832, operated for decades as an ambulatory surgery center. But in 2013, it decided to upgrade to an overnight facility. It spent $6.5 million on renovations and added four hospital beds.
As the last part of the upgrade wrapped up, it attempted to swap its Medicare surgery-center license for a hospital license. But the federal government denied the swap, arguing that Wills had too little inpatient business to justify a hospital license.
Wills Eye stood to gain significantly in Medicare reimbursements. Medicare pays hospitals $1,745 for cataract surgery, while paying surgery centers only $976 for the same procedure, according to the Philadelphia Inquirer, which followed the case.
But CMS officials seemed determined to hold fast that Wills Eye Hospital was still basically an outpatient surgery center, despite its new name. The government pointed out that, even if Wills Eye's four beds were filled every day, inpatient care would still account for only 17 percent of the facility's cases.
"Because the financial impact of Medicare hospital certification is so great, CMS is required to be really careful about determining which providers genuinely qualify under the Medicare program," CMS attorney Suzanne Yurk said during a hearing last August, according to a transcript.
Wills Eye appealed the decision, but lost, and has filed a lawsuit to overturn the ruling.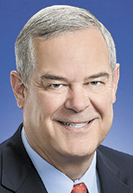 Abel
While the Wills ruling is the most recent, there have been others over the past few decades that went against health facilities for similar reasons.
"Medicare is going to keep looking at this whole area," said Ed Abel, director of health care practice at Indianapolis-based Blue & Co., an accounting and consulting firm. "At this point, there's still a lot of speculation."
He warned that, under Medicare's standards, fewer than 25 percent of Indiana hospitals today could qualify as a hospital for reimbursement purposes. Most hospitals, under pressure from payers to reduce costs, have seen their volume of inpatient care drop, and now do most procedures on an outpatient basis.
"If Medicare uses a 50 percent guideline for inpatient vs. outpatient, it would have massive ramifications for licensure," he said. "That would not be very popular."•
Please enable JavaScript to view this content.