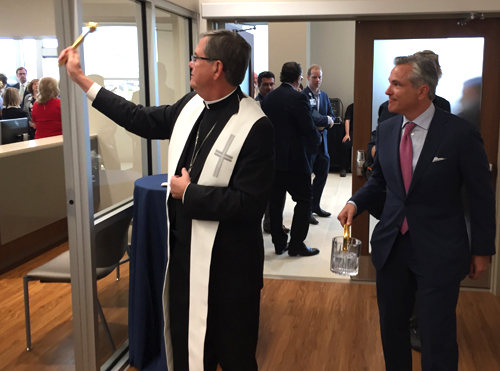 It's only a dozen steps or so from the front door of St. Vincent Neighborhood Hospital in Noblesville to an exam room—and another few steps to the X-ray room, the nurse's station, the laboratory, the pharmacy or an overnight room.
The scale is small, and that's what St. Vincent Health sees as a big selling point to its newest hospital: convenience and quick care—15 minutes or less to see a doctor, and just a few minutes from home for people who live in Noblesville.
The days of huge, traditional hospitals, set back hundreds of feet from the road, is giving way to a new trend: tiny hospitals (sometimes called "micro-hospitals") on street corners, where patients can get in and out quickly.
St. Vincent held an open house Thursday afternoon for the first of its four neighborhood hospitals, located at 9460 E. 146th St., just a few blocks from an elementary school and within five miles of numerous subdivisions in Noblesville and Fishers. The hospital, in the works for more than a year, will open later this month.
"Health care is evolving. Patients want convenience," said Jonathan Nalli, CEO of St. Vincent, during an interview at the open house. "We will stay ahead with hospitals like this."
The tiny hospital, at 17,000 square feet, is designed for emergencies that aren't life-threatening, with seven emergency beds, eight overnight rooms, imaging, pharmacy and lab services under one roof. It will not provide surgeries.
The goal is for the medical staff to see patients within 15 minutes, and get them treated quickly and back home as soon as possible. In some cases, patients could stay overnight until they can get in touch with a primary-care physician. By contrast, emergency rooms in large, acute-care hospitals sometimes have lengthy waits, as physicians might be working on serious medical cases, such as gunshot wounds or vehicle injuries.
"With our size and location, we can see patients quicker and get them home faster," said Dr. Richard Fogel, a St. Vincent cardiologist and chief clinical officer of the new hospital. He expects the hospital to offer emergency treatment to about 8,000 patients a year, compared to 65,000 a year at the system's flagship hospital on West 86th Street in Indianapolis.
The hospital will be staffed with an emergency physician, X-ray technician and other health workers. It will have about 50 full-time-equivalent employees.
Several hundred people—employees, civic leaders and journalists—attended Thursday's open house. Bishop Timothy Doherty of the Catholic Diocese of Lafayette said prayers and sprinkled water in a blessing. St. Vincent is part of St. Louis-based Ascension, the nation's largest Catholic hospital system.
Plans are under way for St. Vincent to open additional neighborhood hospitals in Avon, Castleton and Plainfield by next year.
Altogether, the new facilities represent the largest capital expense for St. Vincent in several years, although officials declined to release a cost.
Nationally, the average cost of a micro-hospital ranges from $7 million to $30 million, depending on the location and the types of services offered, according to the Advisory Boards Co., a health care and educational consulting firm in Washington, D.C.
Please enable JavaScript to view this content.