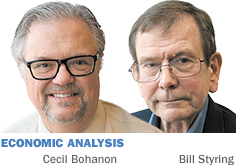 Longtime IBJ contributor and columnist Bill Styring died Nov. 6 after a brief illness. Visit ibj.com/Styring for a full obituary.
Market participants hate uncertainty. When a business has a difficult time discerning the future, it usually puts the kibosh on new hiring or business expansion. Not good for firms or the overall economy. Of course, a logical implication of this "uncertainty principle" is that government should do what it can to make its policies as predictable as possible.
A constant debate in every Macroeconomics class since at least 1975 is, to what extent can or should the Federal Reserve provide such policy certainty? Recall that the Federal Reserve controls the nation's money supply. Although it is a bit of a simplification, expanding the money supply revs up the economy, and contracting the money supply puts the brakes on the economy.
One school of thought is that the Fed ought to follow a rules-based policy. Milton Friedman, for example, argued the Federal Reserve ought to expand the nation's money supply by a pre-set percentage every year come what may. If the money supply were to expand 3 percent a year come hell or high water, economic actors would be able to plan accordingly and beneficial certainty would be enhanced. Other rules have been proposed.
The alternative school of thought argues that the Fed ought to have discretion in policy. Monetary growth, and the array of other Fed tools (interest rates, for example) should not be constrained by any given rule. The good the Fed can do by being able to respond to the immediate conditions far outweighs any gain from rule-based certainty.
Enter President Trump's choice of a new Federal Reserve chairman, Jerome Powell. Did this increase or decrease policy uncertainty? Powell is an honorable man with the experience to qualify him for the job. He has consistently voted with current Federal Reserve Chairwoman Janet Yellen. This is as close as you could come to reappointing Janet Yellen without reappointing Janet Yellen. So, this enhances certainty? Yes, in that it signals a continuation of current policy. And no, because the Bernanke-Yellen policy at the Federal Reserve has been about as far from a rules-based approach as it could be.
Fans of discretion say the Bernanke-Yellen regime has worked and point to low unemployment rates as evidence. Rules-based advocates say that eight years of anemic recovery makes the case that discretion has not worked well. The only thing that seems certain is, we are a long way from rules-based certainty in monetary policy—for better or worse.•
__________
Bohanon is a professor of economics at Ball State University. Styring was an economist and independent researcher. Send comments to ibjedit@ibj.com.
Please enable JavaScript to view this content.