BlueIndy LLC is facing a big challenge: How do you succeed when so many potential customers are unaware of, uninterested in, or even intimidated by what you're trying to sell?

That's the situation facing James Delgado, 48, who became the electric-car-sharing company's general manager in May.

The company, which launched in September 2015, still hasn't turned a profit. And Delgado acknowledges that BlueIndy has yet to be "fully embraced" by Indianapolis.

Delgado sat down with IBJ to talk about BlueIndy's challenges and its plans to win over new customers. Here's the conversation, edited for length:

IBJ: How much longer do you think it will be before BlueIndy hits its break-even point?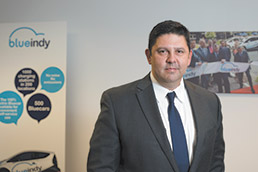 BlueIndy LLC General Manager James Delgado says the car-sharing service is only one piece of Indianapolis' mobility solution.
Delgado: I think originally the estimate was 2020. I think it's really dependent on several factors. It's dependent on our ability to gauge customers, the economy and how quickly people adjust to new technology.

What will it take to get to break-even? Is it a certain number of memberships, a certain number of rides per month?

It will be the number of memberships, our ability to renew those memberships, our ability to maintain those customers for year two. Typically, most of our members are yearly members. The number of rides they take, and our ability to control our costs. I think it also depends on other partners in the mobility community reaching maturity—IndyGo and public transportation as a whole. Because BlueIndy is not a sole solution for mobility in the city of Indianapolis, but it's an important piece of the overall mobility plan for Indianapolis.

So you look at BlueIndy as working in concert with some of the other options?

No one mobility solution is the answer, will make a customer give up their car or move from a two-car household to a one-car household. Certainly, BlueIndy isn't going to do that. The buses alone aren't going to do that. Uber alone is not going to do that. But combined, as an entire mobility solution, once these organizations educate people, reach maturity, then people will look at that as, "Maybe I don't need a second car."

What happens if 2020 comes, two years-plus from now, and you're still not making money? Is the company still committed past that point to keep going in Indy?

Absolutely. I think whenever you start a business, you have to have a target goal and some financial goals. I think the way we look at it is year-to-year. Are we making significant progress year after year? Are we moving in the right direction? And the answer to that is yes. We're meeting our financial targets that we're setting today. Will that be accelerated? We hope so. Could it slow down? That's possible as well, depending on a lot of the factors that I talked about. But I think that when you look at any startup business, certainly in the technology world, companies don't see profitability for years and years and years sometimes. Now, that's not our goal. Our goal is to break even and become profitable as quickly as possible.

How about 2025, 2030, if the company hasn't become profitable? Is there a point by which the company's going to throw in the towel and say, "You know, we thought this would work and we were wrong."?

I don't think so. I think Indianapolis is a good test ground for this electrification movement in the U.S. and across the world. The Bollore Group, through BlueIndy, is really the pioneer in 100-percent-electric vehicle sharing. It's hard, as the pioneer, to say what's going to happen in 2025 and 2030. But we like to think that we're at the forefront of this movement.

Last year—and this was before you got here—Carmel officials said they were working with BlueIndy to help scout out some possible station locations in that city. Where do things stand with that now?

I've had conversations with the city of Carmel, and I think it will happen eventually, but I think it's some time off. I don't foresee it happening next year. But that might change. I think that depends on the use cases that we can develop. In Carmel, the use cases would predominantly be to go to [Indianapolis International Airport] and to come to downtown Indianapolis. It would be really a commuter type of function. What would happen if the cars were up there? How else would you use those in Carmel? I think what we want to do is focus on making BlueIndy in Marion County a success and having it fully embraced by the community, by businesses, etc., and then move a successful program out to the surrounding counties.

When you say "fully embraced" in Indianapolis, are there certain metrics that you're going by?

I don't think we have put a solid number on the total number of members we would have to see before we do that. We certainly look at the number of rides we have per week. We've got some aggressive growth goals for 2018. I think if we meet our growth goals in 2018 and double our memberships, that would be an indication that the embracing of this concept and technology is kind of taking hold. What we see is an embracing of this technology by the millennials, by the 18- to 24-year-olds, and from the 25- to 34-year-olds. But there's a big demographic that, I think, takes some additional educating. People in my demographic. [And] people 55 and older. So when I say "fully embraced," I think certainly [about] the number of memberships and the number of rides; we would need to see significant increases in both those categories to think about further investment outside of Marion County.

You're talking about not only building a market but also educating potential consumers on why they should use BlueIndy or how. What kind of things are you doing to reach out to some of those groups?

One of our top priorities in 2018 is to create awareness and education. Some ways we are doing that are creating videos for different use cases that we can share on social media. We will have use cases showing people going to and from the airport. We will have videos showing people going out to dinner at a Broad Ripple restaurant. We will have videos showing students—because while we have a significant ridership of students, there's still a lot more students out there that maybe are not aware of how they can use it. We'll spend a lot of our time and resources educating key demographics. One initiative we're doing in 2018 is that we will be teaching some courses in conjunction with Oasis, which is an organization that runs continuing education for seniors 50 and older. We'll hopefully overcome that fear factor of, "Argh, it's an app? I have to use an app?" It can be quite daunting for people that didn't grow up as a toddler swiping left and right and working with apps.



Is this the first time that BlueIndy has done these sorts of things?

Yes. The first year and a half was just about launching and opening stations. It was about getting our processes right. It was about ironing out any bugs in the system. Now, I think, it's about really taking a look at some historical information we have in terms of our users—how they use it, when they use it, where they go—and further developing those cases.

Are there some other trends that you've seen from the data—groups that might be more likely than average, or less likely, to be a BlueIndy customer?

Certainly, the commuters from outside of Marion County have a difficult time finding use cases to use BlueIndy. However, being someone who lives outside of Marion County, I have started to find personal use cases of how I would use BlueIndy. I will drive to Broad Ripple and take a BlueIndy car to go downtown so I don't have to pay for parking. I know that I'm going to be able to find parking near the Pacers game or near the Colts game. And if I get that into my regular routine, the actual membership pays for itself over the course of the football season or the basketball season.

You spent the first years in your career working for Enterprise Rent-A-Car. What sort of things about what you did then are similar to what you're doing now?

I spent a bulk of my career in Europe opening up Enterprise Rent-A-Car, primarily in England. The biggest thing I learned from that experience is really kind of launching a car business and the hurdles that come along with that, the bumps and bruises. People said, "The business model won't work here in England. It won't work in Europe." But we had a passion for what we did, which was customer service and providing a service to a specific segment of the insurance market. We had an attitude of persistence and customer service. I think that has certainly helped me here. I hear some of the same pushback here: "Oh, BlueIndy won't work. Electric vehicles won't work. It's not needed here in Indianapolis." I think that one of the things that I have learned throughout my career is that … the more options you give people, the more chances you have to do business with them.

What was it about Enterprise's business model that Europeans did not think would work for them?

In the U.S., Enterprise's main focus—and 80 to 90 percent of their business—was driven by replacement-market insurance. You get in an accident; you go to the shop to get your car repaired. Enterprise had relationships with all the insurance companies. When we went to England, insurance companies did not provide a provision in policies … for rental cars. They said, "We don't actually need you because we don't provide that service to our customers." We had to fundamentally go and work with insurance companies to change the way they thought about providing these types of service to their customers. Today, every insurance company in England provides a rental-car provision in policies, and Enterprise Rent-A-Car is the largest rental car company in England today.

What kind of car do you own and drive personally?

I knew you were going to ask that. I personally do not own an electric vehicle. I drive a 2007 Jeep Grand Cherokee. The primary reason for that is that I have two teenagers [and] I'm paying for their education right now. I certainly see an electric vehicle in my future.

Any pets?

I have a dog and cat.

What are their names and how did you pick their names?

This is a very cutting-edge question. The dog's name is Mr. Sprinkles. My daughter, at the age of 3, was allowed to name the dog. Therefore, the dog takes after her favorite stuffed animal who at the time was named Mr. Sprinkles. Our cat has a more traditional name, which is Occie (pronounced "Ozzie"). My daughter's favorite animal is an ocelot, and therefore she merged the ocelot name with the cat and came out with Occie. My daughter has a lot of pull in the house in terms of naming of animals.

How well do you speak French?

Je ne parle pas beaucoup en francais, mais je parle un peu. [Translation: I don't speak a lot in French, but I speak a little.]

Do you find occasion to speak it in this job?

Yes. I was fortunate enough to spend a couple of years in Montreal, Canada, with Enterprise Rent-A-Car. In Montreal, we predominantly had to speak French in the place of business. Because our [BlueIndy] parent company [Bollore Group] is a French parent company, on a day-to-day basis I will either respond to an e-mail or in a phone conversation be able to use a little bit of French. Fortunately, my counterparts speak better English than I do French. But they appreciate my efforts to at least speak a little bit of French.•