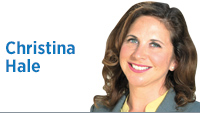 In 1930, a time of true depression and fear of future, the economist John Maynard Keynes predicted that 15-hour work days would be the norm for his grandkids. Clearly, things haven't quite worked out that way.

While many have wisely predicted that new technology would increase prosperity and lower drudgery, the economy is still fraught with worry for most families, certainly those I know. And we are watching our normal disappear. Those jobs and industries we counted on to keep people working are disappearing.

Robots can flip burgers and drop fry baskets into hot bubbling grease, and they can be timed to perform perfectly.

It has even been predicted that some of the more rote tasks in the legal profession will be taken over by smart software, and that paralegals and legal assistants have an extremely high probability of having their jobs automated in the coming years. And sooner than we would expect.

It is time to prepare ourselves for the future of employment and to blow apart the systems preparing people for the jobs of tomorrow. Traditional manufacturing jobs are likely never coming back, and certainly not in a way that would allow people to afford to own homes and do better by their children, let alone take a Florida vacation.

There is some hope. We can predict what jobs might be safe from robots and artificial intelligence. The safest jobs will emerge from creativity and the cultivation of a creative class of worker. Because for now, at least, humans are the very best at creativity.

The good news is that some are getting to work on that.

Artists need resources. Teresa Sabatine gets it. Sabatine is the first film commissioner hired by Visit Indy's Film Indy initiative and works with the support of Visit Indy's senior vice president, Chris Gahl, and an advisory board of industry pros, including Angelo Pizzo, director of the iconic film "Hoosiers"; Indiana University Cinema's Jon Vickers; and PUP Executive Director Michael Bricker. She has been a maverick force driving the notion that our market must support creative professional talent in order to be successful for people over time.

Where there is creative talent, a creative industry closely follows—and so do the jobs and wealth that result from the application of that kind of talent in business.

Sabatine is leading an inspired and renewed effort to create financial incentives to spark projects here that will grow opportunity for local people, and for the people we hope to attract to stay and thrive in our community. She believes that, by working smarter, we can do just that. Film Indy has proposed a way of working smarter to motivate this kind of creative business to happen right here where we live, where we hope our kids will work one day.

Her agency has proposed an Indianapolis Film, Television and Media Community Fund.

The fund will serve as an investment in the 600-plus existing production-related businesses and the thousands of graduates from our academic film and media programs across Indiana. It will also work as an incubator for local talent as well as a recruiting tool for major productions. And it will draw awareness to the Indianapolis region as a creative hub for original content and programming and assist in creating large-scale economic opportunities in the film and media industry for Indiana.

Trust me, if we are ever going to be poised creatively for an Amazon-style project, now is the time to get serious. Tomorrow won't wait.•
Click here for more Forefront columns.

__________

Hale is a former member of the Indiana House and ran for lieutenant governor in 2016 on the Democratic ticket. Send comments to ibjedit@ibj.com.