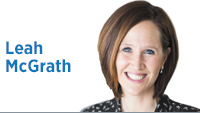 This column is difficult to write. As a mother, the mere thought of a school shooting sends sharp pains. My heart is heavy. Yet, writing this column is also difficult because the divisive climate of today is not conducive to asking questions or discussing solutions.

But our kids are worth the effort, and for them, all questions should be asked. We need a safe zone, where politicians, advocacy groups and Facebookers put down their proverbial swords. Let's call a truce and talk.

Let's talk about why school shootings happen, and what we can do to prevent them. Let's have the courage to ask: What about guns? What about mental health? What can we do for our youth who are hurting, lonely, abandoned?

Guns. Five of the last six mass school shootings occurred with AR-15 rifles, which have rapid-firing capabilities often referred to as semi-automatic. I have read that, in many states, it is easier to purchase this rifle than a handgun. I have also heard from friends and gun owners that they prefer this type of gun for hunting, protecting farm animals from predators, target shooting and competitions. That is their right. But still, five of the six last mass school shootings occurred with the AR-15.

Data tells us we should ask the questions: What is involved in acquiring an AR-15 or AR-10 in Indiana? Should we consider making it more difficult for all, for some or for our youth to acquire these rifles? Why or why not? What else can we do to educate? Help me understand.

I know some readers will be angry because I propose a discussion about restrictions. Some will yell because I didn't go far enough and use the word "ban." Put down your swords. Let's talk.

Mental health. We can do much better. Until this year, Hamilton Southeastern Schools had two mental health counselors for 21,000 students. Today, I am proud of the leaders who worked to bring a counselor to every school building. There's more work to be done. Ask what your school does; it is probably not much.

This issue goes beyond the schools. Fishers Mayor Scott Fadness has led an initiative on mental health that is breaking ground and opening doors for new partnerships and collaboration for public safety, faith-based groups, not-for-profits and schools to work together to help. In Fishers, there have been two murders in 20 years. But we average 13 suicides annually.

Nationwide and in Indiana, we have a shortage of mental health providers and cost/coverage is an issue. Put down your swords. Let's talk.

Prevention. When I read about the young shooter in Florida, my heart ached for him, too. Both his parents died. He was described as someone who struggled with anger. He lacked coping skills. One student said, "If it was going to happen, we all knew it would be him."

I am involved with the Fishers Youth Assistance Program and support our local Youth Mentoring Initiative. I am constantly humbled by the stories I hear of struggles our youth endure. Lost parents, lost jobs, homelessness, insecurity, depression, lack of coping skills are all common themes.

What these kids need is us. They need school-resource officers looking out for them. They need a community ready to wrap our arms around them, to lift them up and to carry them through the hard days. They need us as mentors to show them someone cares and that life is possible. Put down your swords, and give.

Let's talk. Let's do.•
Click here for more Forefront columns.

____________

McGrath is deputy mayor of the city of Fishers and is vice chairwoman of the Indiana Republican Party. Send comments to ibjedit@ibj.com.