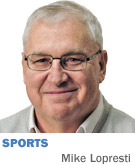 DE-FENSE! DE-FENSE! DE-FENSE!

Oh, sorry. Still hearing the echoes from Bankers Life Fieldhouse.

Look around. Notice all the unusual goings-on here lately? Clearly, we have stumbled into an alternate universe this spring, and not just because it kept snowing in April.

This is the universe where the Pacers are growing up before our eyes.

Where LeBron James comes to town with his team in matching suits and has to fight for his life just to get out of the first round. The opening series has always been like O'Hare for him—a connection to somewhere else, only with fewer delays.

Where Lance is Lance, and even the Cavs have to admire it.

"Not going to back down from anyone, and that's what you need from your team," Cleveland Coach Tyronn Lue said about Lance Stephenson. "He just reminds me of an old-school player, so I like it."

This is the universe where the Pacers talk openly about booting James from the playoffs and ending his NBA Finals streak at seven years, and the public at large doesn't snicker. Not having gotten a close-up look at what actually has been going on with Indiana this season. No matter how this turns out, the Pacers really were serious about shocking the world.

Or as Stephenson said one night about LeBron, "You've got to man up against him … . You can't bow down to him." If the Pacers were a cavalry battalion, Lance Stephenson would be the bugler.

This is the universe where Bankers Life Fieldhouse is alive and on fire and Victor Oladipo jerseys are popping up in the stands like spring dandelions.

Where, whether they finish off the Cavs or not, the Pacers have shown just where they're heading, and the narrative of the future was so much different than anyone expected it to be six months ago.

"I like [that] we're taking the challenge … . This is good for us. We've got to see what we can do," Darren Collison said after one game.

"Nothing we can't handle," Oladipo mentioned.

"We can play with them; we've just got to prove it," Stephenson said.

Which they have. In the heat of the playoffs.

And it's not just the Pacers who are different.

This is the universe where the NFL schedule comes out, and the Colts play all their home games on Sunday at 1 o'clock. Forget those prime-time kickoffs that used to test downtown parking lots. That was back before no one was sure if the quarterback would be able to throw a Nerf ball by September.

This is the universe where the Colts don't pile up the veteran free agents in a madcap effort to quick-fix flaws but pile up the draft picks in a determined bid to brighten the future. The win-now Plan A didn't work. Maybe the win-soon Plan B will.

This is the universe where Duke, Kentucky and Indiana are all ranked in the top 10—in college baseball.

Where May is coming and the defending champion at the Speedway is from Japan, while the driver getting as much attention as anyone is a 5-foot woman.

This is the universe where the hottest team in Major League Baseball gets no-hit by a 26-year-old left-hander from Wanatah—population a thousand or so, in the northwest corner of Indiana near Lake Michigan.

Sean Manaea's journey went from South Central High School, to Andrean High, to nobody drafting him, to Indiana State—the only college really recruiting him, to four seasons with the Sycamores, to a shot at pro ball, to last weekend on the mound in Oakland, where he barged into the history books with his no-hitter for the A's against Boston.

How were they feeling back home about all that? Kevin Hannon, for instance. He's now baseball coach at Knox but was at South Central when Manaea was a gangly kid starting in high school.

"I turned [the no-hitter] on in the ninth inning, saw his post-game interview, saw the hijinks and the guys putting all the stuff on him. It was one of those moments where I really can't describe it. You just think back to him as a little 13-year-old kid, and it's just amazing, the thing he's done.

"My first meeting with Sean was in a summer-league baseball game. He had just finished his eighth-grade year. All arms and legs. You always knew he could throw hard, you just didn't quite know where it was going. When he got called up [to the big leagues], I told people I probably was the only idiot who had a major-league starting pitcher who played him on JV for two years."

You might be wondering about Wanatah.

"A stoplight between two major highways in northwest Indiana," Hannon said. "One thing that area does have is tremendous youth-league baseball programs. I can almost imagine that there's been discussions about putting a sign up on U.S. 30: 'Home of Sean Manaea.'"

This is the universe where Indianapolis went to bed one night and woke up wanting to be … Philadelphia? In sports, anyway.

The Eagles win the Super Bowl and beat New England to do it. Just what the Colts would love to do.

Villanova wins the national basketball championship, blowing through the NCAA Tournament with six wins by double digits. That makes two titles in three seasons. Wouldn't IU or Purdue or Butler like some of that?

The 76ers go weeks and weeks without losing a game, storming into the No. 3 seed in the NBA playoffs. At last check, they had cornered Miami in the first round, chasing their first postseason series victory in six years. Not that the Pacers haven't been making noise, but my, don't the Sixers suddenly look good?

Even the Phillies, who averaged 93 losses the past five seasons, just won 13 of 16. That includes their first four-game sweep of the Pittsburgh Pirates in 24 years. As in the Pirates, parent club of the Indianapolis Indians.

Philadelphia, title town? The Pacers pushing LeBron, who gets a technical foul dealing with Stephenson? A kid from small-town Indiana, where the lake-effect snow can rage, growing up to throw a no-hitter at a team that had started the season 17-2? The Colts collecting draft picks like stamps? It's a different world out there.

We'll assume that won't mean Romeo Langford is going to Vanderbilt.•

__________

Lopresti is a lifelong resident of Richmond and a graduate of Ball State University. He was a columnist for USA Today and Gannett newspapers for 31 years; he covered 34 Final Fours, 30 Super Bowls, 32 World Series and 16 Olympics. His column appears weekly. He can be reached at mjl5853@aol.com.