Should the state impose a commuter tax to benefit places where people work but don't live?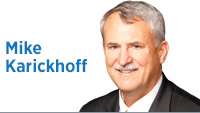 Hoosier metropolitan areas and second-class cities across Indiana are job hubs and contribute greatly to Indiana's economy. On a daily basis, they handle waves of suburban commuters going to and from work.
While these cities definitely benefit from hosting all this regional economic activity, they must handle heavy rush-hour traffic and wear-and-tear on their streets, as well as provide public-safety services to accommodate the increased workday population.
This is expensive. Unfortunately, the brunt of these costs falls on the residents of the host city. This is not only unfair, it is also unsustainable.
The deteriorating condition of Hoosier cities' infrastructure is the subject of increasing criticism and concern—and rightfully so. According to STATS Indiana, nearly 185,000 Hoosiers commute daily into Indianapolis from outside Marion County to earn their paycheck.
Indianapolis is not the only urban area affected by the needs of commuters. Consider your typical commuter who lives in one county but works in another. That person's local income and vehicle registration taxes are subject to the jurisdiction in which the commuter resides. However, his or her county of employment does not receive any of that revenue.
Other regional cities surrounded by bedroom communities are facing similar, albeit not as large, funding dilemmas. Kokomo and Howard County are a case in point.
It's important to note that local governments do receive substantial road funding assistance from the state through the Motor Vehicle Highway distribution formula and the Community Crossings grant program.
Annual state funding for local roads was increased $300 million when the Indiana General Assembly passed a sustainable, data-driven road funding plan in 2017. That legislation included a suite of additional funding tools, such as local option wheel taxes. However, the state's formula funds center-line miles of roadway. This pinches cities and counties that must build and maintain wide, multi-lane thoroughfares to handle rush-hour traffic. Potential adjustments to the MVH formula could help alleviate these disparities.
As former Indianapolis Mayor Bill Hudnut was fond of saying, "You can't be a suburb of nothing." Cities and suburbs mutually depend upon each other to succeed, and accessible, safe roads and communities are an essential element to that dynamic.
It's time we start considering regional approaches to these funding issues, such as potentially sharing local income tax revenue or road maintenance costs. We must weigh all our fiscal policy options, lest we endanger the growth and vitality of our cities to the detriment of all Hoosier communities.•
__________
Karickhoff is a Republican member of the Indiana House from Kokomo, representing District 30. Send comments to ibjedit@ibj.com.
Please enable JavaScript to view this content.