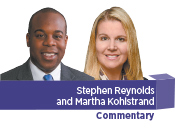 Depending on the source, you've probably heard that blockchain technology is going to revolutionize the world of business or that it is a meaningless technology with no real-world applications. The truth is somewhere in the middle.
The possibilities of blockchain technology—from cryptocurrencies to distributed ledgers—could have far-reaching applications. Blockchain might change the way lawyers practice law, and it is critical attorneys understand how and why.
What is blockchain technology?
If you haven't wrapped your head around blockchain technology yet, you're not alone. Blockchain, in general, can be readily understood in terms of a few simple concepts.
A blockchain transaction might be a simple purchase of money for goods or services (think bitcoin transactions), but it can refer to any type of transaction or exchange. When a user initiates a transaction on the blockchain, the transaction is broadcast to all the individual computers on the blockchain, known as nodes. The nodes independently validate that the transaction is accurate using known information. Then, the transaction is combined with others and creates a new block of information for the chain. The transaction is complete, has been independently verified, and is now recorded in an unalterable fashion.
Everyone on the blockchain has access to the same copy of the ledger. Benefits of a blockchain transaction include more transparency, speed and ease of use, increased trust, and an immutable record. The secure and permanent nature of the blockchain means it has already enjoyed some popularity in the financial services industry for keeping track of transactions, and in the health care industry for securing information about clinical trials and patient health information.
How can it change the practice of law?
Blockchain might result in several changes to how law is practiced. First, verification and trust are critical to the world of contracts. Without blockchain, typically each party to a contract keeps a copy of that contract. Determining which copy is authentic might not always be easy. But with blockchain, a single copy of the contract exists on the distributed ledger. It can be independently verified by every single computer on the blockchain, and there will be no question which is the original. This could be critical in litigation, considering how important it is to be able to prove the authenticity of a document.
Moreover, contracts can be enforced on the blockchain, making them what is known as "smart contracts." These contracts can instantly self-execute based on whether a condition precedent is met, which could be independently verified on the blockchain.
Thus, these contracts can execute without human intervention. No longer will there be a need for the manual transfer of a title in a real estate purchase, the wire of funds to an escrow account, and so on. With a contract on the blockchain, all these actions could be completed more cheaply, more quickly, and more accurately than the traditional means of executing the purchase.
Municipal finance attorneys might also find their work altered by blockchain technology. The city of Berkeley, California, is considering an initial coin offering (which it is calling an "initial community offering") backed by municipal bonds. While the Berkeley bonds might not technically be a cryptocurrency, the plan is that buyers will be able to purchase the investments without middlemen, either with dollars or cryptocurrency. Bond attorneys might be called upon to assist in designing these bonds and will be challenged by the range of scales, which these negotiations will require from institutional investors to individuals.
Tip of the iceberg?
The hype and promises surrounding blockchain will soon make their impact felt in the legal industry. Blockchain might fundamentally change the way documents are verified and the way contracts are negotiated, executed and enforced. And that might be just the tip of the iceberg. It remains to be seen just how profoundly the effects of blockchain technology will be felt in the legal industry, but one thing is for certain: Lawyers will soon be called on to evaluate possible legal implications and risks of this emerging technology.•
__________
Reynolds and Kohlstrand are attorneys in Ice Miller's blockchain practice group.
Please enable JavaScript to view this content.