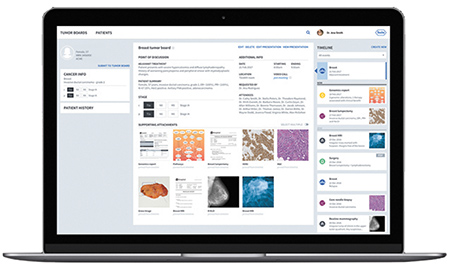 Ketan Paranjape is working his laptop like a vacuum cleaner, sucking up information from every possible direction.
On the left of his screen is a list of tumor boards—groups of oncologists and other health care specialists who meet to discuss cancer cases and recommend treatments and care plans.
In the middle is a list of eight patients who will be discussed on this day by one of the boards. He clicks on one patient's case and pulls up all the information: age and medical history, plus all the scans, MRI images, surgeries, medications, lab results, pathology slides and more that have been entered by a wide assortment of medical professionals.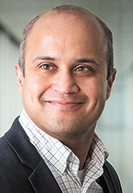 Paranjape
Paranjape points to the screen, filled with images and data.
"What I think is the coolest part is to the right, a history of what that patient has gone through," said Paranjape, vice president of diagnostic information solutions at Roche Diagnostics in Indianapolis. "You know this patient already had surgery. You know he had an MRI two months ago. He did chemo last year. You have lots of data."
It's a momentous time for Roche Diagnostics, which is rolling out an assortment of new digital diagnostic tools that it says will find and provide information with just a few mouse clicks from thousands of sources, from laboratory data banks to medical studies. All that information is focused on harnessing data to transform the way health care networks deliver patient care.
The company, which employs more than 3,000 on the northeast side, has been struggling on the diabetes side of its business. To bounce back, it is investing heavily in diagnostics, and is working to commercialize several products it hopes will be game-changers, involving deep analytics on which types of patients might benefit from which medicines and treatment plans.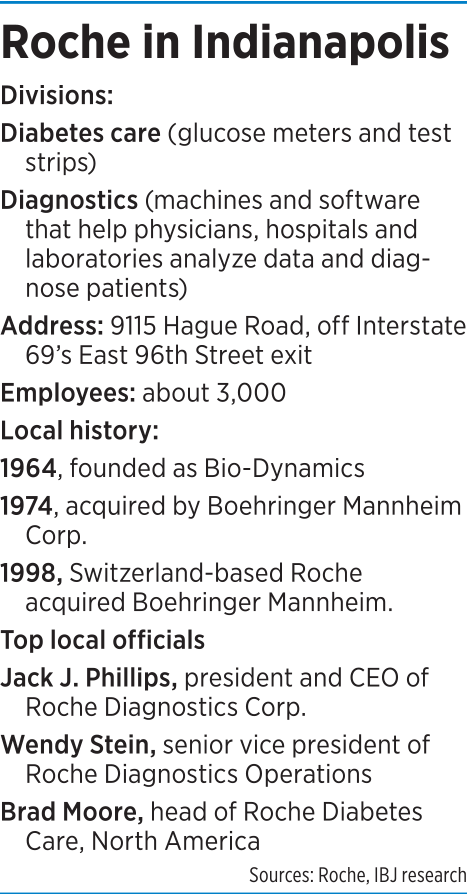 Paranjape pulls up a search of medical journals that would show cases similar to that of a particular patient. On another part, he can do an instantaneous search of a clinical trials database, to see if the patient would be suitable for a trial of an experimental medication based on how patients with a similar history and genomic profile have fared. Then he can see whether there's a similar trial within 50 miles of the patient's house that he might enroll in.
Access to all this information and more is part of Roche Diagnostics' big new software platform called Navify, which is in pilot testing at 25 sites around the world. It's billed as a web-based workflow tool that presents patient data in a dashboard and standardizes processes to foster collaboration on patient treatment decisions.
"There's so much information out there, but we can help find the trends," he said. "For example, you might have one physician who always prescribes a certain treatment when the patient has these three conditions, But it's 10 times more expensive than another option. We can help find those other options that will work just as well."
New revenue sources
The Swiss-based pharmaceutical and diagnostics company is looking for more growth from its diagnostics business, which now accounts for about 22 percent of revenue. The division makes equipment and sophisticated tests for diseases.
Last year, Roche's diagnostics revenue grew 5 percent, to $12.93 billion. In the first half of this year, it grew another 8 percent, compared with the first half of 2017.
In the meantime, Roche is scrambling to develop new drugs to make up for declining sales in its traditional best-sellers.
The patent on one of its top-selling drugs—Rituxan, for blood cancer and certain autoimmune diseases ($4.4 billion in sales last year)—expires this year and is likely to face competition from low-priced biosimilars soon. Sales of Rituxan already have begun to dip.
As it tries to launch drugs, Roche has had its share of pipeline disappointments. It recently scrapped the development of a drug for first-line treatment of colorectal cancer. Another drug in late-stage development for schizophrenia failed to meet its primary endpoint. And it discontinued a study on a drug for early-stage Alzheimer's disease.
"Roche is no stranger to pipeline setbacks," Zacks research wrote in a note to clients last month.
Still, Zacks rated Roche a "strong buy" based on strong sales of several new drugs, including those for multiple sclerosis, breast cancer and lung cancer, "which more than offset the decline from legacy drugs," the firm wrote.
While it develops drugs, the company—whose U.S. headquarters for its diagnostics business is in Indianapolis—also is busy developing and commercializing diagnostics products.
Finding and analyzing big data from thousands of sources is key to Roche's success, in both developing drugs and helping physicians diagnose patients.
In a conference call with investors in September, Roche officials talked about their drug pipeline but underscored the importance of data analytics.
"The other piece of the puzzle that continues to be important to us, both in terms of our ability to discover and develop new medicines and get them to patients … is our work on big data and analytics and how that is transforming the way we do almost every aspect of our business," said Daniel O'Day, CEO of Roche Pharmaceuticals.
Although the products are developed elsewhere—Navify, for example, was developed in Switzerland and California—executives, managers and technicians in Indianapolis keep busy marketing and selling them.
The other big piece of the Indianapolis operation is Roche's Diabetes Care North American unit, which makes glucose meters, test strips and other products. But the diabetes business is fiercely competitive, and Roche has seen a decade of declining sales in that market.
Deluge of data
The sprawling campus just south of Interstate 69's East 96th Street exit is undergoing a $300 million investment in new buildings and equipment, a decade-long project announced in 2012. Already, Roche has built five buildings, refurbished existing buildings, made upgrades to IT infrastructure, and increased investments in diabetes care manufacturing technology.
The company sells and services a wide range of medical instruments found in hospitals and laboratories around the world.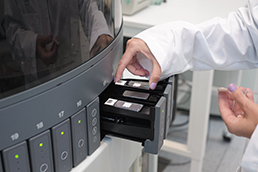 Roche's Benchmark Ultra system helps pathologists and oncologists diagnose cancer by evaluating stained tissue samples from a biopsy. (IBJ photo/Eric Learned)
Now all eyes are on the diagnostics business, and the company has been ramping up its efforts. In January, Roche announced a partnership with GE Healthcare to jointly develop and co-market software for faster and more accurate clinical decision-making.
The partnership brings together GE's medical imaging and monitoring equipment with Roche's tissue pathology, genomics, biomarker and sequencing portfolio.
Roche also recently announced the acquisition of Viewics, a laboratory analytics platform that allows customers to integrate big data from a variety of systems.
Cancer is just the first of many disease areas the Navify platform could be used for, according to the company. Down the road, it could be developed to help crunch information for organ transplants, mental-health illnesses, gastrointestinal conditions and others.
"Oncology is the way we started because we know that market very well," said Paranjape, who joined Roche in April after helping lead several Silicon Valley health startups. "But it could have many other uses."
The first site in the United States to use Navify is the University of Missouri School of Medicine, which announced its collaboration with Roche this summer.
The medical school's role during the pilot program is to provide feedback to Roche in the development process. The university said it has used the software for actual tumor boards with two of its nine oncology care teams and plans to soon implement the software across all the remaining teams.
"With our partners at Roche, we've only begun to explore the possibilities, but we already see tremendous potential for this type of solution to help advance cancer care," said Jerry Parker, associate dean for research at the MU School of Medicine, in a written statement.
"The workflow is much easier for our oncology nursing staff to manage," he added, "and the patient information is presented much more clearly, so we expect that to improve efficiency in the meetings and create more time for in-depth discussion of patient cases and the best treatment options."•
Please enable JavaScript to view this content.