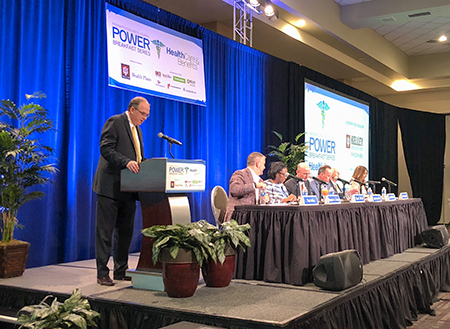 Below are excerpts from the panel discussion at the Sept. 28 Health Care & Benefits Power Breakfast.
Paul Ashley: I generally think the market will self-correct, and I believe that's what Hoosiers prefer is sort of an open market.
The one place I'm challenged by this is in the movement we've had recently with micro or neighborhood hospitals. I wouldn't have a problem with those if they were placed in dense urban centers, where lower-income individuals need quality care, or rural areas, where we have big parts of the population that are underserved.
Instead, we see those hospitals go into the areas where they're capturing higher-income individuals that already have service. So, I don't know that [requiring a certificate of need from the state] would fix that, but I think that's something the market needs to correct.

Dan Krajnovich: The real challenge is providing access to quality care at affordable prices. When I look at data within UnitedHealthcare across the country, we have value-based care with 110,000 physicians and 1,100 hospitals across the country. And when I look at Indiana, we have a huge opportunity to move care into that setting. There is a huge variance in terms of cost between those two settings. So if we work with hospitals to move care into that setting we can bring costs down dramatically.
Jim McClelland: I do find it interesting that, while we have the 13th-highest average cost of health care in Indiana, we also rank 13th-worst in our overall health, according to America's Health Rankings.
I don't know that that's just a coincidence, and I know there are a lot of factors that go into the determination of that—some of them are behavioral.
I was looking at this in a little bit more detail the other day, and it struck me that two of the factors that have the greatest negative impact on Indiana's ranking are smoking and obesity, and it just seems that one of the ways that we might all work to try to help lower our health care costs is by adopting new health care lifestyles
Gloria Sachdev: The reason health care costs are high is because the prices are high, right?
And so while we can say that we have an unhealthier population, which we do, we spend a lot of money to take care of these patients. And we would assume that we have really high-quality care, right, and that in our marketplace we would have great outcomes?
So if we're 13th-highest in price, we should be in the top quarter on all health rankings. So we're in the bottom quarter or less, really, for almost everything. So it really is about prices.
We have a couple of things that we can look at. One is … Hamilton County, where I live. There are not just hospitals, but every kind of outpatient clinic and micro hospital. And the [occupancy] is very low in all of those hospitals. Yet we keep building in some of those areas.
Dr. Virginia Caine: I just have to blow your minds, everybody out here in this audience. Ten percent of health outcomes is related to what happens in medical care hospital systems.
Twenty percent is related to your environment. Fifty percent is related to behavioral and lifestyle choices. But 97 percent of all of our health expenditures are in the health care system, and 3 percent is related to public health or population health.
So I rest my case. … We're not putting enough dimes into public health.
Ashley: I do believe we need to raise the price of tobacco and use that money to directly feed programs that help with social determinants of health outcomes, and invest that money in different ways.
If people want to have a user tax on it, great, smoke all you want. We're going to take that money and we're going to put it into the programs that actually make a difference in reducing obesity, tobacco and social determinants of health outcomes.
Ryan Kitchell: We're 100 percent behind a [higher] cigarette tax, [and raising the legal smoking age from] 18 to 21.
The Smoker's Bill of Rights is ridiculous and embarrassing. The other thing that needs to happen, and anybody who's got teenagers understands this—vapes and Juuls are cigarettes and they don't get taxed today and they should get taxed just like cigarettes.
Krajnovich: First and foremost, we are a member-friendly organization when it comes to emergency room usage.
If you have a true emergency, you should absolutely go to the emergency room.
However, we all know that many folks use the emergency room when it's a non-emergency. And we absolutely want folks to know that there are options out there when it's a non-emergency.
Certainly, your PCP is the first and foremost avenue to go to check, but we know that that's not always an option to check when there's a situation like that.
We have a "Check, Choose and Go" option on our website to check for those other alternatives out there to see what options are available when there's a situation that arises. But one I want to definitely highlight out there that folks should always look at is virtual health and telehealth.
Jim McClelland: It's taken 20 years for this [opioid] epidemic to develop. There are no quick or easy solutions to it. There are no silver bullets.
Part of what we need everyone to understand is that, once you have an addiction to opioids, you have an opioid-use disorder—it's a chronic disease, it's a relapsing disease, it's affected the structure and the function of the brain.
We are starting to see some encouraging signs. Opioid prescription rates continue to fall—they're down about 10 percent in the first eight months of this year compared to last year. They're still too high. At the end of 2016, we had the 11th-highest opioid prescription rate in the country—it was 26 percent higher than the national rate.
Visits to emergency departments for overdoses have been trending down for the last several months.
But I guess the point is, when you start to see signs of progress, that's when you need to double-down, to redouble the efforts.
Caine: We're definitely going in the right direction. But let me tell you—this may be the one health care crisis that's really going to change the landscape of this country.
When we look just in Marion County, looking at our ambulance runs, we had less than 500 ambulance runs for drug overdoses back in 2010.
We had over 2,150 ambulance runs last year for drug overdoses. … When we look at our hospitalizations for drug overdoses, it was about 1,500 in 2012. We're over 5,000 emergency visits for drug overdoses.
Sachdev: I've had employers tell me when they have all these job openings and they just want someone to pass the drug test and they can't find people that will pass the drug test.
The other issue I hear is, "I'm just not going to test anybody because I don't want to know if they're using or not because I really need employees."
So that's a problem, right? These are not the solutions, but in the absence of best-practice policies and in the absence of having adequate access to care and the absence of even triaging, [companies don't know what to do].
Caine: In 10 to 20 years, we'll have transparency in terms of health care costs.
I've got to buy a car this year and I know what kind of features I get and how much it costs compared to another dealer.
But if I get a heart stent from a cardiologist, it might be $10,000 versus maybe $3,000 someplace else.
So until there's transparency in terms of our health care costs, we're going to have a tough time lowering our health care costs for the average consumer.
Kitchell: We gave 30,000 price quotes out last year through our phone and email system and would welcome anyone that is looking for services to give us a call.•
Please enable JavaScript to view this content.