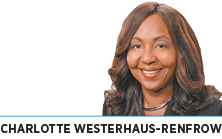 Have you ever walked a tightrope like a circus acrobat without a safety net? One false move and you're done?
Your answer is probably "No! Next question!" But, you may know how that feels without realizing it.
Say, for example, you are a manager and charged with giving employees feedback. Or perhaps colleagues or friends ask for advice about how to improve a dire situation or provide an answer to a vexing problem. It's tempting to think, "I got this. I know what I am doing." But there are also occasions when giving feedback feels just like walking a tightrope coated with what appears to be rather slippery coatings of honesty and constructive feedback.
Norman Vincent Peale once said, "The trouble with most of us is that we would rather be ruined by praise than saved by criticism."
Whether we want to admit it, sometimes sharing even the most constructive criticism can feel like you're putting somebody down or even outright rejecting someone. Have you ever given sugar-and-spice-and-everything-nice advice instead of good advice? If your answer is yes, it is probably because it's intimidating to give constructive feedback.
It is often so much easier to share what others want to hear. A 2015 Interact report showed over a third of America's business leaders felt uncomfortable having to give direct feedback about an employee's performance. That's not good. Effective feedback is imperative to helping a workplace thrive—whether by increasing and maintaining quality performance from employees, improving flaws, helping with new skills, or creating a growth mindset in employees. It also prevents a destructive silence that can grow when employees don't know what their bosses expect or think about their performance.
There is, however, a silver lining on the horizon of constructive feedback. In a 2014 Harvard Business Review article, Jack Zenger and Joseph Folkman showcased data they'd collected on people's attitudes toward feedback. They found 92 percent of respondents agreed that "negative (redirecting) feedback, if delivered appropriately, is effective at improving performance." In fact, the majority wanted constructive criticism.
Successful professional tightrope walkers always keep their balance. Likewise, the following two forms of feedback may help you balance needed criticism with positivity to give honest feedback.
First, give standards-based feedback, which describes how a person performs and progresses in relation to measurable expectations and performance. Standards-based feedback helps the recipients identify where they are now with respect to where they presently want or need to go. For example, you can use the following prompt when initiating standards-based feedback: "Your strategy worked for getting you an interview with a great client, but it didn't result in selling product to the client." But keep in mind, this kind of feedback is not very helpful if it fails to provide additional information about how to improve.
Next, be careful with emotional feedback, which can enhance how you really feel. Sometimes that's good. For example, your colleague or employee tells you, "I just received a huge order from a first-time client," and you respond, "Fantastic! That's awesome!"
However, hold off on giving emotional feedback when you are angry or annoyed. Wait until you've cooled down to speak. While trusted friends and colleagues may want feedback, you need to be quite certain they know how to receive advice and criticism before you speak truth to power. Consider how you would feel in the situation when approaching difficult conversations.
There is a generational aspect in terms of how younger people respond to feedback. A 2016 Gallup poll shows millennials may want even more feedback than other generations: 19 percent of millennials said they received routine feedback; 17 percent said the feedback was meaningful. And it goes both ways. Specifically, for employees, it's important to accept and ask for feedback. The same Gallup poll showed that while millennials may want feedback, they're not asking for it. That poll showed just 15 percent of millennials routinely ask for feedback.
Feedback is essential to helping us grow—whether that be at work or at home. In the words of Bill Gates, "We all need people who give us feedback. That's how we improve." So now is the time to dance on the tightrope of constructive feedback like a pro. It's not a stunt, it's a necessity.•
__________
Westerhaus-Renfrow is a clinical assistant professor of business law and management at Indiana University Kelley School of Business on IUPUI's campus.
Please enable JavaScript to view this content.