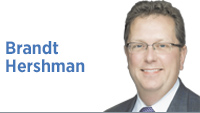 The most enduring vote Hoosiers will make in this election is not for a candidate or a party. It's to ensure Indiana's legacy of fiscal responsibility benefits future generations.
A ballot question asks Hoosiers if they wish to place a requirement for a balanced budget into the Indiana Constitution. Our recent legacy of balanced budgets and existing debt prohibition language in the Constitution confuses many people about whether the language is needed. Unfortunately, a rash of recent misinformed social media posts suggests the amendment creates an opportunity to raid state pension funds. Nothing could be further than the truth. By requiring the Legislature to actuarially fund pension liabilities, the amendment creates one of the strongest pension protections in the U.S.
It's true that historic constitutional language prohibiting certain kinds of debt, namely capital debt to build structures, was enacted in 1851 after Indiana was nearly bankrupted by the state's 1837 investment in the failed Wabash and Erie Canal. Today, despite the language, the state routinely incurs capital debt through quasi-governmental organizations like the Indiana Finance Authority to sidestep the prohibition. This is not a bad thing. Access to financing to is essential for large infrastructure projects.
However, the 1851 Constitution also allowed for "casual deficits in revenue." This was interpreted by Indiana courts as far back as 1889 to allow for budgets that spent more money than the state took in, and allowed for the issuance of bond debt to pay the shortfall. As a result, Indiana is one of only two states in the U.S. without a balanced budget requirement, a fact that was noted by a Standard and Poor's credit report in 2015.
In the early 2000's Indiana passed budgets that were structurally imbalanced, using Rainy Day funds to balance. And, although the Legislature has made significant investments in pensions, we still have significant unfunded pension liabilities.
Recognizing a lack of enforceable fiscal controls and looming pension debt, then-Gov. Mike Pence approached me to help craft a strong and enduring balanced budget amendment. The proposal was developed through a review of other states' budget controls, learning from their successes and failures. Notably, Illinois provides its own special chapter in what not to do.
Fiscal irresponsibility coupled with unsustainable pension obligations has put Illinois into a fiscal death spiral. Meanwhile, Indiana's discipline has allowed us to pay down more than 60 percent of our outstanding capital debt, balance our budgets and pay cash for many of our new projects while maintaining a roughly $2 billion reserve for emergencies.
The Indiana Balanced Budget Amendment requires a budget that spends no more than the state takes in via taxes and other revenue. It also requires our pension liabilities to be paid for responsibly before other spending priorities are considered. And, for times of grave emergency, it allows the requirement to be waived, but only with the agreement of two thirds of both chambers of the General Assembly and agreement by the governor. Such a requirement ensures that any attempt to suspend the application of the amendment would receive intense scrutiny.
I believe it is the strongest and most effective balanced budget language in the nation. My view is strongly shared by the vice president, who gave me a high-five in the West Wing last year when I informed him of the successful passage of the amendment and its impending placement on the ballot. Hoosiers will be high-fiving our strong record of fiscal responsibility and the related economic stability this amendment creates for many years to come.•
Click here for more Forefront columns.
__________
Former Sen. Brandt Hershman is the author of balanced budget amendment. He currently serves of council in the federal practice group of Barnes and Thornburg LLP in Washington, D.C. Send comments on this column to [email protected]
Please enable JavaScript to view this content.